Car imports skyrocket in first 9 months

Viet Nam imported 109,000 cars in the first nine months of this year, a year-on-year increase of 167.8 per cent, reported the General Department of Viet Nam Customs.
The value increased by 157 per cent from January to September, reaching US$2.4 billion.
In September alone, a total of 13,000 cars were imported with a total value of $260 million, up 38.1 per cent in volume and 24.4 per cent in value compared to the previous month, respectively.
According to the department, the cars mainly originated from Thailand, Indonesia, Japan, China and Germany, accounting for 97 per cent of the total.
As a result, domestic automobile production and assembly has levelled off. In 2017, the assembly output was 258,733 units, while in 2018 it fell to 258,116. In the first half of 2019, the number of assembled cars reached 131,089 vehicles.
Cars imported from ASEAN were tax exempt, meaning more support was needed for the domestic market, said the MoIT.
The ministry also said it would control the quality of imported cars.
Indian carrier IndiGo launches first flight to Hanoi
IndiGo, one of the major airlines in India, inaugurated its first commercial flight from Kolkata to Hanoi on October 3, making Hanoi its 19th international and 75th overall destination.
The carrier offers daily service between the two cities at a cost of INR9,999 (about US$141) for a single ticket.
Flights between Kolkata and Ho Chi Minh City are scheduled to commence on October 18.
IndiGo's chief commercial officer William Boulter said the carrier's connections to Vietnam will not only enable increased tourist footfall in both countries but will also connect the Buddhist community in Vietnam with important religious cities in India, Myanmar and China through Kolkata.
He added that IndiGo will continue to expand its network to meet the requirements of both business and leisure travellers across domestic and international destinations.
According to Vietnamese Ambassador to India Pham Sanh Chau, the figure for Indians travelling abroad annually is about 25 million and counting but the number visiting Vietnam remains rather small, estimated at just 130,000 in 2018.
Therefore, the direct flight service between India and Vietnam is an opportunity to boost tourism cooperation between the two countries thanks to the flight time between the two countries being shortened to 3-3.5 hours.
IndiGo is one of the largest carriers in India with a fleet of over 200 aircraft and a 49% market share. Vietnam is the carrier's fifth Southeast Asian destination, after Thailand, Singapore, Malaysia and Myanmar.
Bamboo Airways to launch regular flights to Seoul
Vietnam's newest carrier Bamboo Airways will launch regular flights linking major cities of Vietnam with Seoul capital city of the Republic of Korea (RoK) starting from October 17, according to a representative of the airline.
The carrier plans to operate one round-trip flight in the route every day, using Airbus A321neo. Tickets for the new flights have been on sale since last month.
The RoK will continue to be a key market for Vietnamese airlines. Earlier, it was among the first countries that Bamboo Airways had chosen to launch international charter flights from April this year.
Bamboo Airways is operating 26 domestic routes and international ones to Japan, the RoK, and China.
In 2019, the airline plans to expand its network to 37-40 routes, including those to the Republic of Korea, China's Taiwan and Southeast Asian countries. Its fleet is expected to expand to 30 in next year's first quarter./.
Mid-cap firms to drive market up on low valuation, earnings prospects

Medium-cap stocks were expected to lure investment in the remaining months of the year thanks to cheap prices and growth prospects, analysts have said.
The benchmark VN-Index has gained strongly by 3.12 per cent in the last month to approach 1,000 points.
Boosting the benchmark index are large-cap and mid-cap stocks. The large-cap VN30-Index has risen 5 per cent while the mid-cap VNMID-Index has gained 3.8 per cent during that time, showing investors are keen on both sets of shares.
Large-cap firms have market capitalisation of more than VND10 trillion while mid-cap firms are valued at between VND1-10 trillion.
Dinh Quang Hinh, director of the market strategy division at VNDirect Securities Corporation's analysis department, told Viet Nam News the inflow of passive capital from exchange-traded funds (ETFs) had boosted the valuation of large-cap stocks on the Ho Chi Minh Stock Exchange to "quite high levels".
The average price-to-earnings (P/E) ratio of HOSE-listed large-cap stocks was estimated at 21.4, excluding FLC Faros Construction Corp (ROS), Vingroup (VIC) and Bao Viet Holdings (BVH) – three stocks with P/E ratios above 50.
"The high valuation of large-cap stocks has trimmed their attractiveness. It is possible that some traders have switched to mid-cap stocks for short-term profits, boosting their prices," Hinh said, adding mid-cap stocks had been undervalued.
The average P/E ratio of mid-cap stocks was 11.5 – if stocks with P/E ratios being over 50 are excluded – and it was still 30 per cent lower than the large-cap average P/E ratio. Some mid-cap stocks even had P/E ratios below 8.
"However, not all mid-cap stocks have been boosted by this change in investor tastes," Hinh added.
The key factors for valuing mid-cap stocks are the prospects of a firms' future business operations and healthy financial reports, he said.
The Vietnamese stock market has entered the third-quarter earnings season, and some mid-cap firms have already reported their quarterly earnings.
Real estate firm Dat Xanh Group (DXG) has estimated its nine-month revenue was up 31 per cent to VND4.52 trillion, with post-tax profit up 20 per cent at VND901 billion.
Constructor Fecon (FCN) is forecast to raise its three-quarter revenue by 8 per cent yearly report to VND1.84 trillion with an increase in post-tax profit of 22 per cent year on year to VND151 billion.
The Power Construction JSC (PC1) last week reported nearly VND4.4 trillion worth of combined revenue in the nine months and VND300.6 billion in post-tax profit.
According to analysts, Viet Nam was likely to maintain a comparatively high GDP growth rate compared to other economies, mainly benefiting from the re-allocation of the global supply chain as investors and businesses try to hedge their risks due to the US-China trade war.
Viet Nam's GDP growth rate in the third quarter was 7.31 per cent, the General Statistics Office announced last week. The Vietnamese economy is expected to achieve 6.9 per cent GDP growth this year.
Trade ministry's two debt-laden projects report profits: NA Chairwoman
Two of 12 megaprojects under the Ministry of Industry and Trade, which had been operating at a loss, are now reporting profits, comprising the DAP No.1 Haiphong fertilizer plant and the Viet-Trung steel plant, said National Assembly (NA) Chairwoman Nguyen Thi Kim Ngan.
At a meeting with voters in An Nghiep Ward of Can Tho City's Ninh Kieu District on October 4, Ngan said the DAP No.1 Haiphong fertilizer plant has reported profits of over VND95 billion, while the Viet-Trung steel plant has profits of VND456 billion, Tuoi Tre Online newspaper reported.
In addition, four other projects have gradually overcome obstacles. Specifically, in the first quarter of this year, the Ha Bac nitrogenous fertilizer plant's losses were cut by VND30 billion.
Meanwhile, three production lines of the Dinh Vu polyester fiber plant have resumed manufacturing. The Quang Ngai bio-fuel plant was put into operation in October of 2018.
NA Chairwoman Ngan affirmed that the NA has kept a close watch on these 12 unprofitable projects, and has asked the Government to regularly report on them.
Vietnamese firms promote trade in Romania, Bulgaria
Twenty Vietnamese exporters in the fields of agriculture, machinery, plastics, handicrafts, renewable energy, and banking-finance and human resources services are on a market study tour of Romania and Bulgaria from October 3-9.
The tour is arranged by the Ministry of Industry and Trade in collaboration with the Vietnamese Embassies in Romania and Bulgaria, and partners in the host nations.
The event takes place on the occasion of the 16th meeting of the Vietnam - Romania joint committee on economic cooperation in early October in Romania and in preparation for the 24th meeting of the Vietnam-Bulgaria inter-governmental committee slated for November in Bulgaria.
It aims to help Vietnamese enterprises update themselves with information about the two markets and the EU-Vietnam Free Trade Agreement (EVFTA), with a view to outlining optimal business strategies in Romania and Bulgaria in specific and the EU as a whole.
During the trip, the group held a Vietnam - Romania business forum in Bucharest on October 4, and will organize a similar event in Sofia on October 7. Besides, they will work with several wholesale and retail chains, seafood importers, mechanical plants and financial institutions in the two countries.
With a population of 21 million, the 7th largest in EU, Romania is the biggest market in southern Europe. Having favourable geographic conditions, Romania is a gateway for trade flow to the EU nations with over 500 million consumers. In recent years, Vietnam and Romania have enjoyed thriving economic-trade cooperation thanks to the complementary natures of the two markets.
Meanwhile, Bulgaria is one of the first EU countries to approve the Vietnam-EU Framework Agreement on Comprehensive Partnership and Cooperation (PCA). Their economic-trade ties have witnessed positive development recently, but two-way trade still lags behind their potential and expectations. Leaders of the two countries have agreed upon a new model for economic cooperation, under which Vietnam can export some products of its strength to Bulgaria, after that they will be processed at Bulgarian ports before being sold in the European markets and the Balkan peninsula./.
OCOP fair to house over 100 stalls in Hanoi
The "One Commune, One Product" fair will take place in Hanoi on October 10 – 13 with over 100 stalls on the occasion of the 65th anniversary of the liberation of the capital (October 10) and Vietnamese Entrepreneurs' Day (October 13).
During a press conference in Hanoi on October 4, Director of the municipal Department of Agriculture and Rural Development Nguyen Van Chi said on display will be farm produce, handicraft and local specialties.
Flowers, ornamental trees and food as well as cultural and arts show will also be introduced to visitors.
Vice Chairman of the Vietnam Farms and Agricultural Enterprises Association (VFAEA) Nguyen Duy Luong said the fair will be co-organied by the municipal Department of Agriculture and Rural Development, the VFAEA and Tay Ho district People's Committee for the first time.
Half of the stalls at the event will be from Hanoi.
As planned, a seminar to implement the Government's Decree No.98/2018/ND-CP on facilitating production and consumption of agricultural products, honour individuals and organisations in recognition of their contributions to agricultural and rural development will be held on October 12 in Tay Ho district
Within the framework of the seminar, 50 stalls will introduce safe farm produce to visitors while another seminar will discuss technological transfer and popularise safe products of clear origins, and a ceremony will be held to sign cooperation agreements between individuals and organisations on production and consumption./.
Developer Festival in Danang to attract 800 participants
Drawing on Danang's vision to improve the adoption of new, innovative technologies locally, Developer Festival 2019 (DevFest 2019) for programmers and tech enthusiasts will kick off in Danang City on October 11, with over 800 participants and 30 speakers in attendance.
The three-day event, organized by Google Developers Group (GDG) Mien Trung, is expected to offer programmers, tech enthusiasts and students of technology and information technology the opportunity to network and exchange experiences on the new trends of technology.
At the festival, a Hackathon contest themed "Green Up! Your Code" will attract the participation of 100 software programmers grouped into 20 teams.
Apart from this, the event will feature various presentations on the latest technologies and tech updates.
Nguyen Thi Phuong Nhi, a founder of GDG Mien Trung, said that the fourth edition of the festival is aimed at developing mobile applications and websites supporting environmentally friendly activities and environmental protection, as well as contributing to addressing social issues.
"We believe that DevFest 2019 will see the introduction of several innovative ideas to build a green tech climate for the community and contribute to spreading the green living trend among residents, mainly the tech community," Nhi said.
Travel-tech start-up gets funding

Investors led by the Vietnam Silicon Valley last Saturday announced funding for travel-tech start-up CoXplore in Ha Noi.
Founded by Huong Nguyen, a former digital nomad, travel and lifestyle blogger, the start-up developed a mobile app to help employees and freelancers find places to work remotely, anywhere, surrounded by the places and communities that inspire them.
The founder said: "The CoXplore app was developed to ease the lives of global entrepreneurs, remote workers and freelancers, helping them become location-independent professionals, or "digital nomads" as they are often called, by providing on-demand access to quality coworking spaces, work-friendly cafes and other relevant retreat experiences for our communities in Asia, to optimise work productivity away from home."
Other investors included Lotte Accelerator and the Ministry of Science and Technology of Viet Nam, accelerated provided by MIST (Mekong Innovative Startups in Tourism) and WISE (Women Initiatives for Startups & Entrepreneurs) under initiatives of MBI and the Asian Development Bank.
Not disclosing the funding, the company said it aimed to expand rapidly across 10 Asia-Pacific countries in the coming months, and is valued at over a million US dollars within a few months of fund-raising in its pre-seeding round.
CoXplore's representative said: "It aims to make Asia the global hub for location-independent work."
Jason Lusk from Mekong Innovative Startups in Tourism said: "Tomorrow's workforce will work wherever it is most efficient and effective to work, whether that is a place that inspires creativity and focus, offers connectivity to valuable networks, makes long business trips more palatable, or helps manage costs. It is exciting to see a dynamic company like CoXplore from a country like Viet Nam to take the lead in accelerating the future of work."
According to reports from Forbes, the newest demographic, "millennials" now travel more and further than past generations, they value once-in-a-lifetime experiences, shareable moments and living life to the fullest. Their habits are being supported by fast growing list of innovative, travel-focused tech-tools and functional mobile apps.
Agro-forestry-fishery exports up 2.7 percent in nine months
Vietnam exported 30.02 billion USD worth of agro-forestry-fishery products in the first nine months of 2019, a year-on-year rise of 2.7 percent, according to the Ministry of Agriculture and Rural Development.
Also in the reviewed period, the country spent 23.16 billion USD on agro-forestry-fishery imports, down 1.2 percent from the same time last year.
The nine-month export growth was mainly driven by forestry products that reached 7.93 billion USD, up 18 percent, and livestock 530 million USD, up 8.6 percent.
Products with export turnover of more than 2 billion USD include wood and timber products, coffee, rice, cashew nut, vegetables and fruit, and shrimp./.
Vinh Phuc: GRDP rises 8.63 percent in nine months
The gross regional domestic product (GRDP) of the northern province of Vinh Phuc reached 62.15 trillion VND (2.67 billion USD) in the first nine months of this year, up 8.63 percent year-on-year.
The industrial sector continued to prove its important role in the provincial socio-economic development, with a growth rate of over 13 percent, contributing 6.2 percentage points to the local growth.
Meanwhile, agriculture slipped 2.2 percent due to impacts of the African swine fever.
During the period, the trade and service sectors grew significantly, meeting the demand of local consumers./.
Hanoi most attractive to foreign investors in nine months
Hanoi led 59 cities and provinces receiving foreign direct investment (FDI) in the first nine months of this year by luring 6.15 billion USD, or 23.5 percent of the total FDI that Vietnam got in the period.
According to the General Statistics Office (GSO), Hanoi was followed by Ho Chi Minh City with 4.52 billion USD, accounting for 17.3 percent of the total FDI.
The southern industrial hub of Binh Duong came third with 2.52 billion USD, accounting for 9.6 percent of the total FDI flowed into Vietnam so far this year.
The GSO reported that Vietnam attracted 26.16 billion USD in the first nine months of this year, up 3.1 percent over the same period in 2019.
Of the figure, 10.97 billion USD was poured into nearly 2,760 new projects, up 26.4 percent in the number of projects and down 22.3 percent in terms of the capital year on year.
Approximately 4.79 billion USD was pledged to existing projects, just equivalent to 86.4 percent of the value from a year ago.
Foreign firms invested 10.4 billion USD in Vietnam during the period through capital contributions and share purchases, representing a year-on-year increase of 82.3 percent and accounting for 39.8 percent of the total registered capital.
The nine-month foreign direct investment (FDI) disbursement was estimated at 14.22 billion percent, up 7.3 percent year on year.
In terms of investment areas, processing and manufacturing remained the most attractive sector to foreign investors during the January-September period, drawing 18.09 billion USD, making up 69.1 percent of the total FDI pledges. It was followed by property trading at 2.77 billion USD (10.6 percent of the total) and wholesale and retail at nearly 1.4 billion USD (5.4 percent of the total).
Among the total 109 countries and territories investing in Vietnam, Hong Kong (China) was the largest investor with 5.89 billion USD, followed by the Republic of Korea at 4.62 billion USD and then Singapore at 3.77 billion USD. Japan overtook China to rank fourth with a registered capital of 3.067 billion USD.
Major projects invested by foreign investors in the first nine months of this year include a deal of Hong Kong's Beerco Limited's buying of Vietnam Beverage; the LG Display Hai Phong, which received additional 410 million USD; and a Chinese-invested project with 280 billion USD./.
Parcel lockers have great potential in Vietnam's delivery industry: JLL
Although they are a familiar sight in many other countries, lockboxes are currently not wildly available in Vietnam.
Parcel lockers or store pick-up options have a promising outlook in Vietnam given fast-growing urbanization in the country, according to a report by JLL Vietnam.

The boom in online shopping leads retailers and logistics providers to look for new ways to deliver orders as quickly and efficiently as possible. Parcel lockers or store pick-up options are among the latest delivery options for shoppers. For store pick-up, shoppers can visit the nearest stores for their package after checking out online. For parcel lockers, shoppers will receive a QR or SMS code upon checkout that will open the locker once the parcel is delivered.
The Visa Consumer Payment Attitudes Study 2018 shows that ecommerce saw a growth of 40% in total value of purchase compared to the year before. "The accelerated growth is both good and bad news for retailers, who are in need of better delivery options to tackle the challenges of last mile deliveries from warehouses to homes and offices," Stephen Wyatt, country head of JLL Vietnam comments.
"Trying to deliver packages to customers who aren't home can cause delays on delivery routes, while getting orders to individual addresses often means putting vehicles on the roads before they're full, raising costs and contributing to city center congestion and air pollution."
Although they are a familiar sight in many other countries, lockboxes are currently not wildly available in Vietnam. DHL has a network of 340,000 lockers in Germany and major UK fashion brands like ASOS utilizes them to let customer return products anytime they want. Sportswear brand Decathlon also installed 1,500 lockers to support its click-and-collect delivery option.
These boxes are even creatively used as self-checkin device for many AirBnB homes, with house keys stored in a lockbox with a unique code provided only to registered guests.
A good location for lockers depends on retailer customer profiles – how frequently customers order and where they live. This is where big data can provide insight into the most effective locations, Stephen said. What's key is that customers can pick up the parcel along their usual journey, without a detour. Furthermore, lockers need to be in secure locations with good surveillance to minimize the risk of theft or vandalism.
Down the line, new residential and mixed-used developments in Vietnam could include a block of lockers, accessible by all residents as well as retailers. Currently, most big packages delivered to residential buildings are left at the door or reception table. With hundreds of packages arriving each day for the thousands of residents, parcel lockers can minimize the risk of mixing up or losing packages, Stephen said.
Urbanization is speeding up, and this means more and more people are moving to the city every year. According to JLL's data, the number of apartments in Ho Chi Minh City has increased from 67,200 to 180,000 units in the period of 5 years, an approx. 190% growth from 2014 to Q2 2019. For landlords, providing the convenience of parcel lockers could be an additional perk that attracts commercial and residential tenants – especially as online shopping continues to grow.
In the future, refrigerated lockers for food and grocery orders could also become popular fixtures, JLL concluded.
Sumitomo to spend US$177 million on expanding industrial parks in Hanoi
Sumitomo will add about 290 hectares to two of its three complexes outside Hanoi. The three industrial parks host roughly 190 companies, 90% of which are Japanese manufacturers.
Japanese trading group Sumitomo will spend over $177 million to expand its two industrial parks in Hanoi, Vietnam, looking to serve businesses shifting production away from China to avoid the trade war, Nikkei Asian Review reported.
Sumitomo will add about 290 hectares to two of its three complexes outside Hanoi. The three industrial parks host roughly 190 companies, 90% of which are Japanese manufacturers.
The tit-for-tat tariffs imposed by the U.S. and China have forced companies to revise production strategies to avoid the duties. Many Japanese companies interested in moving into Sumitomo's industrial parks are seeking to diversify manufacturing risks.
Sumitomo will spend over US$130 million adding about 181 hectares to the southeast portion of Thang Long Industrial Park II. The site already spans 346 hectares. Groundbreaking is scheduled for 2021, with lots going on sale in 2022. The expanded location will be one of the biggest Japanese industrial parks in Vietnam.
A 109-hectare expansion at Thang Long Industrial Park III will cost about US$46.42 million. Though the work was already planned, it has been accelerated by a year to the first half of 2020 at the earliest.
Sumitomo originally planned to sell out Thang Long III's first phase lots by 2022. But due to the unanticipated demand, the lots covering the initial 104 hectares -- completed just last November -- likely will be sold out by 2021.
Investments by Japanese companies in Vietnam rose 7% last year to 643 targets, according to the Japan External Trade Organization, or JETRO. Spending has increased for three consecutive years to a new record. Vietnam's proximity to China and its cheap labor costs have made it a draw for relocating production capacity.
Clustering might be missing in Vietnam industrial map: Savills
New to market foreign entrants would be familiar with industrial clustering, as these are well-established within the locations they are moving from.
Clustering seems to be a missing piece of Vietnam's industrial map puzzle and it is expected to become more popular as the Vietnamese economy moves up the value chain, according to Troy Griffiths, deputy managing director, Savills Vietnam.
Industrial property has great potential to influence land use changes and create value. However industrial property itself is subject to enormous influence from infrastructure, that comes down to primarily distance from source markets and distance to destination markets. As industrial land is relatively homogenous then these operational variables have great weight for occupiers.
In highly industrialized nations the downstream or co-location of sector specific industries then becomes important as operational efficiency can be achieved. That is having an 'automotive cluster' in a single location will be far more effective as each of the steps within the overall production sequence are closer and more tightly aligned.
Clustering is well recognized as creating advantage for sector specific industries. It also allows less competitive provinces or locations to emerge and compete effectively. At a policy level it is better to consolidate locations by industry thereby conferring advantage to the occupiers, rather than ad hoc and disparate industries spread throughout the country.

The charts above detail a VSIC level 1 "wholesale and retail trade, repair of motor vehicles, motorcycles" classification as 190 occupiers, without much clustering. They're spread throughout the country with some small bias around Hai Phong.
Major international and domestic property players are now circling industrial land as this asset class comes into favor. Global trade, geopolitics and the delivery of infrastructure have all combined to change the nature of industrial property in Vietnam. Add to that the disruptive nature of logistics and modern retailing and we can see interesting dynamics at play.
Hai Phong is already established for electronics but now emerging as an auto cluster. With excellent infrastructure coming online and proximity to markets, then this will continue to be a standout manufacturing location.
Long An is under-priced and will benefit from the connectivity Ben Luc ring road 3.
Binh Duong is benefiting from its near proximity to Ho Chi Minh City and has seen rapid land price escalation, making adjacent locations more valuable.
The future lies in moving up the value chain to greater value add or tertiary industries. To this end look to Danang that's a sleeper but has all the prerequisites.
New to market foreign entrants would be familiar with industrial clustering, as these are well-established within the locations they are moving from. This is generally guided through government policy, corporate income tax (CIT) incentives or strategic planning. In so doing the economic benefit can be spread throughout the country rather than concentrating at a single location.
Hanoi GRDP grows 7.35% in Jan-Sep
The high growth rate was thanks to strong economic growth of 7.62% in the third quarter, higher than growth rates of 7% and 7.41% recorded in the first and second quarters, respectively.
In the first nine months of 2019, Hanoi's gross regional domestic product (GRDP) has expanded by an estimated 7.35%, higher than the 7.01% growth recorded in the same period last year, according to the municipal Statistics Office.
The high growth rate was thanks to strong economic growth of 7.62% in the third quarter (Q3), higher than growth rates of 7% and 7.41% recorded in Q1 and Q2, respectively.
In the January – September period, the agriculture, forestry and fishery sector declined 0.7% year-on-year, versus an expansion of 3.34% in the same period last year, (mainly due to the impact of African swine fever), which led to a decrease of 0.02 percentage point to the overall growth. The industry and construction sector rose by 8.84%, higher than last year's year-on-year growth of 7.93%, contributing 2.51 percentage points to the overall growth. The service sector climbed by 6.72%, contributing 4.64 percentage points.
In the first nine months of 2019, FDI committed to Hanoi reached US$5.22 billion, while total registered capital for new and existing projects stood at US$1.01 billion as of September 20, including 631 new projects with US$503 million, and US$509 million in additional funds for 148 ongoing projects.
Hanoi has seen a total of nearly 20,562 enterprises registered for new establishment in the first nine months of 2019 with registered capital of VND263.8 trillion (US$11.36 billion), up 9% in the number and 28% in the capital year-on-year. Meanwhile, the number of enterprises that completed bankruptcy procedures climbed 30% year-on-year to 1,500. Up to 6,458 enterprises suspended operations temporarily, up 26% and 4,450 resumed operation.
For the first time since the launch of the provincial competitiveness (PCI) index report in 2005, Hanoi has been named among the top 10 ranking nationwide, claiming the 9th rank out of 63 provinces and cities with a score of 65.40.
Total retail sales of consumer goods and services grew by 10.3% in the January – September period to VND412 trillion (US$17.74 billion), including VND70.5 trillion (US$3.03 billion) from the state sector, up 5.3% year-on-year, private sector with VND319 trillion (US$13.47 billion), up 12.1%, and the foreign-invested sector with VND22.5 trillion (US$969.27 million), up 2.3%.
In the first nine months of 2019, Hanoi posted export revenue at US$12.4 billion, up 20.4% year-on-year, while importing goods worth US$23 billion, up 2%, resulting in a trade deficit of US$10.6 billion.
The consumer price index (CPI) expanded 0.12% month-on-month in September, 2.64% against last December and 2.31% year-on-year. Overall, Hanoi's CPI in the first nine months increased by an average 3.74% year-on-year.
During the period, the city's state budget revenue reached VND171.7 trillion (US$7.4 billion), equivalent to 69.9% of the year's estimate and up 15% inter-annually. Of the total, revenue from crude oil reached VND2.6 trillion (US$111.98 million), up 16.8% year-on-year, and domestic revenue of VND169.1 trillion (US$7.28 billion), up 15%.
Hanoi targets GRDP growth rate of 7.5% in 2019 and 2020, leading to the GRDP growth in the 2016 – 2020 period of 7.33% - 7.41%, which is in line with the city's five-year development plan.
Economists upgrade Vietnam's growth forecasts as Q3 GDP growth accelerates
Rising foreign direct investment and "buoyant domestic demand, as suggested by the recent robust retail sales growth," will keep the momentum going through year-end and in early 2020, said Maybank economists in a research note.
Economists are upgrading their growth projections for Vietnam after data released last weekend showed the economy surged more than 7% in the third quarter, Bloomberg reported.

Citigroup revised its full-year forecast to 6.9% from 6.7% previously, on the basis of another solid performance in the fourth quarter. Analysts at Maybank Kim Eng Research Ltd. now see 7% growth for the year versus a prior call of 6.8%.
Solid exports and manufacturing growth underpinned the third-quarter gain of 7.31%, flouting a regional slowdown triggered by US-China and Japan-South Korea trade tensions and waning global demand.
The expansion was the fastest pace since the start of last year, and reflects growing foreign investment into Vietnam as businesses shift production from China to bypass higher tariffs.
Rising foreign direct investment and "buoyant domestic demand, as suggested by the recent robust retail sales growth," will keep the momentum going through year-end and in early 2020, Maybank economists Linda Liu and Chua Hak Bin said in a research note.
The Asian Development Bank (ADB) previously retained its growth forecast for Vietnam's economic growth at a "healthy rate" of 6.8% and 6.7% in 2019 and 2020, after growing robustly by 7.1% last year.
While sharing the same view with other forecasts that Vietnam's economy remains healthy thanks to continued strength in domestic demand and sustained inflows of foreign direct investment, ADB Country Director for Vietnam Eric Sidwick noted further escalation of the US-China trade tension and continuing global economic slowdown could shrink global trade, which will adversely impact the country's trade performance and economic growth.
According to the General Statistics Office (GSO), Vietnam's GDP expanded 7.31% year-on-year in the third quarter (Q3), higher than the growth rate of 6.82% in Q1 and 6.73% in Q2 this year.
Overall, Vietnam posted year-on-year GDP growth of 6.98% in the first nine months of 2019, the highest nine month growth rate of the last nine years.
More open policy effectively boosts growth of science-technology enterprises
The Decree No.13/2019/ND-CP on science and technology enterprises (STEs), effective as of March 20, 2019, has erased a rule about chosen fields for the registration of STE. This has allowed several businesses to make good use of advantageous conditions offered to STEs to further develop.
Accordingly, in case of no intellectual property right certificate, a business may submit its registered product to a non-state-budget inspection council in the local area to be approved as an STE. After that, these STEs can enjoy various incentive policies such as business tax exemption in 4 years and then a 50 percent tax decrease in the next 9 years.
Besides, they are entitled to be exempted from or discounted on land and water lease fee. Any manufacturing project of scientific-technological research results are eligible for the government's investment credit capital and the financial aid from the National Technology Innovation Fund, the National Foundation for Science & Technology, along with an interest rate support of 50 percent at most when loaning from commercial banks.
"Upon the receipt of an STE certificate, we are now paying more attention to intellectual property rights and our contribution to the society", said Mr. Ngo Vi Dong, President of HPT Vietnam Corporation. Founded in 1995 as a large-scale information technology enterprise, HPT Vietnam Corp. has just received its STE certificate for 21 software, storage, and data security products. Mr. Dong stated that since he is a person of science, his wish is to cooperate more closely with the Ho Chi Minh City (HCMC) Department of Science and Technology to carry out scientific projects for the sake of the city growth.
Sharing the same situation, President cum General Director of Dien Quang Lamp Joint Stock Co. Ho Quynh Hung happily said that his company is now aiming at smart lighting solutions for both households and large-scale businesses. It is developing suitable lighting hardware as well as software and utility services. Mr. Hung affirmed that Dien Quang Lamp JSC. always focuses on Research & Development activities to upgrade product quality and master advanced technologies so as to better serve its customers.
According to the Technology and Technology Market Management Division under the HCMC Department of Science and Technology, in the first 6 months of 2019, the city welcomed 10 more STEs, increasing the total quantity to 83, most of which are information technology ones. This is the positive result of adjusted policies for businesses.
Deputy Head of the above division Chu Ba Long shared that since Decree No.13/2019/ND-CP on STEs removes the rule about chosen fields for the registration of STEs, businesses in any industry that has a scientific-technological product can apply for an STE certificate. Following that, the registered product will be exempted from tax.
There are many methods to prove an enterprise is owning or using technology, including an intellectual property right on its registered product or the submission of the selected product to a non-state-budget inspection council formed by the HCMC Department of Science and Technology.
Mr. Nguyen Khac Thanh, Deputy Director of this department, strongly stated that it is the Decree No.13/2019/ND-CP which makes way for business to easily become an STE and enjoy incentive policies from the government. Therefore, it is necessary to have a specific state unit to be responsible for appropriate procedures to obtain these favorable conditions.
"Lately, we have collaborated with the HCMC Department of Taxation to introduce a unified procedure to better support STEs in drawing tax balance sheets. We hope to have a clearer legal corridor for HCMC to quickly increase the number of STEs in the near future", said Mr. Thanh.
Seafood export rushes to achieve target
The Ministry of Agriculture and Rural Development set seafood export target at US$10 billion for this year, but after the first eight months of this year, seafood exports merely reached $5.4 billion, down 2.6 percent over the same period last year. Therefore, from now until the end of this year, authorities and enterprises must promote seafood export in order to achieve the target.
After declining for a long time, the prices of material shrimps in provinces in the Mekong Delta have climbed. At the present, traders and processing factories are buying white-leg shrimps sized 100 pcs per kilogram at VND80,000-VND95,000 per kilogram, an increase of VND2,000-VND7,000 per kilogram compared to those in July this year; white-leg shrimps sized 60 pcs per kilogram at VND110,000 per kilogram; and white-leg shrimps sized 30 pcs per kilogram at VND190,000-VND202,000 per kilogram.
The Directorate of Fisheries under the Ministry of Agriculture and Rural Development, the prices of material shrimps increased as export of shrimps has been improved significantly, of which, shrimp exports in July exceeded $344 million, up 13.4 percent over the same period last year. In the first eight months of this year, shrimp farming area was at around 689,516 hectares, up 0.5 percent over the same period last year with production at 444,404 tons, up 15 percent compared to the same period last year.
Mr. Su Van Thinh, head of the People's Committee of Vinh Thuan District in Kien Giang Province, said that shrimp is its economic strength but at the beginning of this year the prices of shrimps were low and diseases occurred frequently causing disadvantage for shrimp farmers. The prices now have rebounded and it is forecast that demand for shrimps will highly jump at the end of the year so many shrimp farming households have been zealously expanding shrimp farming area.
Meanwhile, the prices of pangasius fish continued to disadvantage farmers and export enterprises. Currently, the prices of pangasius fish fluctuate from VND19,500-VND21,000 per kilogram, much lower than the prices of VND34,000-VND36,000 per kilogram at this time last year, causing several farmers to suffer huge losses.
Mr. Nguyen Thanh Binh, director of Chau Thanh Seafood Production and Service Cooperative in Dong Thap Province wailed that pangasius fish farmers were empty-handed this year. They suffered an average loss of VND3,000-VND5,000 per kilogram. Amid the situation, many households have been hesitated in increasing pangasius fish farming area at the end of the year.
According to authorities, the prices of material pangasius fish dropped drastically because of difficulties in export since the beginning of this year, of which the US market fell by more than 50 percent in the first eight months of this year. Due to the current situation, the Vietnam Association of Seafood Exporters and Producers forecast that pangasius fish export turnover this year will be estimated at $2.23 billion and fail to achieve a target of $2.4 billion
Pangasius fish is the strength of Vietnam in international market; however, development of pangasius fish farming has exposed several risks and lacked of sustainability. Mr. Tran Phung Hoang Tuan, head of the Department of Fisheries of An Giang Province, said that one of the long-lasting problems is that the implementation of pangasius fish farming project in the Mekong Delta has not been synchronized. There has not been any measure to tackle unplanned pangasius fish farming, leading to excessive supply, causing the prices of pangasius fish to plummet heavily. This has caused huge economic losses to fish farming households in the Mekong Delta. Although fish farming has existed for a long time, the number of fish farming households which have not connected to supply chains is still high. Fish farming households which have not connected to supply chains will find it difficult to access market information, prices, export demand, product quality requirements and they will easily face risks when the market changes.
According to Mr. Tuan, at the present, in the Mekong Delta, there are many provinces culturing and exporting pangasius fish but information about production and consumption of pangasius fish as well as cooperation between provinces has not been smooth. Therefore, pangasius fish production plan is not interregional. This is a big problem that needs resolving quickly in order for pangasius fish farming industry to develop more steadily in the future.
Mr. Doan Toi, CEO of Nam Viet Joint Stock Company, said that the urgent solution at this time is to recover the market and promote export during the last months of this year as much as possible. In long term, it is not advisable to build more pangasius fish factories as current factories have already had excess capacity. At the same time, it is essential to develop fish farming area under GAP standards and international standards and train human resources for pangasius fish processing field, especially there is a shortage of skillful workers.
Mr. Tran Dinh Luan, director general of the Directorate of Fisheries, said that in order to develop sustainably shrimp industry, provinces should increase informing timely new regulations and instructions about production and market information for enterprises and farmers. They should encourage development in the direction of connecting to supply chains, concentrate on developing strategic shrimp products in the direction of reducing cost prices and increase value so as to improve competitiveness of Vietnamese products against those of other countries in the world.
As for shrimps, shrimp exports are expected to be optimistic during the last months of this year as global demand will climb during Christmas and New Year holidays. In addition, the fact that 31 Vietnamese shrimp exporters received anti-dumping tax of zero percent by the US Department of Commerce will create favorable conditions to boost export. Currently, orders from the US market have gradually increased as the US reduces importing shrimps from India, Thailand and China. In addition, export of shrimps to the EU, South Korea, Canada and Japan has also improved positively. Especially, shrimps are out of season in India so global shrimp prices have a tendency to go up which also brings opportunities to Vietnamese shrimps.
Bac Giang event to foster tourism, business activities
A culture, tourism and trade week opened in the northern province of Bac Giang on October 5, attracting the participation of more than 500 businesses.
Vice Chairman of the provincial People's Committee Duong Van Thai, who is also Chairman of the Business Association of Bac Giang, said the first-ever event aims to mark the 15th Vietnamese Entrepreneurs' Day (October 13) and promote cultural, tourism and trading activities in the locality.
It is also an occasion for local firms and craft villages to popularise their brands, introduce products and seek business and investment partnerships, he noted.
The week, taking place in Bac Giang city until October 12, features a wide range of activities such as trade and investment promotion workshops, contract signing between domestic and foreign businesses, and dissemination of the Law on Support of Small- and Medium-sized Enterprises.
An automobile, motorcycle and bicycle exhibition, a fair with 250 booths, along with activities to introduce the Tay Yen Tu spiritual and ecological tourism complex also form part of the event.
Local authorities reported that nearly 900 businesses have been set up in Bac Giang province since the beginning of 2019, up 6.5 percent year on year, raising the number of companies here to over 9,100. The local nine-month industrial production value approximated 153.6 trillion VND (6.6 billion USD), up 31.3 percent./.
Businesses have crucial role to play in socio-economic development: Deputy PM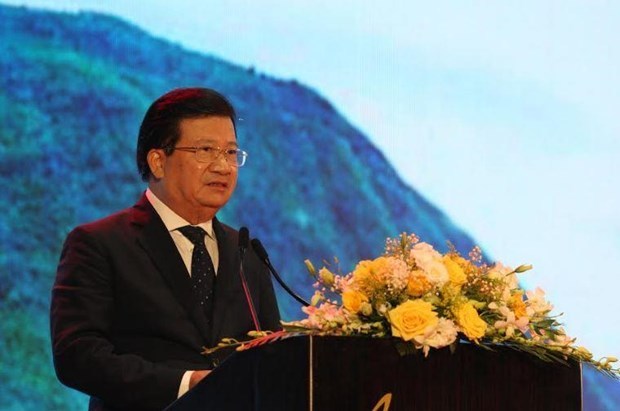 Deputy Prime Minister Trinh Dinh Dung speaks at the Vietnam Business Forum 2019. (Source: dangcongsan.vn)
Businesses are the main force of the nation to help promote economic growth, social development, and employment, Deputy Prime Minister Trinh Dinh Dung said while attending the Vietnam Business Forum 2019 in the central coastal city of Da Nang on October 5.
The country now houses over 715,000 active businesses and more than 5 million business households. The number of entrepreneurs is estimated at 5-7 million. The business sector is making up over 60 percent of the national gross domestic product (GDP) and about 70 percent of the State budget revenue, and employing tens of millions of workers, the official said.
Particularly, the private economic sector is playing a decisive role in the economy, making up 43.3 percent of the GDP since 2016.

According to the Deputy PM, the Government will focus on building a 10-year development strategy for 2021-2030, with a vision to 2050, as well as national, regional and provincial planning schemes for 2030 with a vision to 2050 in order to develop the country into a modern industrialised society soon.
He called on businesses to redouble efforts to restructure products, investment, administration and human resources based on the market's demands while paying more attention to building brands and business culture.
Entrepreneurs should be pioneers in the application of science and technology as well as promoting innovation and optimising advantages from the Fourth Industrial Revolution to create more high-quality and globally competitive products, the official said.
He asked the Vietnamese business community to strengthen coordination and proactively improve their operation and expand international trade relations as well as make use of opportunities from new-generation bilateral and multilateral free trade agreements.
The Deputy PM also called on them to take the lead in abiding by the laws while paying attention to social responsibility, green and sustainable development, and having specific actions to protect the environment./.
UK-Vietnam Joint Economic and Trade Committee meets in Ha Long
Free trade is the best route to prosperity and to boosting UK-Vietnam bilateral trade, the 11th meeting of the UK-Vietnam Joint Economic and Trade Committee (JETCO), co-hosted by Deputy Minister of Industry and Trade Hoang Quoc Vuong and the UK Minister for Trade Policy Conor Burns on October 4 in Ha Long Bay heard. Talks focused on deepening the two countries' trade cooperation in key sectors including education, healthcare, renewable energy, financial services, and agriculture.
In 2018, with $6.74 billion, up 9.5 per cent against 2017, the UK ranked third in Vietnam's import and export turnover with EU countries. Vietnam ranks 38th out of the 241 trading partners of the UK and 25th out of 233 countries exporting to the UK. In ASEAN, Vietnam ranked second (after Thailand) in terms of exports to the UK, accounting for 0.8 per cent of total import turnover. In the first eight months of 2019, bilateral trade relations reached $4.53 billion (up 2.09 per cent year-on-year). Vietnam's exports to the UK reached $3.08 billion, up 1.7 per cent, while its imports reached $557 million, up 4.84 per cent.
As at the end of August, the UK had 366 investment projects in Vietnam with capital of $3.64 billion, putting it 15th out of 132 countries and territories with FDI in Vietnam.
Vietnam has also been assessed by international organizations as having a relatively good investment environment, with it ranking ninth in investment attraction. The flow of foreign investment into the country has grown steadily, while its ranking in business investment environment and national competitiveness have made progress, ranking 77th out of 140 countries and territories.
Speaking at the meeting, Deputy Minister Vuong affirmed that after ten meetings, the Vietnamese Government as well as the business communities of the two countries have contributed to the success of JETCO meetings, helping to remove difficult barriers in trade exchange and creating a favorable business environment within the business communities of both countries. Issues discussed at JETCO 11 were practical and specific. The two sides will coordinate closely and attempt to thoroughly and effectively resolve the issues highlighted at this meeting, bringing relations to a new height.
Mr. Burns also said that Vietnam is a dynamic country with strong economic growth, and the UK will maximize its efforts to support the country so it can overcome the challenges of Industry 4.0.
The two sides discussed cooperation issues in various fields, such as market management activities and anti-smuggling activities, and cooperation in the fields of finance, customs, healthcare, and pharmaceuticals, etc. Regarding vocational education and training, the UK will promote English teaching and learning in Vietnam while considering recognition of certificates issued in Vietnam as well as developing occupational skills standards, supporting the training and capacity building of Vietnam's vocational education and training teachers. For cooperation in the field of agriculture, the UK will consider the export and import of meat products between the two countries. In tourism, a representative office for Vietnam's tourism sector will also be opened in London in the time to come.
FLC & RMIT strategic education partners
RMIT University and the FLC Group signed an MoU on October 1 to boost human capital in local industries and further enhance the RMIT student experience.
The agreement enables future partnerships in a number of key sectors of growth for Vietnam, including RMIT's ability to deliver the training and development needs of the FLC Group across governance, strategic management, finance, real estate, engineering, languages, and aviation.
FLC Group Deputy General Director Ms. Nguyen Nhu Anh said the partnership with a highly ranked, reputable university such as RMIT will enhance its position both locally and globally.
"As a multi-line and multi-sector group with a strong trademark in Vietnam, the partnership with RMIT will help us develop our people to make us more competitive locally and in international markets," she said.
RMIT Acting Deputy Vice-Chancellor Global, Professor Peter Coloe, is pleased with the agreement and looks forward to exploring the many areas of potential collaboration the partnership will offer.
"There are many commonalities between the FLC Group's key areas of business and where our strengths are at RMIT, and we look forward to providing a range of workshops and training programs to best meet their needs," Professor Coloe said.
RMIT has broad local and international expertise in aviation programs, training pilots, instructors, and safety personnel, and conducting aviation English training, making it Australia's largest aviation training school.
Professor Coloe also reflected on the new opportunities the partnership offers RMIT and its students in Vietnam.
"We have more than 6,500 students at RMIT Vietnam and more than 13,500 alumni," he said. "Our graduates are highly sought after for their quality education, their global mindset and experience, and their strong industry connections and partnerships."
"It truly highlights RMIT's strong industry connections that give students tremendous opportunities to intern at one of the biggest names in the industry."
The MoU came into effect on October 1 and the two organizations will develop a detailed proposal together for implementation.
Trade fair offers new opportunities

A trade fair is under-way in the northern mountainous province of Lai Chau, showcasing a wide range of products and services at nearly 300 booths including ones of Chinese Yunnan Provinces and Laos.
The industries being showcased are textile and garment; agricultural products, foodstuffs; machinery and equipment, household appliances, pharmaceutical and telecommunication services.
In her speech at the fair's opening ceremony on Saturday, Bui Thi Thanh An, Deputy Director of the Trade Promotion Agency under the Ministry of Industry and Trade, said the event was part of the National Trade Promotion Programme in 2019 which aims to better facilitate economics, investment and tourism between Lai Chau Province and others localities throughout the country.
It also helped these provinces advertise their potentials, economic strength and major products, An said. She also described the fair as an opportunity for businesses to seek new opportunities and access customers.
The fair will wrap up on Thursday.
In 2018, under the national trade promotion programme, the department implemented 171 projects with a total budget of VND103 billion (US$4.4 million).
The total value of contracts and direct transactions at export promotion events reached more than $9.3 billion. Total revenue from selling goods at trade fairs exceeded VND141 billion.
Tien Phong Plastic South inaugurates second plant
Tien Phong Plastic South JSC inaugurated its second plant in Dong An 2 Industrial Park in Binh Duong Province on October 4.
The 11 hectare plant is adjacent to its current plant in Dong An 2 Industrial Park.
The facility, which includes two large workshops, with modern equipment imported from Europe, along with warehouses, is expected to provide 60,000 tons of products per year for local consumption and export.
The total investment of the new plant was nearly VND500 billion (US$21.5 million).
Tien Phong Plastic South signed a cooperation agreement with Japan's Sekisui Chemical Co., Ltd, in 2017 to acquire hi-tech production lines to manufacture new products.
The company built its first plant in 2007 on five hectares in Dong An 2 Industrial Park.
After 12 years of development, Tien Phong Plastic South has opened four distribution centers and thousands of retail outlets in 33 localities nationwide. Its products have been used in major projects, such as the first metro line project, the Masteri Thao Dien high-end residential area, Tan Son Nhat International Airport and the second campus at HCMC Oncology Hospital.