The government of Vietnam's effort to combat trade fraud has been highly appreciated by trade partners as Vietnam's exports to important markets continue to be welcomed.
Serious violations committed by Excel Co Ltd, a 100 percent Chinese invested enterprise, which makes bicycles for export, have been discovered.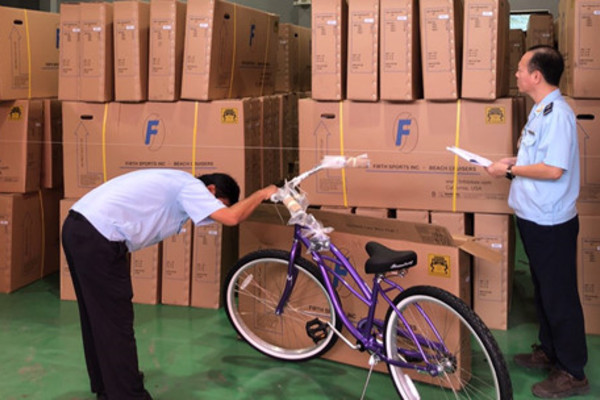 Serious violations have been discovered
The officials of the Post-customs Clearance Inspection Agency at the General Department of Customs (GDC) found that the company imported 100 percent of bicycle and electric bicycle parts from China and assembled them in Vietnam for export.
The components imported to Vietnam had not undergone any manufacturing process before they were exported from Vietnam to the US, and were labeled as Vietnamese products in order to enjoy preferential tariffs.

Reports on Chinese investments in Vietnam show a sharp increase recently. According to the Ministry of Planning and Investment (MPI), investments from China and Hong Kong are increasing rapidly as a result of the US-China trade war.
After referring to the current regulations on goods origin, the agency concluded that the products of the company, established in 2018, did not meet the requirements to be considered products with Vietnamese origin.
"The company acknowledged the violations," the representative of the agency said, adding that all the products in violation have been seized.
Excel Co Ltd is not alone. The agency also discovered fraud committed by three other bicycle and one woodwork assembling companies in order to enjoy Vietnamese origin.
It named a series of 100 percent Chinese invested enterprises in the watchlist for origin fraud, inspected ninr enterprises and directed nine provincial and municipal customs agencies to inspect another 24 enterprises.
The discoveries by GDC show that origin fraud has become a significant problem in the context of the escalating trade war. They also show Vietnam's strong determination to ensure a level playing field for businesses.
Reports on Chinese investments in Vietnam show a sharp increase recently. According to the Ministry of Planning and Investment (MPI), investments from China and Hong Kong are increasing rapidly as a result of the US-China trade war.
The investments from China have increased by 1.65 times, and from Hong Kong 2.4 times compared with 2018. China (including Hong Kong) has jumped to the first or second position among the 125 countries and territories having foreign direct investment (FDI) in Vietnam, which had never occurred before.
In 2016, capital from China, not including Taiwan, to Vietnam was $3.51 billion only. It surged to $3.64 billion in 2017, $5.64 billion in 2018 and continued increasing sharply in 2019.
Not all foreign investors follow illegal purposes when making investment in Vietnam. However, the host country always has to be vigilant in the current complex geopolitical context.
Nguyen Tien Loc, director of the Post-customs Clearance Inspection Agency, said the agency is focusing on Chinese invested enterprises because of the high risk for origin fraud. In the US-China trade war, many Chinese enterprises are flocking to Vietnam under the cloak of investors to export their products to the US to evade tax.
Warning of the abnormality of the foreign capital flow to Vietnam, the Ministry of Planning and Investment (MPI) has sent a document to provincial people's committees, asking local authorities to provide information and urge relevant agencies to monitor foreign investment changes (new investment, M&As and foreign ownership ratio) in production and business fields related to products prone to trade remedy and tax evasion avoidance measures.
This aims to minimize the cases of Vietnamese goods being investigated for trade remedy avoidance, especially origin fraud through investment in Vietnam; and to prevent foreign enterprises from exploiting Vietnam as a transshipment point to export goods to third countries.
The warnings by Vietnamese agencies, including GDC, the Ministry of Industry and Trade, and MPI, are very necessary to prevent Vietnam from not getting involved in the trade war.
In early July 2019, Prime Minister Nguyen Xuan Phuc approved a plan on strengthening state management of avoidance of trade remedies and origin fraud. A lack of vigilance would force Vietnam's economy to pay a heavy price. 
Luong Bang

Drastic measures are needed to sustain the fight against trade fraud and smuggling of goods into Vietnam from Cambodia, speakers told a conference in HCM City on Thursday.

Market surveillance units last year cracked a number of major counterfeit rings countrywide as the fight against trade frauds took place on a scale never seen before, Deputy Prime Minister Truong Hoa Binh said.