Vietnam was looking for measures to expand rice exports to China after witnessing a fall in export volume to the market since 2018.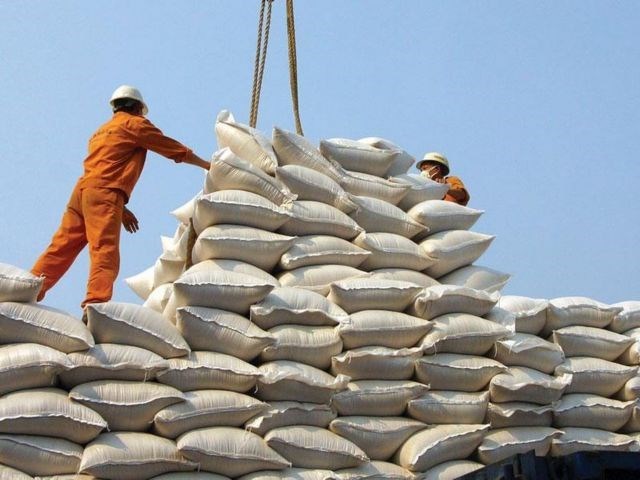 Workers stack bags of rice (Photo: baodauthau.vn)
Do Ha Nam, Deputy Chairman of the Vietnam Food Association, said at a conference about rice trade between Vietnam and China in Ho Chi Minh City on May 6 that Vietnamese exporters were struggling to access the Chinese market despite China's massive demand for rice.
Since 2018, Vietnam's rice exports to China have dropped to 1.3 million tonnes, down from a record high of 3 million tonnes.
Nam attributed the decline to changes in China's import policies which required firms to be licensed to export to the market.
"We need to be regularly updated with market information to have measures to boost rice exports to China," Nam said.
He said he hoped that more firms would be licensed to export rice to China in the near future, adding that many firms could now meet China's requirements.
At the moment, only 22 Vietnamese firms are licensed to sell rice in China.
Pham Thai Binh, General Director of Trung An Hi-tech Agriculture Joint Stock Company, said Vietnamese export firms need to be provided with more detailed information about China's rice import demand – including consumption volume and rice types – to craft appropriate production plans.
The conference was held within the framework of a four-day exchange programme between Vietnam and China focusing on rice trade, jointly held by the Ministry of Industry and Trade and China's food associations as more than a dozen Chinese rice import firms are visiting Vietnam from May 6-10.
Tran Quoc Toan, Deputy Director of the Import-Export Department under the Ministry of Industry and Trade, said the programme was a significant opportunity for Vietnamese firms to learn about the Chinese market's demand for rice, network with Chinese importers and reduce intermediary stages in the export process.
Vietnam's rice exports in the January to April period were estimated at 2.03 million tonnes, worth 866 million USD, down by 7.9 percent in volume and 21.7 percent in value over the same period last year.
The average rice export price dropped by 72.7 USD per tonne to 430.1 USD.
Vietnam's rice exports to China in the period reached only 43,300 tonnes, worth 20.8 million USD, representing drops of 89.5 percent in volume and 90.4 percent in value. 
Chinese rice importers visit Vietnam
A delegation of some 20 Chinese rice importers is visiting Vietnam for trade connection and promotion activities between May 6 and 10.
The delegation, led by representatives of the China Food Industry Association (CNFIA), is scheduled to make field trips to a number of rice processing facilities in An Giang, Long An, and Dong Thap provinces in Vietnam's rice granary Mekong Delta region. They will attend a trade connection workshop in An Giang on May 9.
Their visit, made at the invitation of the Ministry of Industry and Trade (MoIT), is part of a programme co-organised by the MoIT's Export-Import Agency and Department of Asian and African Markets; Vietnam's trade promotion office in Beijing; the industry and trade departments of the three delta provinces; the Vietnam Food Association; and CNFIA.
Previously, the MoIT had invited four similar delegations to make trips to Vietnamese rice hubs. They gathered representatives from Chinese provinces that have high demand for rice imports such as Anhui, Guangdong, Yunnan, and Fujian.
These programmes are opportunities to introduce Vietnam's facilities, capacity, and trademark in the industry.
In 2018, Vietnam's total rice exports reached 6.15 million tonnes, with the export turnover of 3.15 billion USD. The industry saw 5.7 percent and 19.6 percent increases in volume and value compared to 2017, respectively.
China was the biggest rice importer of Vietnam last year, but was surpassed by the Philippines in the first quarter of 2019.
 VNA/VNS