After more than three years serving as U.S. Consul General in HCMC, Mary Tarnowka has been appointed as executive director of the American Chamber of Commerce in Vietnam HCMC.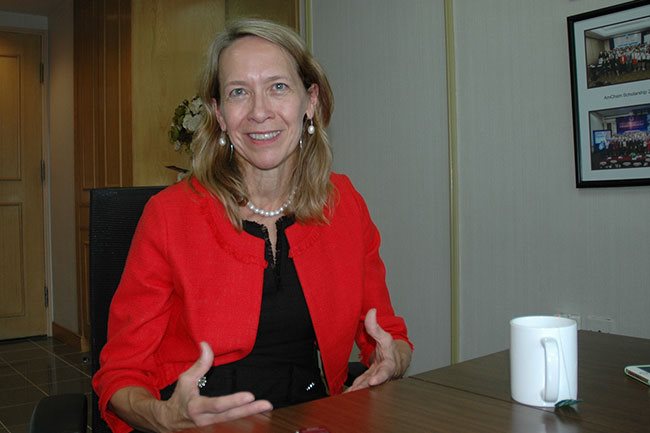 Mary Tarnowka, executive director of AmCham Vietnam HCMC, gestures while talking to The Saigon Times – PHOTO: PHAM LE
In an interview with The Saigon Times, Tarnowka said she will lead AmCham Vietnam HCMC as a bridge to promote bilateral trade and investment between the United States and Vietnam in the coming time. 
What made you decide to stay in Vietnam to work as executive director of AmCham Vietnam HCMC after leaving the post of United States Consul General in HCMC?
Mary Tarnowka: It was a combination of factors, I think. One is I really love living here in Vietnam and really enjoyed my time as Consul General working to strengthen our comprehensive partnership. As Consul General, I focused on strengthening security ties, economic ties and people-to-people ties.
There was a lot more that I wanted to do here. When the opportunity to serve as AmCham executive director became available, it was hard to turn down. Vietnam is one of the fastest growing economies in the world. I think there are a lot of synergies with the United States. Our bilateral trade and investment relationship has grown phenomenally over the years. So I was really excited about the opportunity to continue to help grow that relationship.
I am delighted to be back here in Vietnam in my new role with AmCham. I am excited for the opportunity to continue strengthening the economic and trade ties between the United States and Vietnam and to work with people here to build mutual benefits and mutual prosperity.
How is your new job?
- I am still learning (laughing). But it is really exciting. As Consul General, I had interacted a lot with AmCham because it is one of the U.S. Government's key partner organizations with its mission to be the voice of American business and to promote trade and investment between the United States and Vietnam. I have not yet had the chance to meet all our member companies in just my first couple of weeks. But I have been able to meet many of our long term members, as well as some of our newer members at a few recent AmCham events.
AmCham celebrates its 25th anniversary this year. That's also an exciting time for me to join because some of the companies that were just starting here 25 years ago are still here now. Some of our members started as young entrepreneurs and now they are very well-established business leaders. Most of the larger companies that were there then are still here now and many are also celebrating their 25-year anniversaries. We continue to see new companies come and invest and start operations. So it is exciting to celebrate the first 25 years and plan for the next 25.
In my new role, I will be doing a lot of listening to members to see where we can really add value because AmCham provides its members opportunities through networking events, information-sharing about what is going on here in Vietnam and the United States, and advocacy both with the Vietnamese and U.S. governments to promote a positive business climate for our members.
Can you share with us AmCham's activities in the coming time?
- Actually we have many events every month. For example, every month we offer an opportunity for our members to network informally with each other. We also have many active sectoral committees, including manufacturing, agriculture, food and beverage, logistics, legal, and human resources.
Last week, we hosted our National Conference and Networking weekend, where we were excited to welcome Ambassador Daniel Kritenbrink and new U.S. Consul General to HCMC Marie Damour, as well as the members from the AmCham Vietnam chapter in Hanoi to HCMC.
AmCham Vietnam in HCMC has more than 500 corporate members and more than 1.500 business representatives. So it is one of the biggest foreign business associations here in Vietnam. We have a smaller chapter in Hanoi, but it is also quite active too.
In October this year, there will be a big event that AmCham holds every year called AmCham Suppliers Day. It promotes development of Vietnamese small and medium-sized firms and their integration into global supply chains. It promotes bilateral trade and investment and is a win-win for both the United States and Vietnamese economies. We expect even more interest this year as many firms are looking to Vietnam as they seek to diversify their global supply chains and reduce reliance on China.
As new Executive Director of AmCham, what will you do to promote trade and investment between the U.S. and Vietnam?
- The core mission of AmCham Vietnam is to promote trade and investment between the United States and Vietnam. So I am talking to our member companies to ensure that we are providing value to them and see if there is a way that we can do our work better. I also am talking to companies that were members but have become inactive to see what can we do to attract them back and how can we can attract other members that haven't yet participated in AmCham. That can help make AmCham Vietnam an even more dynamic organization to represent both U.S. businesses and other businesses that have trade and investment ties with the United States.
What do you think about the current environment for investment in Vietnam? What should Vietnam do to attract more foreign investors, especially American companies?
- I think investors, including investors from the United States, are looking for a variety of factors when they are looking at potential destinations. One of the key factors they are looking for is a fair, transparent, predictable regulatory environment that values innovation. I also think infrastructure is a key factor, as well as the integration of that country with other countries' economies.
Vietnam has a lot of opportunities, and is particularly well integrated through all of its free trade agreements in the region. I think that the work the Vietnamese government is doing to continue to streamline administrative procedures and increase transparency is very important and will be welcomed by U.S. investors and Vietnamese companies, too. So I think that's very positive.
We continue to see a lot of interest from the U.S. business community in Vietnam, both by major players and smaller businesses.
AmCham is a non-profit organization; we are funded by our member contributions and depend on our members' energy and  participation. We recently started our agriculture committee because of booming agriculture trade between our two countries. We also are establishing an infrastructure committee and are planning to launch an entrepreneurship and innovation committee. So I think those other areas will work to expand services to our members.
Which sectors do you think will attract American investors the most?
- When U.S. companies are looking here, they often are looking at the opportunity for exports. Right now, agricultural exports are huge. Aviation can be a very large export both in term of aircraft and also aviation infrastructure because U.S .companies have high quality state-of-the-art equipment and services and they are ready to partner with Vietnam.
We also see opportunities in energy, a key opportunity for both investments and exports from the U.S. Vietnam is looking to expand and diversify energy supply, and there are new opportunities for liquified natural gas, and  renewables like  solar and wind power. These investments would be good for Vietnam and would help the trade balance. We have a lot of companies interested in smart city technologies and healthcare. So I think there are many opportunities. SGT
Pham Le