Online and mobile payments have kept booming, with year-on-year growth in the first quarter of 2019 reaching 70% and 97.7%, respectively.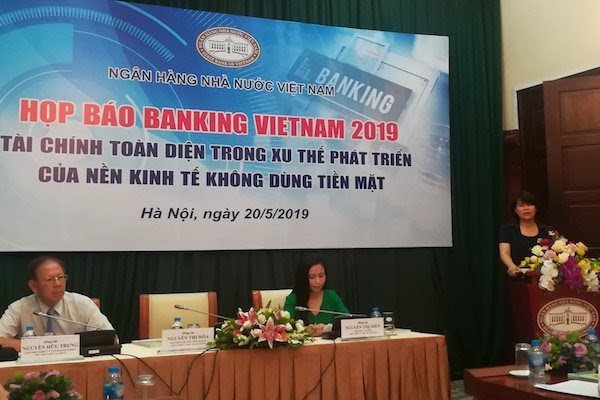 The press briefing announcing the Vietnam Banking 2019 forum in Hanoi today, May 20
The figures suggest that mobile transaction has turned more popular in Vietnam, in tandem with the Government's push for the development of non-cash payment methods, according to the Payment Department under the State Bank of Vietnam.
According to a plan on non-cash payment in Vietnam in the 2016-2020 period approved by the Prime Minister, by the end of 2020, the ratio of cash transactions should be reduced to below 10%. Early this year, the Government issued a resolution supporting a project exploring depositing cash into electronic wallets without via a bank payment account and piloting new payment modes in the banking sector.
Commenting on the plan, Nghiem Thanh Son, deputy head of the Payment Department of the central bank, said the project has created positive results in legal framework and payment infrastructure. Banks and enterprises have diversified products and services to facilitate payments via different channels.
Notably, the nation has seen the soaring number of customers making online and mobile transactions. In the first quarter of 2019, payments via the Internet jumped nearly 70% in volume and 13.4% in value over the same period last year while the growth rates of the mobile channel were 97.7% and 232.3%, respectively, Son said at a press briefing announcing the Banking Vietnam 2019 forum in Hanoi today.
Mobile payment has become a channel with strong growth. Local banks have applied advanced technologies to secure safe and convenient services for customers, Son added.
Besides this, banks handled 37 million transactions worth VND20,690 trillion, up 23% and 17.8% year-on-year, respectively, far lower than the growths of online and mobile payments. Meanwhile, there were 65 million card transactions with the total value of VND171 trillion, rising by 18.4% and 8.8%, respectively.
Banks continued upgrading infrastructures for non-cash payments. Ending the January-March period, the nation had over 18,500 automated teller machines (ATMs) and 260,000 points of sale installed at large retail outlets, hotels, hospitals and schools.
Despite the significant development, Phung Nguyen Hai Yen, deputy general director of Vietcombank, said that the project is still facing many challenges as most citizens still keep the habit of paying in cash. Further, the number of people that have bank accounts is still modest.
While people living in cities can access banking and digital payment services easily, those living in rural areas still shun advanced technologies, she said.
According to the Central Institute for Economic Management, the use of cash for payments is a deep-rooted habit in Vietnam with cash transactions accounting for 90%. Up to 99% of population use cash for payments of less than VND100,000 and nearly 85% use ATMs for cash withdrawal. SGT
Thuy Dung