Vietnam's tea industry needs to focus on enhancing quality, diversifying product offerings and building brands to develop in a sustainable way, according to the Ministry of Agriculture and Rural Development.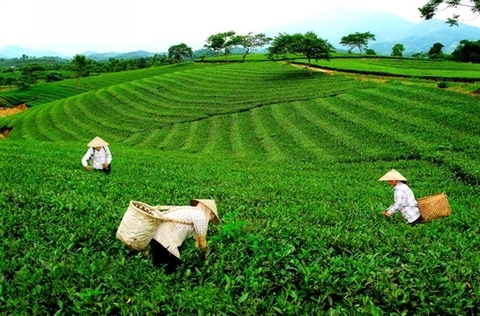 A tea farm in Thai Nguyen Province. Viet Nam's tea industry has shown solid growth in recent years but still has room to improve. — Photo chexanhthainguyen.com.vn
The ministry said reducing pesticide residue and increasing added value for tea products were still important tasks in the development of the industry.
In an effort to address this need and to meet the market's high quality requirements, the ministry implemented a three-year project starting in 2017 to encourage safe production and increase the value of tea products.
The project is focused on controlling the use of pesticide and cultivating tea that meets VietGap standards.
At Thinh An Tea Cooperative in Dong Hy District, home to more than 400 hectares of tea cultivation in Thai Nguyen Province, productivity has increased from 8.5 tonnes of tea per hectare to more than 11 tonnes per hectare since the project began. Quality has also improved and the co-operative is able to harvest eight times per year, up from 6.5 times.
Vu Thi Hao, Director of the co-operative, said that more than 50 hectares of tea cultivated by 150 households participating in the project had obtained VietGap standards for their products.
The project also helps farmers find markets and build a brand for tea products through promotion activities, helping to ensure stable sales of tea products at high prices.
Hao said that previously, tea buds were sold to processing plants in the province at prices around VND18,000-VND20,000 (US$0.78-0.86) per kilogramme, but now the price was more than VND25,000 ($1.08).
Hao said the project has helped reduce tea cultivation costs by 25-30 per cent while incomes from tea have increased by 50-70 per cent.
Promoting exports
The ministry's report showed that tea export value increased by more than 16 per cent in the January to April period over the same time last year – a positive sign for the industry.
According to the Food and Agriculture Organisation of the United Nations, global output of black tea was anticipated to increase 2.2 per cent per year in the next decade to reach 4.4 million tonnes in 2027, while green tea would increase by 7.5 per cent to 3.6 million tonnes.
Global tea consumption was predicted to increase significantly, driven by China which accounts for nearly 40 per cent of consumption.
Hong Minh Duc, who owns an organic tea export company, said it was necessary for firms to develop tea products that meet consumers' tastes in each market.
Experts also pointed out that quality and brand were two core factors that determine the success or failure of a product.
Statistics from the General Department of Customs showed that Viet Nam shipped more than 127.3 million tonnes of tea in 2018 to earn revenue of $217.8 million. Pakistan was Viet Nam's largest tea export market, accounting for 30 per cent of the sector's export volume, followed by Taiwan with a share of 14.6 per cent.
Viet Nam's average tea export price was $1,727 per tonne in the first quarter of this year, up 11 per cent over the same period in 2018. – VNS