Following the Prime Minister's instruction, the current contribution rate has been decreased to 14 – 16%, allowing provinces and cities to increase expenditure for investment and carry out wage reform.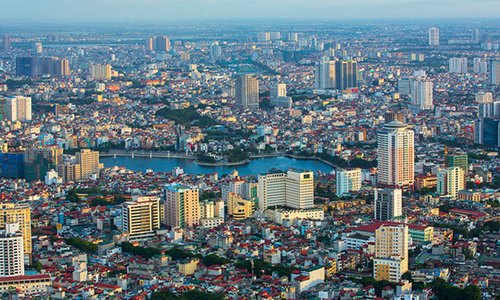 Hanoi
The government would recalculate the contribution rates of major cities to state budget after 2020, with a view to giving them more financial autonomy, according to Deputy Prime Minister Vuong Dinh Hue.

The current contribution rate has been reduced to around 14 – 16% under a governmental instruction, allowing provinces and cities to spend more on investment and wage reform, Hue said at a conference discussing breakthroughs for major economic zones in Vietnam's southern region on May 6.
Despite contributing 47% of Vietnam's GDP, Vietnam's southern region, including major cities such as Ho Chi Minh City, Binh Duong and Dong Nai, are facing difficulties in maintaining high economic growth, requiring greater efficient linkage between provinces instead of separate efforts, Hue added.
At a meeting between Prime Minister Nguyen Xuan Phuc and Ho Chi Minh City's authorities last month, the city's top leader Nguyen Thien Nhan complained that this economic hub can retain just 5% of its budget revenue annually while it is housing 9.5% of the country's population. "This is a serious imbalance and makes the city fall short of funding for infrastructure development," Nhan added.
According to Hue, to maintain high economic growth rate, provinces and cities must give priority to stabilizing macro-economy and putting inflation rate under control.
For its part, the government would focus on ensuring high quality regional planning of socio-economic development, especially master plan on infrastructure, including transportation, energy, telecommunication, logistics, education and culture.
Hue stressed the need to improve transport connectivity among provinces, and said the government would draft up new master plan based on comparative advantages of provinces, instead of their own characteristics and advantages.
Additionally, the government would update socio-economic situations more frequently for timely adjustment of planning and allocating funds for investment, he added.
He requested local enterprises to form production chain for greater added value and maximizing the benefit of provincial linkage.
Meanwhile, Hue expected major cities in the region to focus on urban development through the investment of new services, such as technology-based culture industry, at a time when the GDP per capita of the region is fast approaching US$5,000. Hanoitimes