French firm to build logistics centre in Vietnam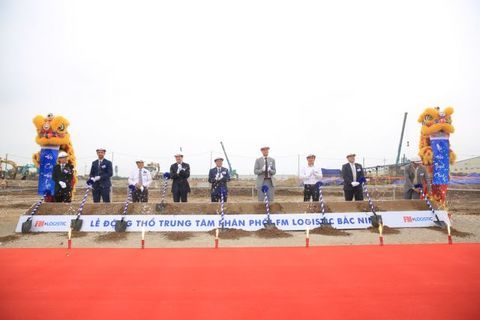 FM Logistics started its construction on its US$30 million warehouse and distribution centre in northern province of Bac Ninh.
Ground has been broken for a US$30 million warehouse and distribution centre in the northern province of Bac Ninh.
French logistics and transport company FM Logistic will build the centre which is expected to open phase one next year.
Once completed, the new multi-client facility will employ around 300 people and provide 52,000sq.m of storage space for up to 70,000 pallets.
Among the customers interested in the centre is Brenntag, a global market leader in chemical distribution.
"After one year of satisfying co-operation with FM Logistic in Bac Ninh, we have decided to expand this co-operation to temperature-controlled products," said Le Minh Vuong, Supply Chain Senior Manager, Brenntag Viet Nam.
"The new distribution centre will provide us with more space to absorb our important growth."
The demand for logistics is rising in Viet Nam, one of the worlds fastest growing economies with a GDP growth of 7 per cent in 2018. The increasing domestic manufacturing, the rise in wages and consumption, the young population and booming e-commerce are also driving the Vietnamese logistics market.
This presents opportunities for international third-party logistics companies providing value-added services and last-mile deliveries.
Hamza Harti, FM Logistics country managing director for Viet Nam said the logistics market is now changing at a rapid rate.
"We can see logistics as a basic industry. We try to take part in transformation of Viet Nams logistics industry," he said.
According to World Banks report, logistics cost in Viet Nam is high as it accounted for 20 per cent of GDP, especially in e-commerce. The reason for the high cost was due to infrastructure.
"Viet Nam needs more investments to make infrastructure more modern and invest in more highways and ports. We also try to contribute to the transformation by building more warehouses and logistics distribution centres. We would diminish logistics cost compared to GDP," he added.
"The Bac Ninh warehouse and distribution centre will support the development of food, retail, fast moving consumer goods (FMCG), industrial and cosmetics companies on the booming Vietnamese market. It will also increase FM Logistics warehousing space almost tenfold, at a moment when class A-warehousing is in high demand. This testifies to our commitment to investing in Viet Nam," he said.
The company said it hopes to become one of the top three players in the market in the next five years
From May 2019, FM Logistic will also start operating a rented 6,500sq.m warehouse in Binh Duong.
The company started operations in Viet Nam in August 2017. In 2018, it started providing nationwide transportation services, using a network of partners.
VIB wins two international digital banking awards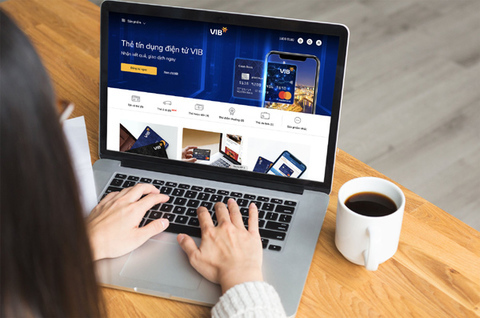 Vietnam International Bank (VIB) has won two international digital banking awards from The Asset, making it the first bank in Viet Nam to receive the awards for three consecutive years.
The awards aim to honour finance institutions and technology companies that achieve outstanding results in developing and applying digital technology in the Asia Pacific region (including Japan and Australia).
The Asset is a widely recognised business news and research organisation, delivering authoritative, unbiased and independent coverage on Asia's financial industry. Since its launch in 1999, The Asset has been providing essential news, analysis and insights addressed to a distinct community of corporate leaders and financial decision-makers.
"Viet Nam is an ideal market for the advancement of digital financial services. In this regard, VIB has been quite vocal in its efforts to push for inclusive digital banking in the country. For example, through the MyVIB mobile banking application, customers are able to do their online shopping among a number of lifestyle-focused services aside from general banking," a representative from The Asset said.
In addition, The Asset has also recognised VIB's efforts in creating and providing digital banking products and services, especially its development of a website as a professional channel to reach customers at the end of 2018.
VIB launched the new website with design focusing on the user experience, scientific information structure, basic content and friendly user interface.
According to VIB, 16 per cent of new customers registered to open new online accounts in 2018, while the number of customers who registered to use internet banking services increased by 15 per cent compared to 2017.
During the period, the proportion of customers making internet banking transactions was 76 per cent, tripling the number of cash transactions made at counters. The number of customers downloading the MyVIB application rose by 36 per cent year-on-year.
Previously, VIB received "The most innovative mobile banking application 2018" award from the Global Banking and Finance Review (UK).
Vietnam's tra fish exports to UK up almost 70 percent in value
Vietnam's exports of tra fish to the UK surged by nearly 70 percent in the first quarter of this year (Photo: thitruongthuysan.com)


Vietnam's tra fish exports to the UK in the first quarter increased by 69.5 percent to 11.9 million USD, according to the Vietnam Association of Seafood Exporters and Producers (VASEP).
The exports mainly comprised frozen tra fillet, the most high-priced item at 5.3 USD per kilogramme.
Frozen tra fish steak exported to the UK also fetched high prices of 4.3-4.7 USD this quarter.
The UK, the second largest market for Vietnam's tra fish, is expected to remain a major buyer in Europe this year, according to VASEP.
Its demand is expected to grow steadily and prices are likely to remain high this year, making it a attractive market for Vietnamese exporters.
Vietnam is the sixth largest supplier of white meat to the UK after Iceland, China, Norway, Russia, and the Faroe Islands.
Industrial production up 9.2% in Q1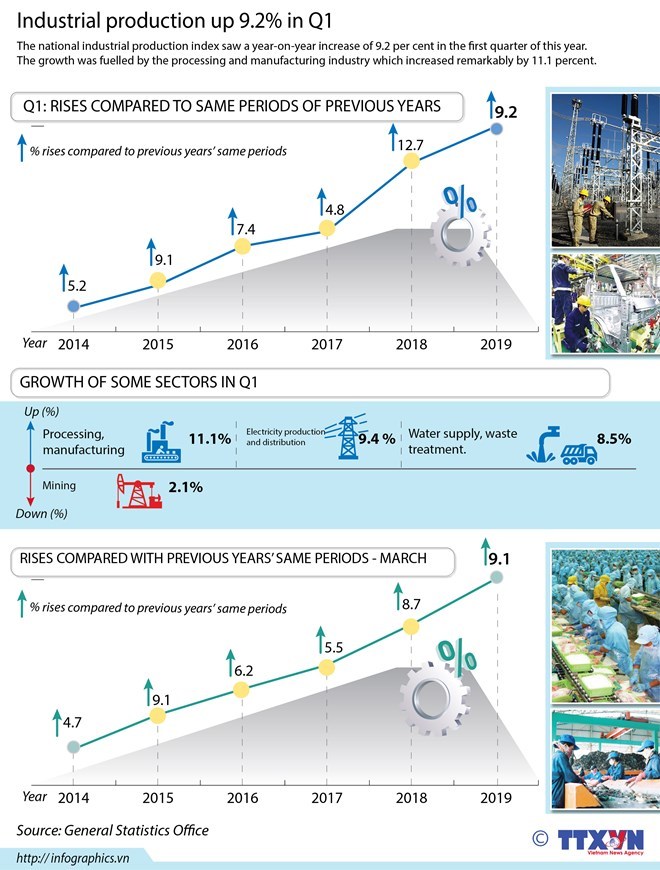 Major farm produce exports hit 4.2 billion USD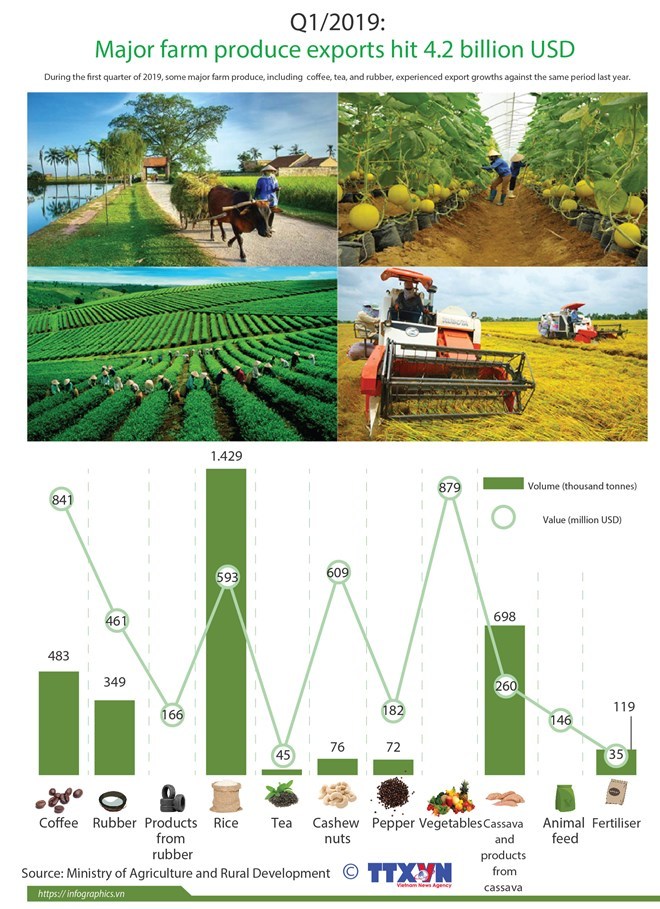 Vinacomin posts noted performance in Q1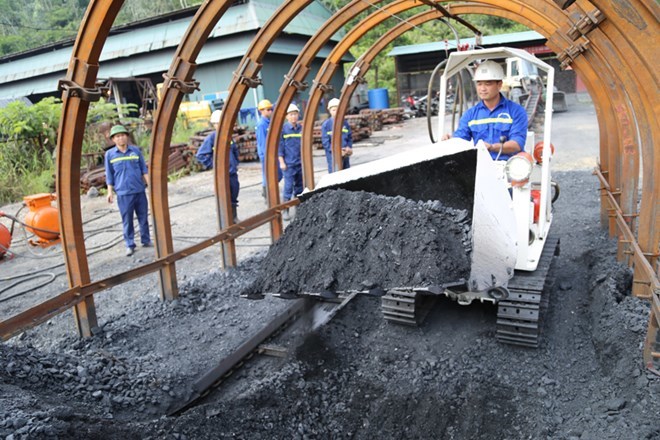 The coal sector alone generated more than 16.88 trillion VND (725.84 million USD) in the first quarer of this year, up 13 percent year-on-year.
The Vietnam National Coal-Mineral Industries Holding Corporation Limited (Vinacomin) recorded its best production and business in the first quarter of this year since 2014, Vinacomin Deputy General Director Nguyen Hoang Trung has said.
Trung reported at a conference in the northern province of Quang Ninh on April 9 that the group earned 31.2 trillion VND (1.34 billion USD) in total revenue, 24.4 percent of the yearly target and up 2.8 percent year-on-year.
It posted a profit of more than 1 trillion VND (43 million USD), equivalent to 33 percent of the yearly target, and contributed 5.75 trillion VND (247.25 million USD) to the State budget, fulfilling 33 percent of the set target, he said.
The coal sector alone generated more than 16.88 trillion VND (725.84 million USD), up 13 percent over the same period last year.
During the period, the group churned out 10.79 million tonnes of coal, up 1.12 million tonnes compared with the corresponding time last year.
It sold 10.5 million tonnes of coal in the quarter, 25 percent of the year's target and up 10 percent year-on-year, with 10.46 million tonnes delivered domestically.
Coal demand for the production of electricity, cement and fertilisers is expected to increase, so Vinacomin will maintain coal production and consumption at the highest level in the second quarter to meet demand.
It also aims to complete from 54-55 percent of the yearly target in the first half of this year. The group plans to produce 10.8 million tonnes of coal and sell 12.2 million tonnes in the second quarter.
Vietnam, Cuba further foster trade cooperation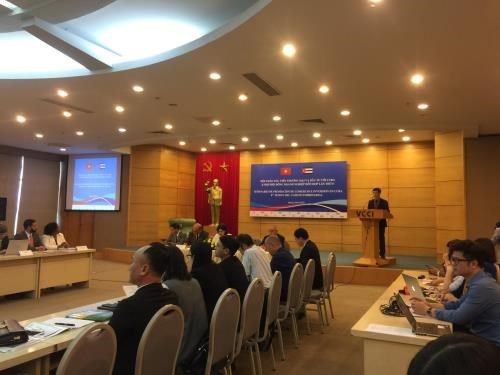 Workshop promotes trade and investment in Cuba
A workshop on trade and investment promotion in Cuba and the 8th meeting of the Vietnam-Cuba Joint Business Council were held in Hanoi on April 9 by the Vietnam Chamber of Commerce and Industry (VCCI) and the Cuban Chamber of Commerce.
Addressing the event, VCCI Vice Chairman Doan Duy Khuong said that trade between Vietnam and Cuba increased by 2.4 times, from 142 million USD in 2013 to 336 million USD last year.
Vietnam mainly exports rice, consumer goods, metal, paper, pottery, chemicals, machines and garments and textiles to Cuba, while importing pharmaceutical products and functional foods from the Caribbean country, he said.
As of late 2018, Cuba had invested 6.7 million USD into two projects in Vietnam, ranking 77th out of 130 countries and territories pouring capital into the Southeast Asian country, Khuong said.
However, the results failed to match with cooperation potential and advantages of both countries, he stressed.
Meanwhile, Cuban Ambassador to Vietnam Lianys Torres Rivera told participants that 2018 was a successful year for the bilateral relations, reflected through the exchange of high-level visits.
She noted that during a state visit to Cuba in March 2018 by General Secretary of the Communist Party of Vietnam Central Committee and President Nguyen Phu Trong, the two sides signed 22 cooperation documents, including four economic contracts, demonstrating their determination to lift trade ties to a new height.
Cuba will create more favourable conditions for bilateral trade collaboration, the ambassador affirmed.
Omar de Jesus Fernandez Jimenez, General Secretary of the Cuban Chamber of Commerce, suggested the two countries enhance cooperation in health services, biology, information technology and aquaculture.
He voiced his hope that the business communities of Cuba and Vietnam will carry out more projects and expand collaboration.
Work starts on Ninh Thuan's biggest resort complex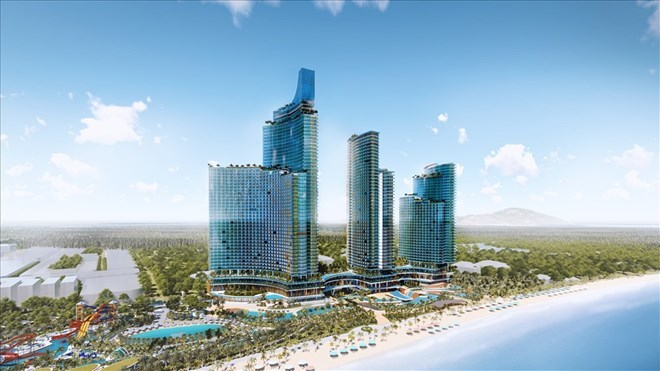 Design of the SunBay Park Hotel&Resort Phan Rang complex (Photo: laodong.vn)
The Crystal Bay group on April 9 broke ground for its 4.5 trillion VND (194.5 million USD) sea resort complex in Phan Rang-Thap Cham city, the south central province of Ninh Thuan.
The SunBay Park Hotel&Resort Phan Rang complex, the biggest sea resort in Ninh Thuan so far, will comprise three towers with around 3,300 hotel rooms, along with a 4.7ha water park, a shopping zone, spas, nine pools and nine restaurants.
Nguyen Duc Chi, Chairman of Crystal Bay, said the project is only a start of the group's plan to develop tourism in the province. It is slated to be put into operation in June 2021.
Chairman of Ninh Thuan People's Committee Luu Xuan Vinh said the province has designated tourism as the spearhead of its socio-economic development strategy.
He affirmed that the provincial administration will provide the best possible incentives for investors in tourism, with the aim to turn the province into a new resort destination in Asia and the world.
In 2018, Ninh Thuan served 2.19 million tourists, up 15.3 percent year-on-year, and raked in 1.05 trillion VND (45.15 million USD) from the sector, a year-on-year rise of 18.9 percent.
It aims to welcome 2.35 million visitors in 2019 and earn 1.15 trillion VND (49.95 million USD) from tourism.
The province is home to 149 cultural heritages, including two special national relic sites, and 12 national relic sites. Notably, the local Don Ca Tai Tu (southern folk music) was recognised as Intangible Cultural Heritage of Humankind by UNESCO.
Cham pagodas with unique architecture have been an icon of Ninh Thuan province for centuries, with Po Klong Garai and Hoa Lai towers recognised as special national architectural relic sites.
In addition, the province is renowned for its festivals, such as the whale worshiping, and the leaving tomb and cremation rituals of the ethnic Cham Brahman people.
HCM City to host "One Commune, One Product" int'l fair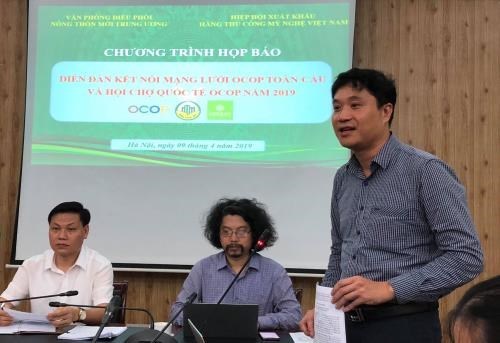 A press conference in Hanoi on April 9 to give information on the OCOP international fair
The "One Commune One Product" (OCOP) international fair will take place at the Saigon Exhibition and Convention Centre, Ho Chi Minh City from April 17-20, with a wide range of excellent handicraft products on display.
Head of the OCOP programme management office Dang Van Cuong said that the event, held by the Ministry of Agriculture and Rural Development in collaboration with the Vietnam Handicraft Exporter Association (Vietcraft), and Japan's "One Village One Product" (OVOP) programme, will feature 600 pavilions from cities and provinces across the nation.
Furthermore, it will attract the participation of representatives from the OCOP programme in 20 countries and territories like Japan, the Republic of Korea, Thailand, China, and Kenya, among others.
According to Cuong, the event aims to popularise made-in-Vietnam handicraft and new designs by Vietnamese handicraft villages among domestic and international friends, while promoting trade connections between Vietnamese localities and foreign partners.
At the same time, a forum connecting the OCOP global network will be organised, drawing the attendance of state managers, import and export firms from 30 countries and territories, as well as international organisations in Vietnam. It is expected to serve as a venue to enhance cooperation between countries carrying out the OVOP or OCOP programmes and promote them across the five continents.
Vietnam initiated the expansion of the OCOP network to the world. To date, 43 countries have approved the OCOP programme, 20 of whom have joined the network.
The OCOP programme is being carried out in all localities across Vietnam for the 2018-2020 period, aiming to promote rural economic development toward increasing internal strengths and values. It focuses on developing high potential agricultural and non-agricultural products, and services in each locality based on the value chain.
Groups of goods and services defined in the programme include food (fresh and processed farm produce); beverages (alcoholic and non-alcoholic drinking); medicinal herbs (products made from herbal plants); fabric and textiles (products made from cotton and yarn); souvenirs, furniture, and decorations (products made from wood, fiber, rattan, metal, and ceramics); and rural tourism services and sales (services for sightseeing, tourism, study, research).
The programme is implemented at an estimated cost of 45 trillion VND (1.94 billion USD), which will mostly be mobilised by society, including enterprises, cooperatives, and production households; as well as loans from credit institutions, investment funds, SME development funds, funds for developing cooperatives; and funding from international organisations.
Mavin Group, Hungarian partners to improve quality of carp fry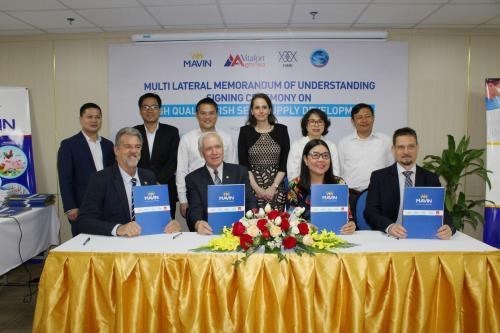 At the signing ceremony of the multilateral MoU
The Vietnam-Austria joint venture Mavin Group will join hands with Hungarian institutes and firms to improve the quality of carp fry in Vietnam and the Southeast Asian region.
Under a memorandum of understanding (MoU) inked with Vitafort Agro Asia Co., Ltd (VAA) on April 9, Mavin will cooperate with VAA to set up a centre for developing high-quality carp breeding in Vietnam to serve domestic and regional demands.
They will research and apply the combined intensive and extensive aquaculture model, as well as cooperate in aquaculture food production.
Mavin and VAA also inked a MoU with the Hungarian Research Institute for Fisheries and Aquaculture (HAKI) and the Vietnamese Research Institute for Aquaculture No.1 (RIA1) to enhance research and development capacity, as well as to expand business opportunities in the region.
Accordingly, the HAKI and RIA1 are responsible for carrying out in-depth studies to improve the quality of carp breeding, branching out farming techniques, and providing training for local farmers. Meanwhile, Mavin and VAA are in charge of the large-scale production of carp fry and developing business opportunities in Vietnam and Southeast Asia.
The HAIKI and RIA have been cooperating on a project on the genetic improvement of carp since 1960 and they have made significant contributions to bettering production efficiency and fish quality in both countries.
Mavin and VAA hold sustainable value chains in the seafood sector. They have close connections in research and development activities with prestigious scientific organisations, institutes, and agriculture universities in Vietnam, Hungary, and other foreign countries.
Kien Giang's exports down 20.1 pct in Q1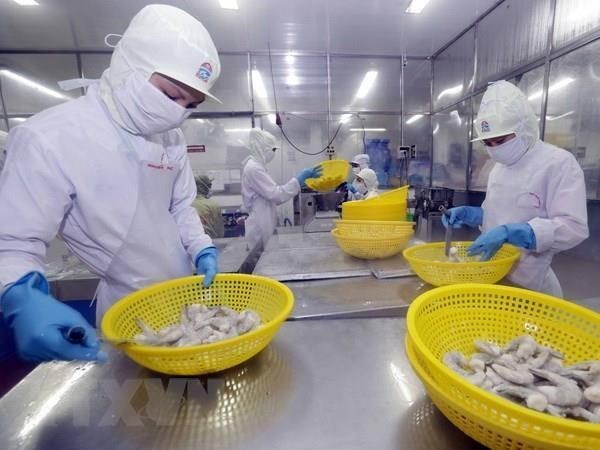 The Mekong Delta province of Kien Giang earned over 107 million USD from exports in the first quarter of this year, or 15.8 percent of the yearly plan, down 20.1 percent year-on-year.
Of which, farm produce brought home 19.7 million USD, down 66 percent; seafood, 50.7 million USD, up 23.3 percent; and other goods, over 37 million USD, up 5 percent.
According to the provincial Department of Industry and Trade, exports of frozen shrimp, rice, leather and footwear, dried anchovy, and canned foods fell; while shipments of frozen fish, cuttlefish, and other seafood rose.
The falling export value was attributable to price competition that resulted in fewer orders, as well as manufacturing protection policies in several countries.
Kien Giang is now home to over 30 firms exporting to more than 40 countries globally with an annual turnover of over 600 million USD. Of them, five ship key local produce, such as rice and aquatic products.
The province strives to earn 175 million USD from exports in the second quarter, bringing the six-month figure to upwards of 282 million USD, or 41.5 percent of the plan, up 5.1 percent year-on-year.
Director of the provincial Department of Industry and Trade Ngo Cong Tuoc said that in order to achieve such a goal, the locality will clear difficulties regarding materials, capital, labour, and technology to boost manufacturing and processing, thus improving product quality and competitiveness.
It will also accelerate trade promotion; expand export markets for key produce such as rice, aquatic products, pepper, leather and footwear; and strengthen traditional markets.
Further attention will be paid to global market movements and enhancing trade at Ha Tien international border gate and Giang Thanh national border gate.
A customs agency in Rach Gia city will be also put into operation to facilitate exports, he said.
Vietnam – favourite destination of French businesses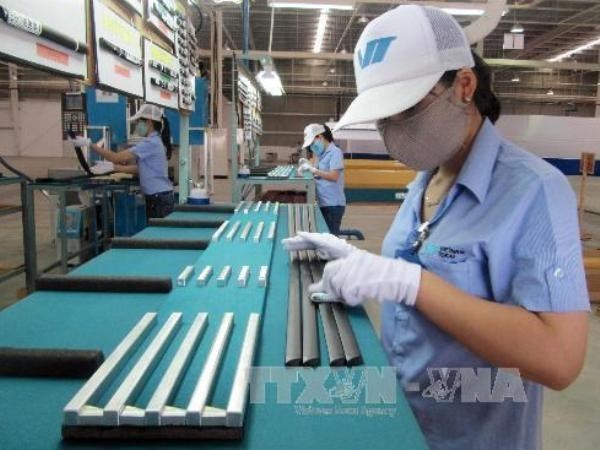 Vietnam is a popular investment destination for French businesses.
Vietnam is a popular investment destination for French businesses, according to Vincent Florean, French Consul General in Ho Chi Minh City.
French enterprises have special interest in Vietnam, he told reporters from Thoi Bao Kinh te Viet Nam (Vietnam Economic Times) on the sidelines of a wine tasting programme in Vietnam on April 5.
He said a record number of 27 French wine production firms participated in the event held by the French investment and trade promotion agency.
The French government and businesses need to work more to tap markets with high potential like Vietnam, he said.
He added that the French aviation, pharmaceutical and agriculture industries make up 30 percent, 17 percent, and 14 percent respectively of the country's total export turnover to Vietnam.
France hopes the EU-Vietnam Free Trade Agreement (EVFTA) will be ratified and come into force soon, which will create new momentum for bilateral trade relations, he said.
At present, France is the second biggest foreign investor of Vietnam among European countries and the 15th largest investor of Vietnam among countries and territories investing in the Southeast Asian country.
So far, France's total investment in Vietnam has been estimated at about 3.7 billion USD, focusing on industry, infrastructure, food and electronic equipment, he added.
Two-way trade exceeded 800 million USD in the first two months of 2019. Vietnam exported 574 million USD worth of goods to France, a year-on-year rise of 13 percent. As a result, Vietnam recorded a trade surplus of nearly 350 million USD in the period.
Ben Tre coconut products to boom on lazada.vn in late April
A "Ben Tre coconut village day" programme will run on e-commerce platform lazada.vn on April 25 to bring the Mekong Delta province's coconut products to a wider community of online consumers.
The event was unveiled at a conference held in Ben Tre on April 9. The conference aimed to show local coconut firms and producers how to trade on the platform.
Lazada said it will support them via a series of incentives, including free-of-charge online stall opening, online sale training courses, as well as advertisement campaigns on TV, newspapers, and social networks.
Vo Quoc Tuan, Lazada director of public relations, said the event is part of the company's online speciality village programme, which helps rural startups nationwide expand their businesses online.
Ben Tre is the first locality to kick off the programme, he added.
The province is home to 163,000 households involved in farming 71,000 ha of coconut tree, or half of Vietnam's coconut-growing land. They produce 800 million coconuts and ship about 200 million USD worth of coconut products abroad annually. Ben Tre's coconuts are exported to about 84 countries and territories worldwide.
Roadmap to eliminate and reduce tariff barriers on Vietnamese goods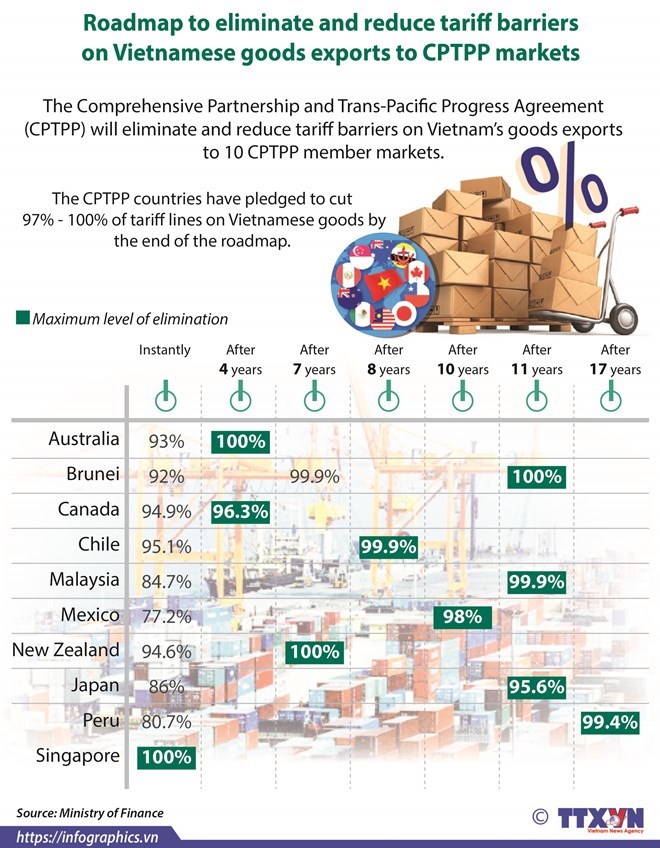 Another wind power project to be built in Quang Tri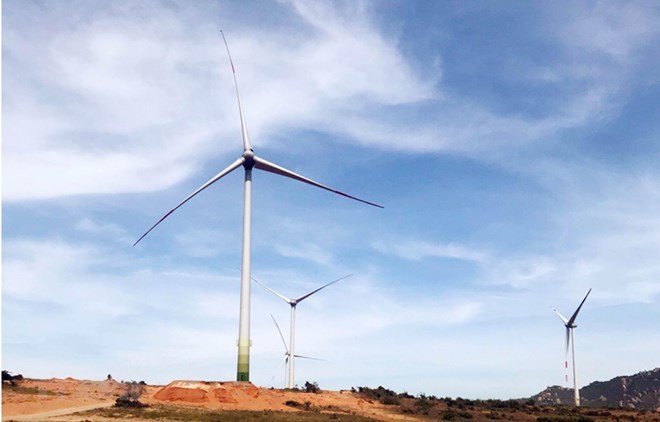 The People's Committee of the central province of Quang Tri has recently allowed Huong Linh 3 Wind Power JSC to invest in a wind power plant project with total capital of 1.53 trillion VND (65.8 million USD).
The plant, covering 8 ha in Huong Hoa mountainous district's Huong Linh commune, has nine wind turbins, with capacity of 3.3-3.4MW each.
It is expected to begin generating electricity in December 2020.
Quang Tri has paid great attention to attracting investment in wind power. In the first quarter of this year, the province granted investment licenses to four other wind power projects.
The projects include the construction of the Huong Phung 3 wind power plant in Huong Hoa district, while the Huong Phung wind power limited company plans to build the 30 MW facility on 9 ha of land, with investment exceeding 1.58 trillion VND (68.12 million USD).
Meanwhile, GELEX Quang Tri Energy JSC was permitted to invest nearly 3.66 trillion VND (157.38 million USD) into GELEX 1, 2 and 3 wind power plants, with capacity of 30 MW each. The projects will cover some 24 ha in Huong Hoa and Dakrong districts.
Vietnam's tea exports edge up 15.4 percent in Q1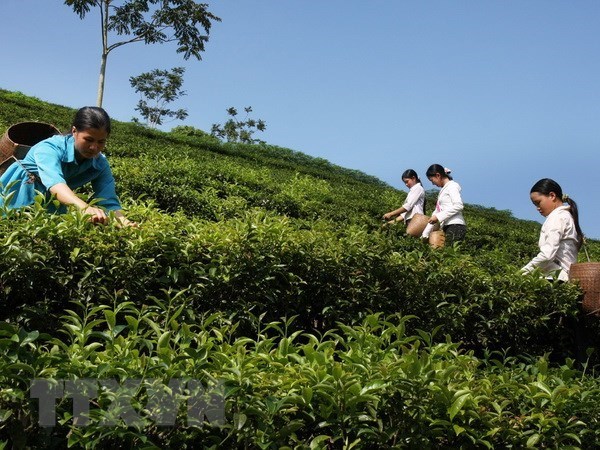 Farmers harvest tea in Son La province's Moc Chau district.
Vietnam exported 26,000 tonnes of tea in the first quarter of 2019, earning turnover of 45 million USD, up 2.1 percent in volume and 15.4 percent in value year on year, the Ministry of Agriculture and Rural Development's Agro Processing and Market Development Authority (AgroTrade) has announced.
Pakistan contributed largely to the increase as it captured the lion's share of Vietnamese tea with 34.5 percent.
The General Department of Vietnam Customs said that last year, Vietnam gained 217.83 million USD from shipping more than 127,000 tonnes of tea overseas, falling 8.9 percent in volume and 4.4 percent in value.
Pakistan was the largest importer when it splashed out 81.63 million USD on buying 38,213 tonnes of Vietnamese tea. It was followed by China's Taiwan with imports of 18,573 tonnes worth 28.75 million USD and Russia with 13,897 tonnes valued at 21.21 million USD.
According to the United Nations' Food and Agriculture Organisation (FAO), black tea output is forecast to rise 2.2 percent each year in the next decade to reach 4.4 million tonnes by 2027. Meanwhile, green tea yield moves at a faster pace of 7.5 percent annually, and is set to hit 3.6 million tonnes by the year.
Consumption is expected to surge, mostly in China and India.
Experts said that Vietnamese companies should invest heavily in handmade tea and botanical tea, which are preferred by consumers today to raw green and black tea.
Seminar discusses strong employer brands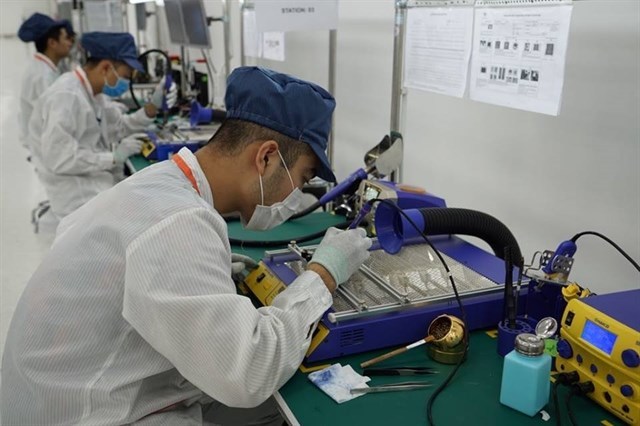 Enterprises increasingly appreciate the importance of human resource management and have mapped out human resource development strategies methodically, a seminar heard in Ho Chi Minh City on April 9.
Nishant Mahajan, frontier market leader and head of executive remuneration at Mercer Singapore, said export manufacturing continued to be main driver of Vietnam's economy but the weakening dong and limited labour skills were among the challenges faced by companies.
They also face challenges caused by technology disruption, according to Mahajan.
Employees expect their workplace to "become more flexible in terms of hours worked and location and more focused on employee health and well-being."
They also want to better understand how to grow their careers.
According to the Talentnet-Mercer Market Pulse Report released recently, the top reasons for employees quitting an organisation are lack of a clear career path and low pay competitiveness -- 47 percent of respondents each -- whereas low pay competiveness had been secondary to a career path in past years.
This shows that employee demand is quickly shifting towards a balanced need between steady career progression and equitable compensation.
He said to create a strong employer brand in a competitive environment, businesses need to create staying power through a unique proposition, create differentiated experience and provide competitive compensation and benefit offerings.
Nguyen Thi Thanh Huong, deputy CEO of Talentnet and head of human capital solutions and Mercer salary survey department, said: "In the digital age where businesses are predominantly occupied by millennials, behaviours and expectations of employees are rapidly diversifying.
"As a result, businesses must centralise their structure based on quantitative and qualitative data, most importantly in the task of talent retention, where there are both tangible and intangible deciding factors.
"Other than career progression, employees feel the need to see the fruits of their efforts, and see that effort reciprocated equitably. As such, appropriate remuneration schemes and flexible training and development options are pivotal."
HR leaders from Saint Gobain, Schneider Electric and Nestle also shared their experience at their companies.
According to Nguyen Ha Trang, HR director at Saint Gobain, said using remuneration data is very important to improve salaries and know how competitive their salaries are compared to the market.
Le Thi Khai Minh, head of the salary and benefit division at Nestle, said previously compensation and benefit were confidential, but in the Industry 4.0 era employees can easily find out the compensation and benefits that other companies pay for similar positions.
"Therefore, Nestle communicates clearly and transparently the compensation and benefits that employees would get and their career path and the way the company evaluates employees at each level," she said.
Many delegates at the seminar organised by Talentnet said it was evident that businesses were slowly shifting towards a more methodical and sustainable people's strategy approach.
To make timely and accurate decisions regarding their employees, leaders must grasp the overall market picture through reliable data reference points, identify long-term goals for the business and organise business strategies in order to hire the right people, they added.
Jetstar Pacific launches three new domestic routes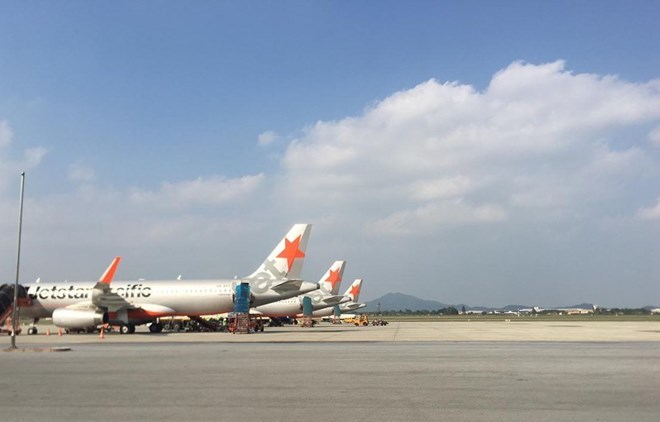 Low-cost carrier Jetstar Pacific officially opens three new domestic routes connecting the central city of Da Nang with Vinh, Thanh Hoa and Phu Quoc Island.
Low-cost carrier Jetstar Pacific officially announced three new domestic routes connecting the central city of Da Nang with Vinh, Thanh Hoa and Phu Quoc Island on April 9.
The airline said tickets would be available from April 10 with a starting price of 190,000 VND (8.4 USD) for one way flights.
The airline will start flying from Da Nang to Phu Quoc from May 24 with four flights per week, and one-way tickets will be priced at 890,000 VND (39.4 USD).
The Da Nang-Thanh Hoa route will offer one way ticket prices of 370,000 VND (16.4 USD) with four flights a week from May 25.
Da Nang International Airport is the country's third largest airport after Hanoi and HCM City.
Jetstar Pacific said it was offering a promotional price for the three new routes of 33,000 VND (1.5 USD) on its website www.jetstar.com from 11am on April 15-17.
In 2018, Jetstar Pacific carried 6.2 million passengers, a 14.3 percent increase year-on-year.
Jetstar Pacific, a member of the Jetstar Group, has grown from five aircraft in 2013 to 17 and now flies 32 domestic and international routes.
The two major shareholders of the airline, Vietnam Airlines and the Qantas Group, expect the fleet to grow to 30 aircraft by 2021.
Farming production adapts to climate change
The agricultural production is in dire need of the international community's assistance in dealing with climate change, Deputy Minister of Agriculture and Rural Development Le Quoc Doanh said.
He was speaking at a policy forum discussing opportunities for climate-smart food system jointly held by the International Potato Centre, the Vietnam Academy of Agricultural Sciences, and The CGIAR Research Program on Climate Change, Agriculture and Food Security in Hanoi on April 10.
Vietnam has implemented a project on restructuring agriculture towards raising added value and securing sustainable development for six years.
Localities in the Mekong delta that is predicted to be hardest hit by climate change have shifted 40,000 ha of farming land to aquaculture and growing fruit trees as part of efforts to make climate-smart agriculture. At the same time, they still managed to maintain rice output by increasing productivity and the quality of rice varieties.
Over the past time, international organizations have been helping Vietnam particularly the Mekong delta areas, reduce adverse impacts of climate change on agriculture, Doanh said.
He expected the international organizations continue playing their "key role" and work together with Vietnamese agencies and localities in more specific programmes to ensure climate-smart agriculture.
Climate change is producing negative effects on farming production in Vietnam and many other countries in the world, requiring nations to introduce solutions to climate-smart food systems.
At the forum, Deputy Minister of Agriculture of India Ashwini Kumar said India is working together with seven Asian countries in the production of plant varieties adapting to climate change, and can share with Vietnam its varieties models.
Participants presented groups of solutions to changing food producing, processing and consuming methods in agriculture in order to get adapted to climate change.
Tien Giang enjoys rising fruit exports 
The Mekong Delta province of Tien Giang exported more than 10,000 tonnes of fruits and vegetables for more than 17 million USD in 2018, higher than that in the previous years in both volume and value.
Many TienGiang fruits, including mango, dragon fruit, rambutan, star apple and grapefruit, have entered choosy markets.
Notably, along with the Chinese market, Tien Giang's dragon fruits were sold in the US. Currently, the province's total dragon fruit farming area exceeds 5,000 hectares.
Cao Van Hien, a farmer from My TinhAn dragon fruit co-operative in My Tinh An commune, said that to be accepted in the US market, dragon fruits must meet GlobalGAP standards, and this requires the farm to apply advanced technology and strictly follow safe cultivation process, leaving no chemical contamination on the fruit.
Along with dragon fruits, Lo Ren star apples originated from Chau Thanh, Cai Lay districts and Cai Lay town have also received a code to be exported to the US.
In recent years, the area of fruit farms in southern localities has risen sharply at about 4.2 percent per year.
In 2018, regional localities had 596,331 hectares of fruit farms, accounting for 60 percent of the country's total fruit areas, with production topping 6.6 million tonnes, equivalent to 67 percent of the country's output.
The Mekong Delta region is a major fruit production hub with about 58 percent of the southern region's fruit farming area.
Nguyen Thanh Vinh, Vice President of the Federation of Agricultural Co-operatives of Tien Giang, said the potential for fruit exports in the region is high, but fruit quality is lacking.
He advised farmers to apply GAP standards, while strictly controlling diseases, thus turning out products that meet requirements of choosy markets such as the US and the EU.
ShopBack raises $45 million to power smarter purchase decisions
ShopBack, the one-stop rewards and discovery platform from Singapore, has secured $45 million in its latest funding round by new investors to power smarter purchase decisions for Asia Pacific consumers.
New investors spending money into ShopBack include co-leads EV Growth and Rakuten Capital, as well as EDBI, a government-linked strategic investor, along with other existing investors, raising the number of ShopBack's investors to 16.
Amit Patel, CEO Ebates, Inc., under Rakuten, and Willson Cuaca, managing partner of EV Growth, will join ShopBack's board of directors (BoD). The new capital injection brings the company's total funding to $83 million.
From a Singapore-based team of just three people in 2014 to a regional force of over 120 employees today, e-commerce cash back start-up ShopBack is leading the wave of smarter shopping in Asia Pacific with a one-stop lifestyle platform that powers smarter purchase decisions, with an established presence in Singapore, Malaysia, Indonesia, the Philippines, Thailand, Taiwan, and Australia. ShopBack has been working with leading e-commerce merchants since 2014, rewarding consumers with cash back whenever they shop via ShopBack.
Apart from rewarding users with cash back for making online purchases, ShopBack has created many features to improve users' buying experiences. Its latest product, ShopBack GO, helps users discover and decide where to eat while saving time and money for users.
Launched in partnership with Visa and Mastercard, ShopBack GO enables users to dine out and get paid. The product also empowers food and beverage (F&B) operators to make better business decisions with data insights powered by ShopBack.
In 2018, ShopBack saw 250 per cent year-on-year growth in orders and sales. The company powered over 2.5 million monthly transactions for more than seven million users in seven Asia Pacific countries and delivered close to $1 billion in sales for over 2,000 merchant partners in both online and offline spaces.
In the same year, ShopBack entered Australia, its first market outside Asia. It also opened research and development hubs in Vietnam and Taiwan, driving a threefold increase in its engineering, data, and product management talent pool.
ShopBack's new round of funding will be deployed into simplifying shopping experiences, expanding data capabilities to fuel personalisation and business insights, as well as accelerating growth in key markets.
The company remains focused on building rewards and discovery features to enhance both online and offline shopping experiences for consumers across the Asia Pacific.
ShopBack is at the forefront of developing innovative solutions that simplify shopping experiences for users and provide pay-per-sale marketing for merchant partners. As the dominant rewards and discovery platform in Asia Pacific digital landscape, ShopBack is well-positioned to deliver smart shopping solutions tailored to consumers' evolving purchase habits – not only in the online space, but also in the offline space.
The comprehensive view of users' digital wallet spend across multiple markets, platforms and categories enable ShopBack to deliver personalised shopping experiences for its users, as well as targeted and cost-effective marketing solutions for its merchant partners.
Recognising that world-class talent is needed to build world-class solutions, ShopBack has been investing in an innovative and fast-moving talent pool. Its latest research and development hub in Vietnam accounted for close to 40 per cent of the new hires in the engineering, data and product management team in 2018. ShopBack is looking to at least double its talent pool in Vietnam over the next few quarters.
StoxPlus changes its name to FiinGroup
StoxPlus, a leading financial and business information service company in Vietnam, announced today that its corporate name was changed to FiinGroup.
The move is part of the company's strategic rebranding initiative. As its various product platforms have been named FiinPro, FiinTrade, FiinConnex, FiinGate, FiinTek, and so on, the name change will better express its family of products and services.
"StoxPlus has over a decade of expertise as a local financial information vendor. The name change reflects our ambition to expand into new areas of expertise, including risk-based data platforms, corporate scoring, credit rating, and other premium services to serve local and foreign customers across industries, beyond the financial sector," said Thuan Nguyen, chairman and chief executive officer of maiden FiinGroup.
The shareholder structure remains unchanged. FiinGroup's strategic partners, NIKKEI Inc. and QUICK Corp., have a combined ownership of 35.1 per cent, and the remaining 64.9 per cent is owned by the management.
Its new name and brand identity signify FiinGroup's mission to "Enlighten the Market."
The company is committed to continuous investment in core database and innovation with useful data analytics platforms to better support the capital market and trade flows in Vietnam and between Vietnam and the world.
Founded in 2008, FiinGroup (previously StoxPlus) is the leading Vietnamese integrated service provider of financial data, business information, industry research, and other premium services.
The company has built up various data and analytics platforms based on its comprehensive, highly accurate, and first-class financial database covering stocks, bonds, industries, IPOs, M&A, and macroeconomic indicators.
The company is currently serving thousands of local and foreign financial institutions, including securities companies, fund management firms, banks, finance companies, insurance firms, and various local and global institutional investors.
Moreover, FiinGroup has applied advanced technologies in data-mining and research automation to analyse hundreds of thousands of private companies with various services from standard factsheet, credit report to insightful research report.
The products help customers to draw lucid data-driven decisions in bolstering revenue, managing risks, lowering cost, and transforming their business.
FiinGroup currently has close to 100 staff including data analysts, business analysts, market researchers, IT engineers, and product developers working at both its headquarters in Hanoi and Ho Chi Minh City branch.
Netherland's vice minister visits Dutch Lady's sustainable dairy zone in Ha Nam Province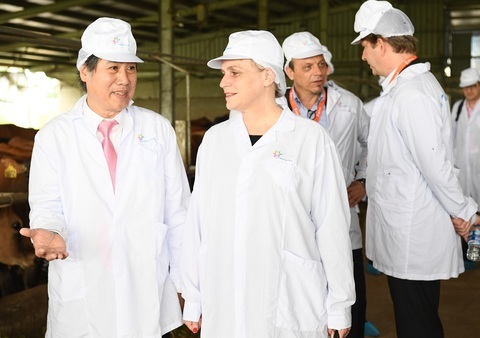 Marjolijn Sonnema, Dutch Vice Minister of Agriculture, Nature, and Food Quality, on April 10 visited Dutch Lady's sustainable dairy zone in Duy Tien Districts Moc Bac Commune in Ha Nam Province. — Photo courtesy of the company
Dutch Vice Minister of Agriculture, Nature, and Food Quality Marjolijn Sonnema on April 10 visited Dutch Lady's sustainable dairy zone in Duy Tien District's Moc Bac Commune in Ha Nam Province, as part of an official visit to the Socialist Republic of Vietnam together with the Prime Minister of the Netherlands.
During her trip, Sonnema visited the projects Dairy Farm and the other dairy farms in the sustainable dairy zone as well as other dairy farmers in Moc Bac Commune.
The visit was seen not only as a bridge to promote the strategic partnership between the two countries, but also as a great honor for Dutch Lady (the registered name of FrieslandCampina Vietnam) to have the attention of the government of the Netherlands.
The project to develop a sustainable dairy zone was launched in 2014 within the framework of the Facility for Sustainable Entrepreneurship and Food Security (FDOV) programme.
This project is part of a Public-Private Partnership between Dutch Lady and other stakeholders, namely the Dutch Ministry of Foreign Affairs, Ha Nam Provincial Peoples Committee, Wageningen University and The Friesian in the Netherlands, and DeHeus Vietnam.
Among these, Dutch Lady Milk is the main partner.
The project aims to establish and develop a professional and sustainable dairy zone on a family farm scale, thereby ensuring food security, creating jobs, and reducing milk imports.
Sonnema said: "This is a very interesting and significant project, not just for businesses but also for the development of local peoples lives. I highly appreciate the cooperation between Dutch and Vietnamese enterprises, particularly the exchange of technical experts from the two sides in this FDOV project.
"I hope that the future will see more projects of partnership between the governments in the agrofood sector, which helps to strengthen and promote the strategic partnership between the two nations," she added.
Sonnemas visit was a positive sign for the economic development of Ha Nam Province. Interest, commitment and synergy has led Dutch Lady and its Dutch partners to bring about good results, creating common values for the community.
The development of the area for professional and sustainable dairy farming on a family farm scale has contributed to creating jobs and improving the financial situation of labourers in Ha Nam Province over the past six years.
This is the foundation of value that Dutch Lady has built and has been continually preserving for more than 145 years, which is to cooperate with farmers to produce a uniform source of fresh Dutch milk in every market.