As organisations and consumers increasingly interact over digital channels, both parties must find ways to establish mutual trust, British consumer credit reporting company Experian has said in a new report.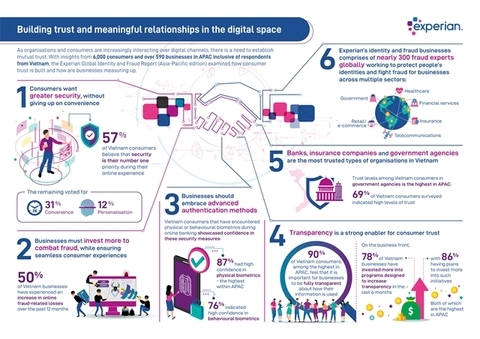 Ảnh:
Based on insights from almost 6,000 consumers and 590 businesses across the Asia-Pacific (APAC), the Global Identity and Fraud Report APAC edition highlights that trusted online relationships are based on businesses providing both a secure environment and seamless consumer experiences.
From Viet Nam, 501 consumers and 50 businesses participated in the study.
The report found that a majority (57 per cent) of Vietnamese consumers valued 'security' as the most important element of an online experience, followed by 'convenience' (31 per cent) and 'personalisation' (12 per cent).
It also found that 50 per cent of Vietnamese businesses had experienced an increase in online fraud-related losses over the past 12 months. This includes account takeover attacks and fraudulent account openings. As a result, 66 per cent of consumers surveyed felt that the trade-off for convenience in today's digital society is privacy, with 63 per cent of businesses in Viet Nam collecting more personalised data to develop tailored user experiences, targeted products and offers.
"With interactions between businesses and consumers increasingly taking place over digital channels, building an environment characterised by security and mutual trust should be a leading priority," Dev Dhiman, managing director of Southeast Asia and Emerging Markets at Experian, said.
"It will be imperative for business leaders to invest in identity verification and fraud management capabilities to realise the full potential of Viet Nam's digital economy."
Data is vital for the seamless delivery of digital services and the growth of Viet Nam's internet economy. According to Google-Temasek's e-Conomy SEA 2018 report, Viet Nam's internet economy contributes 4 per cent of the country's GDP and is considered the most developed among its Southeast Asian peers.
While existing security methods used by organisations are still more traditional in nature, report findings revealed that new technologies and advanced authentication solutions are viewed favourably by consumers.
In fact, Vietnamese consumers who have encountered physical or behavioural biometrics during online banking showcased confidence in these security measures. Eighty-seven per cent had high confidence in physical biometrics, the highest in APAC, while 76 per cent indicated high confidence in behavioural biometrics.
"Consumers are increasingly looking to organisations to implement measures to enhance security and protection in digital interactions, and they are also looking to them for a more simplified approach," Dhiman said.
"One approach that has proven both effective and well received among consumers is biometrics, which speeds up and simplifies the identity verification process for consumers."
Of all APAC countries, it is in Viet Nam that Government agencies enjoy the highest level of consumer trust (69 per cent).
Transparency is another key determinant in building mutual trust. The report found that 90 per cent of Vietnamese consumers expected full transparency from businesses on how their information is used, second only to Thailand (93 per cent).
Recognising this need, 78 per cent of Vietnamese businesses surveyed have invested more into programmes designed to increase transparency in the last six months, with 86 per cent having plans to invest more in such initiatives, both the highest rates in APAC.
Examples of these initiatives include educating consumers, communicating terms more concisely and helping consumers feel in control of their personal data.
Experian's identity and fraud business comprises of nearly 300 fraud experts around the world working to protect people's identities and fight fraud for businesses across multiple sectors. — VNS