An insider has predicted a good outlook for the property market in the medium and long terms despite signs of decline in recent months.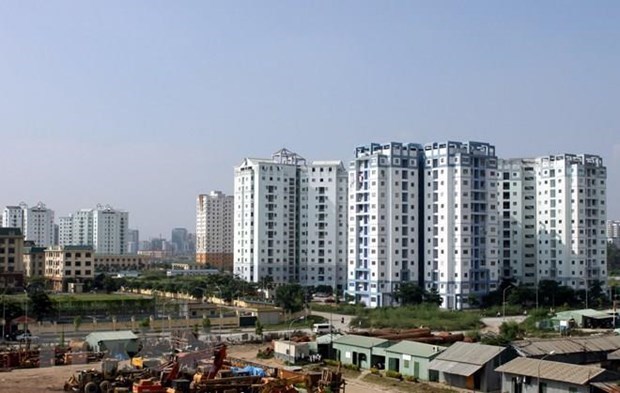 The property market of Vietnam is believed to have a good prospect in the medium and long terms
At a forum in Hanoi on May 16, Chairman of the Vietnam National Real Estate Association (VNREA) Nguyen Tran Nam said real estate companies listed in the stock market have recorded some drops in their revenue and profit.
Though the Government has been making efforts to create an open and healthy business environment, there haven't been any strong improvements, according to enterprises.
He cited recent data as showing that in Ho Chi Minh City, the number of construction licenses have decreased 16 percent, and 150 projects have been halted to be inspected.
Meanwhile, according to a report of the Vietnam Association of Realtors, apartments and villas offered for sale in Hanoi and HCM City have dropped, equivalent to about 70 percent of the supply in the fourth quarter of 2018.
However, Nam noted, the strongest point of the Vietnamese property market is great demand and liquidity.
Statistics of the United Nations pointed out that people with average income from 1,000 to 10,000 USD usually buy houses, and Vietnam is a country with per capita income in that range.
He expressed his belief that the market will be very good in the medium and long terms, adding that about 1 million people move from rural to urban areas each year, and Vietnamese people often save money to buy houses.
At the event, Can Van Luc, senior economist at the Bank for Investment and Development of Vietnam (BIDV), said there is now an influx of capital into real estate and a surge in the number of property businesses.
Foreign direct investment in the property sector reached some 6.5 billion USD in 2018. With this trend, industrial and commercial real estate and social housing will continue expanding in the time ahead, he said.
Echoing the view, Deputy Director of the Central Institute for Economic Management Tran Kim Chung said the property market is not too worrying, and industrial real estate and housing, particularly high-end housing and affordable housing for rent, still have room to develop.
Some other experts said many businesses are shifting their focus to tourism and industrial real estate and offices for lease, which will be in demand in the coming time when more foreign firms will come to invest in Vietnam to seek benefits from new-generation free trade agreements.-VNA