The poor logistics services in the Mekong Delta have pushed up the costs of export goods, especially farm produce, and caused great losses to export firms, it was reported at a workshop held in Can Tho city on April 23.
When will aviation logistics take off?
Logistics sector expects e-commerce to drive rapid growth
HCM City seeks cheaper logistics
In 4.0 era, reform is a must for logistics industry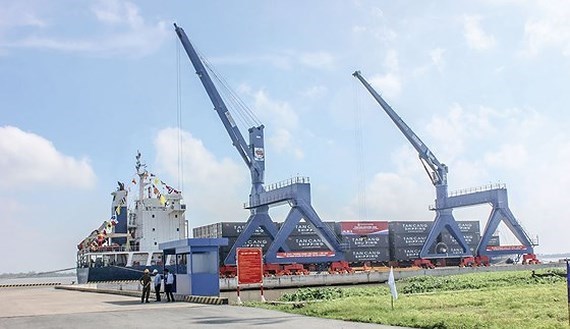 A seaport in the Mekong Delta (Photo: Saigon Giai phong)
Deputy Director General of Minh Phu Seafood Corp Chu Van An said his company, which is based in the Mekong Delta, has to transport goods to Ho Chi Minh City for export, resulting in huge costs. According to him, if goods can be directly shipped abroad from Mekong Delta localities, the company could save between 30-40 percent of transport costs.
Le Duy Hiep, Chairman of the Vietnam Logistics Business Association, said logistics costs for aquatic products and fruits, two main export staples of the Mekong Delta, account for 20-25 percent of costs, which are high compared to the 10-15 percent ratio in regional countries.
According to Director of the Department of Industry and Trade of Can Tho City, Nguyen Minh Toai, around 70 percent of the Mekong Delta's annual export goods volume, at 17-18 million tonnes, must be transported to big ports in Ho Chi Minh City and the Cai Mep port in Ba Ria-Vung Tau province, pushing transport costs up by between 10-40 percent.
Therefore, it has become urgent to develop logistics services in the region, which accounts for 75-80 percent of the country's earnings from agricultural product export.
Ho Thi Thu Hoa, Director of the Vietnam Logistics Institute, said the Government had issued a plan on logistics centres across the country, with two level-two centres in the Mekong Delta, in as early as 2015. However, no centre has been built in the region after four years.
Hoa urged Mekong Delta localities, especially Can Tho city, to show stronger resolve in forming a logistics centre for the region.-VNA