According to the World Bank, Vietnam has had the sharpest minimum wage increase in the region, a 14 percent rise in the 2014-2016 period.
The National Wage Council recently decided that the minimum wage for 2020 would increase by 5.5 percent compared with 2019.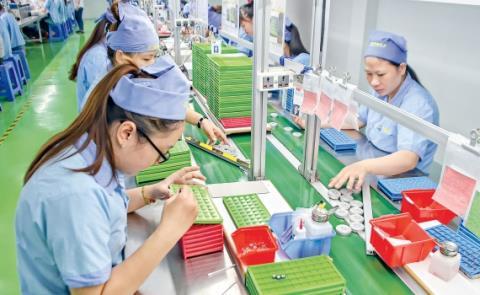 The minimum wage for workers in Region I, which covers urban Hanoi and HCM City, is set to rise to VND4.42 million, while the figure for workers in Region II – covering rural Hanoi and HCM City, along with major urban areas in the country like Can Tho, Da Nang, and Hai Phong – is VND3.92 million.
Those in Region III will earn VND3.43 million at least, while the figure is VND3.07 million for the rest of the country.

According to the Deputy Minister of Labor, War Invalids and Social Affairs (MOLISA), and chair of the National Wage Council, Doan Mau Diep, the increase will allow laborers to cover their basic needs.

Who will benefit?
The National Wage Council recently decided that the minimum wage for 2020 would increase by 5.5 percent compared with 2019.
Nguyen Quang Dong, an independent expert on public policy on July 15 told Dat Viet reporters that focus should be on substantial solutions which can help reduce expenses for laborers.

"The problem doesn't lie in minimum wage. If raising minimum wage, businesses will suffer, while workers won't get benefits. The only beneficiar, in this case, is social insurance," Dong said.

Surveys show that most enterprises use dual payroll systems. One is used to serve the payment of social insurance policies and tax procedures. The other truly reflects real expenses for laborers.

Minimum wage is used to calculate the insurance premiums laborers and businesses have to pay. The real pay to workers is always 20-30 percent higher than the minimum wage.

They will have to pay more for trade union fee and insurance premiums.

According to Dong, workers have five major expense items – education, healthcare, food, entertainment and electricity & water bills.

If policies can reduce laborers' expenditure, there is no need to solve the problem of minimum wage.

The inequality in residence registration policy can be solved. Most laborers are migrants from rural areas and they don't have permanent residence books. As a result, their children cannot go to state-owned schools and have to go to private schools with higher costs of about 50 percent, according to Dong.

The same can be seen in the healthcare sector. Since migrants don't have permanent residence certificates, they have to pay more for healthcare services.

Regarding the water and electricity use, a World Bank survey found that one migrant household has to pay VND2,884 for one kwh of electricity they use, more than the highest price level a native household has to pay.
Mai Lan 

The Ministry of Labor, Invalids, and Social Affairs (MoLISA) has recently issued a draft decree on regional minimum wage increase in 2020. Accordingly, wage hike will range from VND 150,000 to VND 240,000.  

Starting next year, minimum wage in the private sector will increase by 5.5 per cent after three-party negotiations between representatives of the State, employers and employees ended yesterday.