Vietnam is now the leader in Southeast Asia's solar photovoltaic (PV) market with the largest installed capacity in the region, Wood Mackenzie said in its statement.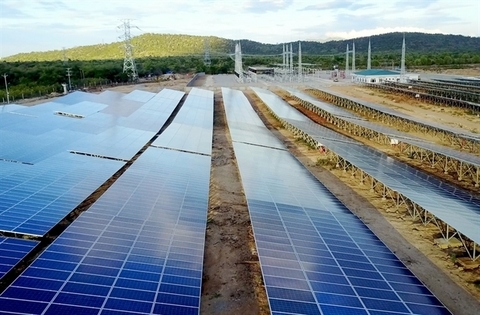 A solar power project in Ninh Thuan Province.
According to research by Wood Mackenzie, Viet Nam's cumulative solar PV installation will hit 5.5 gigawatts (GW) this year, making up 44 per cent of Southeast Asia's total capacity, compared to just 134 megawatts (0.134 GW) in 2018.
Under the feed-in tariff (FIT) programme, Viet Nam awarded projects at US$93.50 per megawatt hour (MWh) for solar PV projects connected before the end of June 2019. While bankability concerns existed, the project economics were attractive, delivering equity internal rate of returns in the mid-teens.
"Regional and local IPPs (Independent Power Producers) and developers felt comfortable taking on the risk, and the projects received financing from regional and local banks," said Wood Mackenzie solar analyst Rishab Shrestha.
"FITs have proven to be an effective policy tool to induce rapid growth in renewables and Viet Nam's build is another example of that."
Viet Nam's next FIT is expected to be applied through 2021. Wood Mackenzie expects grid connection activity to peak at around the end of that year.
"The latest draft submitted for government approval reveals a FIT of $70.90/MWh for ground mounted projects. Correspondingly, we estimate the levelised cost of electricity to range from $59/MWh to $96/MWh for 2021, depending on the region. Project economics will continue to remain attractive in large parts of Viet Nam," Shrestha added.
With massive installations also come curtailment problems. The installed capacity in Viet Nam's key provinces has already exceeded the grid capacity by 18 per cent. The approved capacity for the Ninh Thuan and Binh Thuan provinces amounts to 5 GW, more than double the grid usable capacity.
Grid expansion is expected to increase grid capacity for solar in key southern provinces by about 25 per cent in 2020 compared to 2019. However, more investment is needed to address curtailment concerns.
While still an emerging region in solar PV installations, Southeast Asia's cumulative solar PV capacity is expected to reach 12.6 GW this year, and is expected to grow almost threefold to 35.8 GW in 2024. Large-scale solar will dominate the installation capacity for the next five years.
As project economics start to become more attractive, distributed solar installations will also pick up. Wood Mackenzie expects small-scale solar to account for 32 per cent of the capacity additions in 2024. — VNS

The country's feed-in tariff has supported a boom for Vietnam's solar sector, but now the Ministry of Industry and Trade proposes a rate reduction in order avoid solar projects becoming a victim of their own success.

Some experts have proposed developing solar power projects on hydropower reservoirs to take full advantage of water surfaces, reported the Sai Gon Giai Phong Online website.