A working delegation from the Royal Cambodian Army's High Command of Guards led by Deputy Commander General Dieng Sarun visited the Steering Committee for the Southwest Region on June 17 in Can Tho city.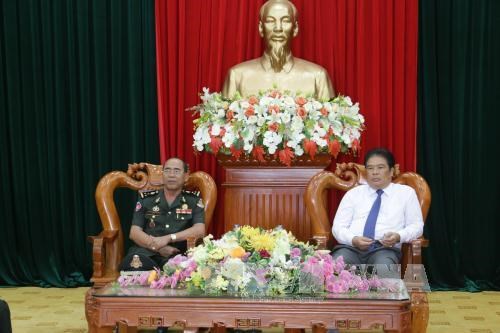 Son Minh Thang (left) receives General Dieng Sarun in Can Tho city.
In his meeting with Son Minh Thang, Deputy Head of the Steering Committee, General Sarun briefed the host on the political situation in Cambodia and expressed willingness to boost sustainable cooperation and friendship between the two Parties, governments, armies and peoples.
General Dieng Sarun took the occasion to ask the committee to assist the Royal Cambodian Army in recommending rice varieties to provide farmers for production.
On behalf of the committee, Thang said that cooperation between the two governments has been strengthened and border security has been implemented well without hotspots.
The provinces in the region organised teams of doctors to conduct medical examinations for Cambodian locals and assist poor Cambodian people at a total cost of 35 billion VND (1.5 million USD).
Thang appreciated the Cambodian agencies' assistance and support in seeking and repatriating the remains of Vietnamese martyrs in Cambodia and asked the Cambodian army to continue assisting in the task.
He highly appreciated rapidly growing cooperation on all fields between the two countries in the past years and hoped for a sustainable relationship as well as an acceleration of the border marker-planting process.
VNA