VietNamNet Bridge - Patients with cancer are increasing rapidly in Vietnam. The sad thing is that most patients are in the later stage when they see doctors, so the cancer cure rate in Vietnam is not as high as desired.
Dr. Tran Van Thuan, deputy director of the hospital K, Director of the Institute of Cancer Prevention Research, said each year in Vietnam, the number of new patients with cancer are 150,000 and 75,000 others died of cancer.
At the present time, there are 240,000 - 250,000 people living with the disease of cancer in Vietnam.
According to Thuan, the cancer tends to increase, not only in Vietnam but in most countries around the world. The common types of cancer are lung, stomach, liver, colon (men) and breast cancer, cervix, stomach, lung, colorectal (women).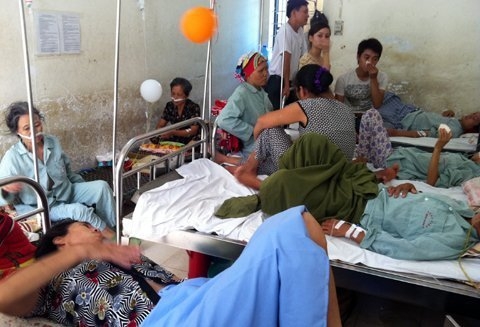 Cancer patients at hospital K, Hanoi.
In recent years, many cancer clinics have been opened but the current network still does not meet the treatment needs.
At Hanoi-based K hospital, the number of patients increases by 20-30% annually. Specifically, in 2007, patients with breast examination was 2,476, by 2011, this number was 3,011. Patients with lung examination in 2007 was 1,199, by 2011, this number was 2,059.
According to Thuan, there are many reasons for this situation. The leading reason is risk factor, with more than 80% is caused by the external environment in which, smoking accounts for over 30% of the causes of cancer in humans.
Nutrition with less vegetables, more meat and animal fats, protein excess and especially foods that contain preservatives are also important causes of disease.
Other causes are working in hazardous environments, life expectancy increases, etc.
However, most of patients see doctors when they are in the late stages.
"Up to 70% of cancer patients are at the final stage (stage 3 or 4) when they saw doctors. Therefore, the cancer cure rate in Vietnam is not high," Thuan said.
Cam Quyen