Cao Bang: Six get death sentence for trafficking large amount of heroin

The People's Court in northern Cao Bang Province has handed down a series of jail sentences to 12 people involved in the province's largest drug smuggling ring at court on Monday.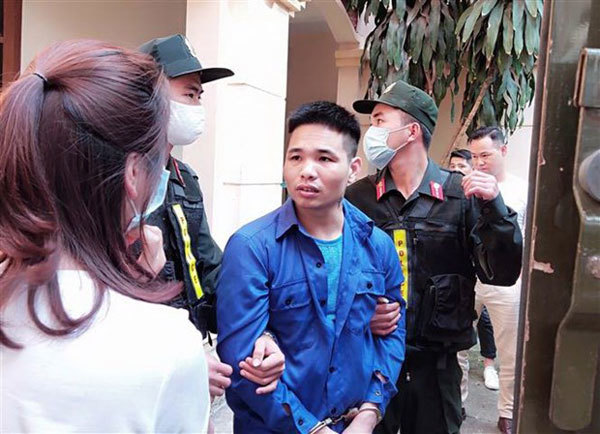 Tran Van Bang (centre) is led away after the trial ended on Monday.
Six defendants received the death sentence, including Tran Van Thanh, Tran Van Bang and Tran Van Thu from Vinh Phuc Province; Nong Tai Kinh, Nong Van Khoi and Nong Tai Tuong from Cao Bang Province.
Five other defendants were sentenced to life in prison, including Phan Van Hien from Vinh Phuc Province; Phuong Thi Ly, Trieu Van Tinh, Phuong Ich Dau and Doan Trong Duy from Cao Bang Province.
Nguyen Van Quyet, a member of the ring from Thai Nguyen Province received 27 years in prison.
Tran Van Bang, 33, was arrested on February 23, 2018 while carrying 130 tablets in a car from Bac Kan to Cao Bang Province.
Bang told the police that his cousin, Tran Van Thanh, 32, was also transporting drugs in another car.
Thanh threw three bags and a sack containing 288 packages of heroin onto the roadside and fled after discovering that Bang was being arrested by the police.
He was arrested later.
They claimed to have bought drugs many times from a suspect named Song A Pua from Son La Province to sell to Nong Tai Kinh and Nong Van Khoi.
From the testimony of Bang and Thanh, the police arrested other people related to their drug smuggling ring and seized a lot of tablets, cash and guns.
All defendants confessed they colluded with others, repeatedly traded and successfully transported a huge amount of drugs from Son La Province to Cao Bang Province. A total of 492 packages of heroin and many tablets had been transported. — VNS

Police in Hanoi have busted a drug ring from Laos to the northern border province of Dien Bien and the capital city. ​

Police of Ho Chi Minh City seized the largest-ever volume of drugs and uncovered a big number of sophisticated and transnational drug rings in 2019.