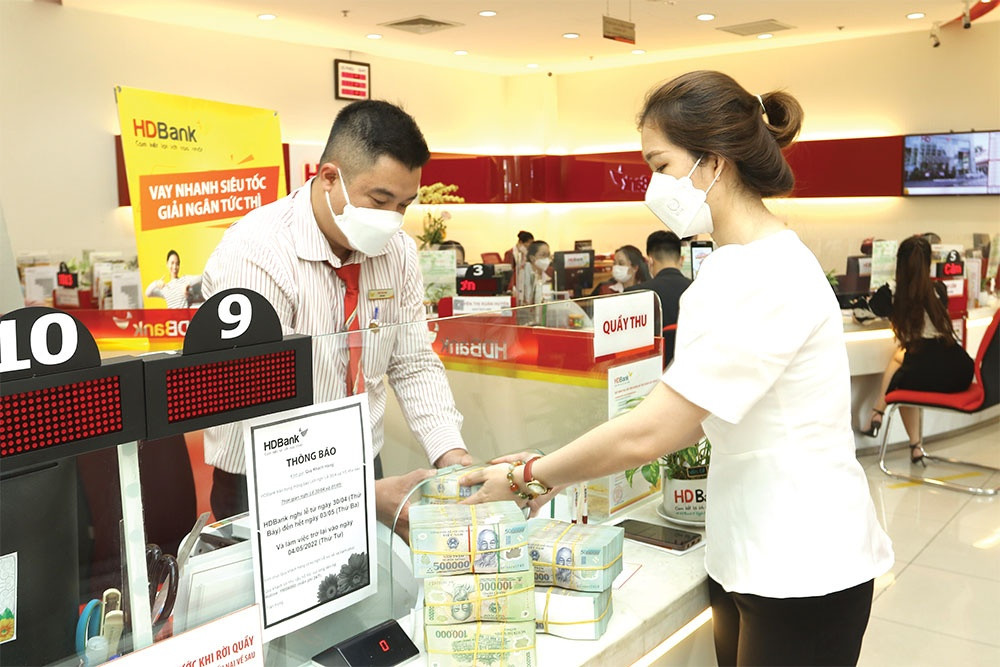 The maximum short-term lending rate for borrowers in some sectors will be reduced, photo Le Toan
The State Bank of Vietnam (SBV) last week took bold steps to soften the regulatory interest rates for the first time in two years, in a bid to support the capital-thirsty local business community.
The central bank issued two decisions on reducing key interest rates by 0.5 to 1 per cent, which took effect on March 15. Under Decision No.313/QD-NHNN, the rediscount interest rate will be revised down from 4.5 per cent per year to 3.5 per cent. Overnight lending rates in interbank electronic payments and loans to cover capital shortfalls in clearing payments of the SBV for credit institutions will be dropped from 7 per cent per year to 6 per cent.
Particularly, the refunding interest rate will remain unchanged at 6 per cent on an annual basis.
Meanwhile, under Decision No.314/QD-NHNN, the maximum short-term lending rate in VND of credit institutions for borrowers to meet capital needs for several economic sectors will be reduced from 5.5 per cent per year to 5 per cent. The maximum short-term lending rate in VND of individual credit funds and microfinance institutions will be soothed from 6.5 per cent per year to 6 per cent.
Commenting on the developments, Tran Khanh Hien, research head at a Hanoi-based securities firm, expressed expectations that lower operating interest rates would underpin credit growth in the forthcoming quarter in the context that banking system credit expanded 0.77 per cent in the first two months of this year.
"The move marks the government's efforts in stabilising the interest rate. Given the instability of the current macro environment, we believe that the SBV will continue to closely monitor the fluctuations of the market and the domestic economic environment to come up with appropriate monetary policies," said Hien.
Tim Leelahaphan, Standard Chartered economist for Thailand and Vietnam, appreciated recent moves to aid market liquidity, mitigate current tension in the domestic realty market, and support the local economy.
"But on the global scale, with the US Federal Reserve continuing to raise the interest rates, it would be hard to further exercise interest rate softening," said Leelahaphan.
Dorsati Madani, senior country economist at the World Bank, assumed that there are uncertainties and risks in both domestic and world markets. The US interest rate hike and inflation will affect all developing countries and exert pressure on the global exchange rate, including in Vietnam.
"One solution that the government can use, but not the only one, is the possibility of raising interest rates. If inflation continues to linger, raising interest rates is also a tool of the government. But, as far as I know, inflation has started to show signs of slowing down in February, so a rate hike is unlikely," said Madani.
According to Andrea Coppola, lead economist at the World Bank, banks and businesses are facing monetary tightening, exacerbating liquidity problems for both sides.
"It is important for central banks to consider whether a more conservative approach is needed in the future fight against inflation. Another core question that needs to be answered is whether it is feasible to return to the inflation level we had before 2022, if Vietnam's interest rates are really high," said Coppola.
A top leader at the SBV noted that it is still cautious about the possibility of augmenting inflation pressure as in the first two months of this year, Vietnam's inflation rate increased close to the target level of 4.5 per cent, while global inflation is forecasted to cling at a high level.
In fact, central banks around the world are continuing the process of tightening monetary policies and keeping their interest rates at a high level, especially considering the US Fed will move after its next meetings slated on March 21-22 to respond to the impacts of the bankruptcy of Silicon Valley Bank.
"Amid global and domestic economic uncertainties, the SBV will keep a close watch on developments of the domestic and foreign markets to continue adjusting regulatory interest rates, from there contributing to realising the government's commitment to softening the lending rate when market conditions turn favourable," the SBV executive said.
On the other hand, the SBV will continue to keep tabs on monetary market movements in both domestic and foreign markets, as well as inflation and interest rate forecasts to further instruct banks to take cost-saving measures striving for stabilisation of lending rate levels to support business rebound efforts, he added.
Dao Minh Tu-Standing Deputy Governor State Bank of Vietnam
The current trends of the global economy reveal that growth has stalled and things are fraught with uncertainty. Despite signs of cooling, inflation continues to stay high in many countries. The tightening of monetary policy is causing many challenges for businesses and banks around the world.
While the domestic economy faces many difficulties, there are some positive signs. Inflation has continued to retreat in the first two months. International organisations maintain inflation forecast for 2023 at an average of 3-3.5 per cent. The money market is stable, while the credit institution system has plenty of liquidity to meet the economy's payment requirements. The government has taken drastic action and issued efficient policies. This, coupled with the support by the State Bank of Vietnam (SBV), facilitates flexible management of monetary policy.
The SBV has reduced regulatory interest rates by 1 per cent. The cap on lending rates applied to loans made to priority sectors has also been reduced. This will spur commercial banks to reduce lending rates to support businesses and households.
Yun Liu-Asia economist HSBC Global Research
Despite increasing market debate on the pace of the US Federal Reserve's likely tightening, the SBV surprisingly moved in the other direction.
As one of the last central banks to tighten its monetary policy in Asia, the SBV delivered two 100 basis point rate hikes in 2022, one in September and the other in October, to play catch-up. As major central banks appear to have not completed their current tightening cycles, the SBV's moves were unexpected. But looking at the statement, this primarily reflects two shifting stances from the central bank.
The major one stems from its concerns of inflation versus growth. The former was mentioned consistently as a primary concern in the SBV's statements last year. Despite keeping its cautious tone, it sounded more optimistic about the prospects of curbing inflation, stating that it is under control.
Indeed, headline inflation moderated to 4.3 per cent on-year in February, below the 2023 target of 4.5 per cent. That said, upside risks linger. Inflation momentum remained strong, reflecting both demand- and supply-driven factors. Despite some easing of global commodity prices, Vietnam's energy prices have continued to edge higher.
Meanwhile, core inflation remains high at 5 per cent. While inflation will likely peak in this quarter, high imported price pressures warrant a close watch.
Nguyen Viet Cuong-Deputy general director Vietcombank
In 2022, the SBV maintained operating policies flexibly and close to the market. However, into the beginning of 2023, lending and deposit interest rates have increased significantly. Thus, the banking system has been concerned about how to find ways to reduce interest rates.
Amid some improvements in the economic environment, the SBV's move to reduce regulatory interest rates last week was a positive sign for banks' activities and the economy. Vietcombank has immediately reviewed and re-issued regulations on deposit interest rates, as well as a lending rate cap in priority sectors.
I believe that lower interest rates will stimulate the credit demand of corporate customers and retail customers after the subdue demand in the beginning months of this year.
Vietcombank is a multipurpose commercial bank and the priority customer group accounts for over $1.27 billion of outstanding loans. They will immediately get the new interest rates. The bank is also promoting a proportion of loans to this customer group.
Source: VIR