Casting for sequel of VN award-winning film underway

Vietnamese film producer and actress Truong Ngoc Anh is working on a sequel for her award-winning action movie Hương Ga (Rise) about the life of a female gangster named Dieu.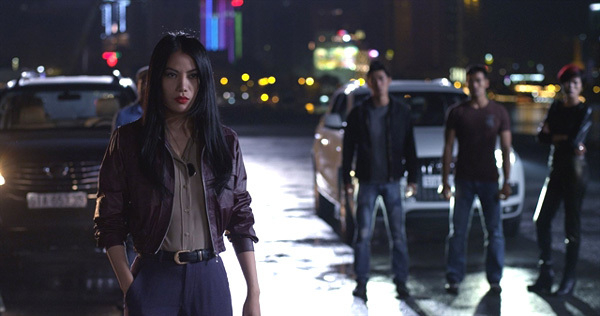 Film producer and actress Truong Ngoc Anh will continue her role in the sequel of the award-winning action movie Hương Ga (Rise). Photo courtesy of producer
She has continued to work with Vietnamese-Canadian Cuong Ngo in the new project.
"I'm completely confident in bringing the new story about the female gangster to the big screen five years after the release of my first movie," said Cuong, a graduate in film production and directing from York University in Toronto
Hương Ga 2 will begin with the last scene of the first film, Dieu's escape from her rival on a train. She later finds a way to build her new workforce and then returns to the gangster underworld.
Anh, who plays Dieu, will continue in the role.
A casting call was held in HCM City on September 15 to find new faces for five new roles.
"My staff and I are facing challenges in making the new project due to the big success of Hương Ga," Anh told the media, and added that they found difficulties in casting because the cast in the first movie was excellent.
The 43-year-old producer said: "We know that the new film must be better in both screenplay and the cast than the first film to satisfy audience expectations."
Hương Ga was first released in 2014.
Based on a novel by Nguyen Dinh Tu, the film tells the story of Dieu who goes from being an incense seller at a train station to becoming a gang leader, and then climbs to the top of Vietnam's gangster underworld.
The film featured Anh, Kim Ly, Chi Bao and Trang Tran.
The VND18 billion (US$775,700) movie has earned around VND30 billion ($1.3 million) in ticket sales.
The movie won several top awards at film festivals in Vietnam and abroad.
It won three top prizes for best movie, director and leading actress at the annual 2014 Golden Kite awards presented by the Viet Nam Cinematography Association.
The film also won the Best Feature Southeast Asia Panorama award during the Festival of Globe Awards 2015 held in California, the United States.
Actress Anh also received the Best Actress People Choice Award for her role.
Anh began her career as a fashion model in 1995. Three years later, she performed in TV shows produced by HCM City Television.
Her beauty and strong characters in the roles helped Ánh become a new idol among female moviegoers.
She performed in dozens of films and TV series, including prize-winning productions Áo Lụa Hà Đông (The White Silk Dress) and Sài Gòn Nhật Thực (Saigon Eclipse).
After Hương Ga, Anh played a leading role in action thrillers Truy Sát (Tracer) and Bông Hồng Lửa (Fire Rose), which won acclaim from audiences.
The shooting of Hương Ga 2 will begin in HCM City in November.
VNS