Cautious targets outlined for 2023
The Vietnamese economy is expected to sail forward thanks in part to a boost in domestic consumption and production, which will continue being among prime priorities set by the government to hit its new growth target.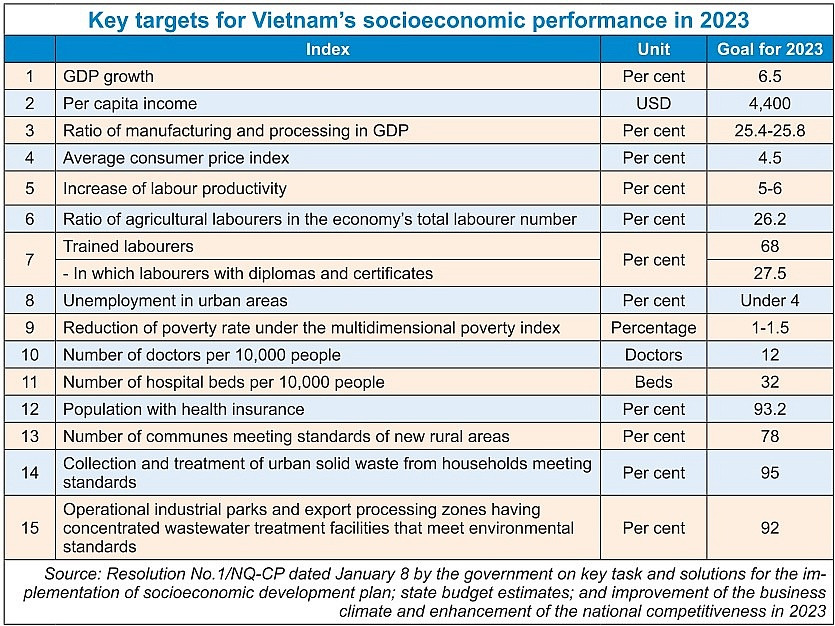 After suffering an estimated $37 billion losses caused by the COVID-19 pandemic in 2020-2021, the Vietnamese economy last year successfully reached the goals of containing the virus, fully reopening the economy, and harvesting a significant economic growth rate of 8.02 per cent on-year.
This far exceeded the initial target of only 6-6.5 per cent and marking the highest rate over the past decade, raising the economy's scale to $409 billion. This impressive achievement, as stated by Party General Secretary Nguyen Phu Trong, is of great importance for the country to fulfil its socioeconomic development plan for 2021-2025 period, whose annual economic growth has been targeted at 6.5-7 per cent.
"In 2022, thanks to massive efforts of the Party, the state, the public, and firms, we have achieved many important outcomes which were more comprehensive than in 2021," he stressed at a recent online government meeting with localities. "The government and the prime minister have made their great efforts in direction and management of national socioeconomic development."
Prime Minister Pham Minh Chinh stated that the domestic business and investment climate has continued its improvements. In 2022, up to 208,300 enterprises joined and re-entered the market, up 30.3 per cent on-year. Total development investment capital is estimated to be $140 billion – up 11.2 per cent on-year and tantamount to 33.8 per cent of GDP.
"However, massive difficulties remain. For example, disbursement has been slow in public investment and for the national target programmes, and the Programme on Socioeconomic Recovery and Development," PM Chinh stressed. "There are many outstanding issues regarding the stock market, corporate bonds, property, and weak banks. The life of part of the population remains tough, and state-owned enterprise equitisation is slow, among many other issues."
Also in 2022, the number of businesses with halted operations reached 73,800 - up 34.3 per cent on-year. Furthermore, the number of those with halted operations and waiting for dissolution hit 50,800 – up 5.5 per cent; while the number of those having completing dissolution procedures touched 18,600 – up 11.2 per cent. On average, each month saw 11,900 enterprises withdrawing from the market.
Greater efforts
Given increased geopolitical tensions and many other negative potential impacts from the global economy, the National Assembly cautiously set a target of 6.5 per cent in the country's economic growth this year. However, General Secretary Trong and the government said more efforts must be made to reach a higher growth rate. "In 2023, we must reap many more achievements and advancement than in 2022," General Secretary Trong stressed.
PM Chinh also stated, "The government will focus on directing ministries, agencies, and localities to make bigger efforts to implement the Socioeconomic Development Plan for 2023, in the spirit of 'Words matching actions', 'Commitments meaning implementation', and 'Implementation means outcomes' with specific qualitative and qualitative products. The economy's outlook remains positive, with optimistic forecasts of high-profile international organisations."
Two weeks ago, Standard Chartered Bank released its global research report on Vietnam, stating that it expects Vietnam's strong growth of 7.2 per cent in 2023 and 6.7 per cent in 2024, following a solid recovery to 8.02 per cent in 2022.
"We still have conviction on Vietnam's high growth potential over the medium term." said Tim Leelahaphan, economist for Thailand and Vietnam of Standard Chartered. "While macro indicators moderated somewhat in Q4 of 2022, they remain largely robust. Retail sales posted solid growth in the second half of 2022, implying improved domestic activity."
The World Bank is expected to publish its new Taking Stock report on Vietnam's economy in the near future, with belief that the lender will raise the growth prospects for the economy. The bank last October also predicted that Vietnam's economy will grow 6.7 per cent in 2023.
"We need to acknowledge that 2023 is going to be a much more difficult year and we expect the economy to slow down during the next months, as the global economic outlook is gloomy and this will affect Vietnam's economic performance," said Andrea Coppola, lead economist at the World Bank.
Global analysts FocusEconomics also forecasted that the Vietnamese economy will grow 6.1 per cent in this year before bouncing back to 6.7 per cent next year.
The Vietnamese economy is now quite open to the world's economy. The economy's GDP was valued at $409 billion in 2022 when total export-import turnover reached $732.5 billion, which was 1.8 times higher than GDP.
Key drivers
According to the Ministry of Planning and Investment (MPI), in 2023, boosting domestic consumption and production will be among prime priorities for the country to achieve its new growth goal of at least 6.5 per cent. In 2022, the economy's total retail and consumption service revenue hit nearly $247 billion, up 19.8 per cent on-year and 15 per cent as compared to that in 2019. If inflation is excluded, the rate will be 15.6 per cent on-year. In 2021, such a rate dropped 6.7 per cent.
In addition, last year saw strong recovery of the tourism sector, with 102 million domestic visitor arrivals and 3.7 million foreign visitor arrivals. The sector reaped an estimated revenue of about $19.6 billion, which was 2.5 times higher than the $7.8 billion earned in 2021.
FocusEconomics is seeing great potential for Vietnam's industrial production. It said, "Of the key subsectors, manufacturing growth remained by far the strongest, supported by the country's attractiveness as a low-cost manufacturing base for foreign firms, particularly those looking to diversify supply chains away from China. Meanwhile, the trend improved sizably, with the annual average growth of industrial production coming in at 16 per cent in November, up from October's 15.3 per cent."
FocusEconomics panellists estimated that Vietnam's industrial output will grow 6.8 per cent in 2023, and 7.9 per cent in 2024.
According to the General Statistics Office (GSO), Vietnam's index for industrial production is estimated to climb at a relatively high level of 7.8 per cent on-year in 2022. The country's added value of industrial production climbed 7.69 per cent for the whole of 2022, up from 4.82 per cent in 2021. The manufacturing and processing sector increased 8.1 per cent over the same period the previous year, when this sector climbed only 6.37 per cent. The electricity production and distribution expanded 7.05 per cent on-year, also higher than the on-year ascension of 5.24 per cent in 2021.
Under a GSO survey on manufacturing and processing businesses in Q4 of 2022, 31.4 per cent of respondents said their production volume will increase in Q1 of 2023 against Q4 of last year, and the rate of those forecasting that their production will stabilise in Q1 of 2023 is 38.5 per cent. When it comes to orders, 30 and 30.6 per cent of respondents expect their orders will increase and stabilise, respectively, in Q1 of 2023 as compared to Q4 of 2022. Regarding export orders, 42.7 per cent of surveyed enterprises predict that their export orders will stabilise in Q1 of this year. Only about 24 per cent of respondents project that these types of orders will increase in the period.
"Consumers' confidence has gradually bounced back," said MPI Minister Nguyen Chi Dung. "Many enterprises have founded it difficult to boost exports due to decrease in demands for exports, and then have turned to the domestic market. Many enterprises, already boasting a firm niche in the local market, have been expanding operations here."
According to the Asian Development Bank, in addition to spurring on local consumption, the government must find new ways to accelerate public investment as one of the key pillars for economic growth this year and beyond.
At the end of last year, public investment disbursement was $18.9 billion, equalling 75.11 per cent of the allocation plan, equivalent to the performance of the same period during 2016-2020, and lower than the same period 2021 (77.3 per cent), the MPI reported.
Source: VIR