Central bank acts as credit fund goes rogue
The State Bank of Viet Nam (SBV) office in the southern province of Dong Nai is investigating the delay in repaying principal and interest by the Thai Binh People's Credit Fund to 82 customers
VietNamNet Bridge – The State Bank of Viet Nam (SBV) office in the southern province of Dong Nai is investigating the delay in repaying principal and interest by the Thai Binh People's Credit Fund to 82 customers in Bien Hoa City's Tan Hoa Ward.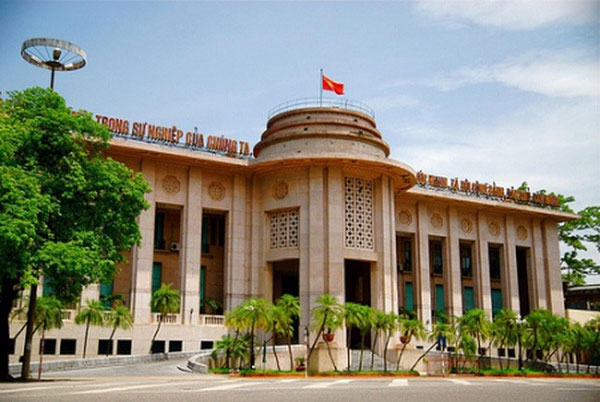 The State Bank of Viet Nam (SBV) office in the southern province of Dong Nai is investigating the delay in repaying principal and interest by the Thai Binh People's Credit Fund to 82 customers in Bien Hoa City's Tan Hoa Ward. — Photo cafef.vn
According to the customers, they had deposited nearly VND50 billion (US$2.2 million) but have not received interest since the middle of last year and have also been unable to withdraw their deposit.
Meanwhile, the director of the fund, Vu Cong Lien, reportedly quit his job and is absconding.
The case has opened authorities' eyes to the need to carefully manage people's credit funds across the country so that system does not collapse or many of them go bankrupt.
Analysts said the most important measures include oversight and inspection of their operations.
According to the Viet Nam Association of People's Credit Funds, there are more than 1,100 such funds with 1.8 million members and deposits of VND88 trillion ($3.9 billion).
Thus, potentially a lot of people could be affected.
Employees of many of the funds said they are managed in a very loose manner.
To compete with banks, the funds always offer very high interest rates to depositors, often 4-5 per cent higher than bank rates.
The deposits are often lent to individuals or organisations involved in high-risk sectors like real estate.
But authorities responsible for overseeing the people's credit funds said they are all now under the management of the SBV and the Cooperative Bank of Viet Nam (Co-opBank).
In addition, the Deposit Insurance of Viet Nam also has special control over the funds.
The question is why, despite multiple agencies managing and controlling the people's credit funds, such violations are occurring so often.
Tran Quoc Tuan, director of the SBV office in Dong Nai Province, said managers of funds that act dubiously clean up their balance sheets ahead of audits by authorised agencies before again lending money to high-risk sectors like real estate.
An official from the SBV's department for banking system safety supervision admitted that management and oversight of people's credit funds remain poor.
So it is necessary to strengthen internal control and audit, and ensure the funds comply with the laws on cooperatives, one of which requires them to lend only to members.
Analysts said the model is appropriate for Vietnam and the funds have proved to be really useful in rural areas, but they need to be carefully controlled to ensure their effectiveness and safety.
The central bank plans to restructure the credit funds after first identifying weak ones. The weak funds that cannot be improved will have their licences withdrawn.
Besides, many new funds will also be set up in rural areas.
Transporters hit hard by taxes, fees
Huynh Huu Trung, owner of a transport company based in HCM City's Tan Binh District, said he had been offering 15 container trucks for sale at only VND500 million each since early October but none of them has been bought.
The rest of his vehicles are only operating for 15-20 days a month and so the company's turnover is down sharply, he said.
Many trucking firms in the country are in a similar plight, with many facing a danger of being shut down.
Do Xuan Phu, director of the Minh Lien Transportation Company, said he had to significantly reduce the number of vehicles in operation as well as staff but business situation has not improved.
He said in the past when the transportation industry was still profitable, every container truck could operate for 275 days a year and not run the other 90 days because they were weekends and festivals, and there were days when they had to stop for repairs or maintenance.
Recently, the number of working days has decreased because of fierce competition.
Since April 2014, after the Ministry of Transport cracked down on overloading and other violations, many companies with goods to transport bought their own vehicles instead of hiring them.
Thus, transport operators are competing for an increasingly smaller pie.
This has in turn brought freight rates down, affecting their turnover.
Meanwhile, taxes and fees have been increasing.
Transport firms are shouldering a heavy burden of more than 10 different taxes and fees, including road maintenance fee, toll fee and parking fee.
The road maintenance fee alone comes to at least VND17.16 million ($756) a year per vehicle.
According to the HCM City Cargo Transport Association, toll now costs even more than fuel because a majority of the main roads collect toll.
For instance, fuel for a trip between HCM City and Vung Tau City costs around VND750,000 ($33) (for 60 litres of diesel) while the total charges for using the roads come to VND800,000.
Fuel for a trip from HCM City's District 7 to Bien Hoa City costs VND437,000 but toll costs VND560,000.
Most trucking firms are small or medium-sized, and many depend on bank loans to buy their vehicles and run their business. The ballooning costs are making it unsustainable for them.
According to a report from the Road Maintenance Fund, since 2013 it has collected more than VND43.45 trillion.
According to the Viet Nam Auto Transport Association, both road maintenance and toll fees have to be paid on several routes in the country.
But the director of the Viet Nam Road Administration, Nguyen Van Huyen, said the road maintenance fees only meet 43 per cent of the cost of maintaining roads.
The country has a total of 575,000km of roads, including 23,000km of highways.
Deputy Prime Minister Trinh Dinh Dung has instructed the Ministry of Transport to check toll rates to ensure they are calculated in a scientific and practical manner to ease transport firms' burden while still ensuring the proper maintenance of the country's road network.
By Thien Ly
Source: VNS