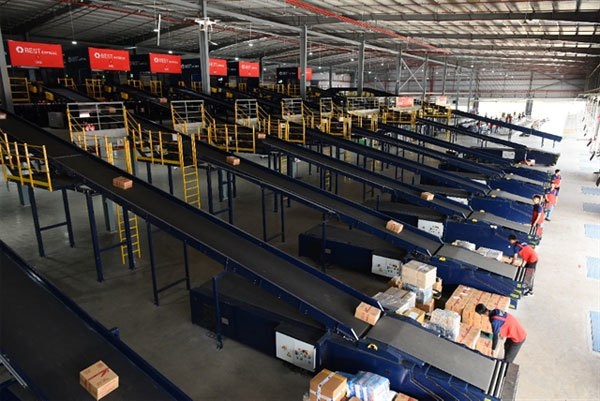 Best Express' automatic sorting centre in HCM City. — Photo courtesy of Best Express
As nations around the world put in place measures to contain the spread of the virus, trade flows and supply lines were and continue to be disrupted, placing a huge burden on the delivery industry.
The sector is considered an auxiliary for trade and commerce, enabling other industries to deliver goods and services to consumers. Particularly, as brick-and-mortar stores succumb to social distancing rules and shoppers increasingly order online, the delivery network is put under increasing strain.
As a leader in the field, Viettel Post knows how vital the delivery sector is to the economy as a whole.
"The postal - delivery industry is one of the core industries, maintaining the supply chain of the economy. Therefore, even when the pandemic occurs, the postal and delivery industry still needs to be strong to not to affect the most basic activities of the economy," a representative of Viettel Post said.
To overcome the challenges, Viettel Post took advantage of changing consumer habits to focus on investing in its Seashell e-commerce platform, making e-commerce one of the activities recording the most orders.
"E-commerce continues to be a strong growth field with an average rate of 29 per cent per year, leading to the expansion of the share of the shipping market at the same rate," their representative added.
BEST Express, an integrated smart supply chain solutions and logistics services provider from China, has been operating in Vietnam since 2019.
"We have applied many changes to our shipping policy to ensure safety against the pandemic. The operator team has to work from home. The operation staff, especially the delivery staff at post offices, are divided into small groups, working in alternate shifts to minimise the risk of infection," a representative of BEST express said.
"In each province we have to deploy different policies to match restriction measures there. For example, if they do not allow big trucks to enter, we will switch to smaller vehicles like motorbikes."
As of the end of 2020, BEST has built nearly 500 post offices and seven sorting centres in Vietnam. The service network covers 63 provinces and cities and distributes hundreds of thousands of parcels every day.
According to its consolidated financial statement in the first quarter, BEST's total revenue rose 29.9 per cent year-on-year to nearly 6.5 billion yuan (US$992 million). Of which, revenues from express services increased nearly 10 per cent to 3.7 billion yuan ($566.7 million), accounting for the largest part in its total revenues.   
Logging on
The significant growth has not been without its obstacles. Delivery companies face many difficulties when working in areas where social distancing or restrictions are mandated. It's possible that at the time of placing the order, the area is still operating normally, but when the order is confirmed and delivered, the receiving address is in a restricted area.
Viettel Post said this affects delivery rates, lengthens receipt times, or even delays the delivery until the prevention measures are lifted.
In addition, developing new customers has become more difficult, in a situation where supplies are more scarce due to trade restrictions and supply chain disruptions.
Despite these impacts, the delivery service is proving to have ample room for growth. The industry continues to demonstrate the perseverance that carried it through the economic downturn.
As shopping online becomes more commonplace, even after the pandemic is brought under control, the need for delivery services will only increase, with many companies expecting the rush to online commerce that came at the start of the pandemic to alter buying habits in the long-term.
Even pre-pandemic, Vietnam's e-commerce industry was expanding rapidly, thanks to increasing foreign investment, more favourable regulations, and enhanced internet access. By 2025, online sales are projected to make up nearly a tenth of the country's overall goods and services sales.
According to Statista, Vietnam's e-commerce market value reached around $12 billion in 2020, ranking only after Indonesia, Thailand, and Singapore in the region. By 2025, over 70 per cent of Việt Nam's 100 million population is expected to be logging on to e-commerce sites and platforms for their shopping needs.
Ta Tung, a seller on the Shopee e-commerce platform, is sure of big opportunities to come.
"E-commerce has become more and more popular among consumers, leading to the growth of delivery services," Tung said.
"A month ago, Shopee changed its delivery policy, meaning big shops on the platform can't choose delivery companies for quick delivery, and instead provides its own delivery service, called Shopee express, as one of the options.
"I think it is reasonable for them to do so as the delivery is thriving."
By applying technology solutions, modernising management and operation methods and adopting software systems and optimisation platforms, logistics companies can cut costs and improve service quality to weather the impacts of the pandemic.
With these enhancements, firms will also be best placed to grasp the opportunities coming down the pipeline, as vaccination programmes and the reopening of borders allow for a long-awaited economic recovery.
Source: Vietnam News

The COVID-19 health crisis and resulting wide-ranging and deeply-felt economic upheaval has flipped the logistics industry on its head, leaving ill-protected freight firms in dire need of emergency State support to survive hardships.

The Tokyo Deli Restaurant on Nguy Nhu Kon Tum Street in Hanoi closed its doors two months ago for the Tet holiday, but it has now decided to never open again. The long Covid-19 pandemic has hit many restaurants hard.