Children's books released for summer holiday

New books for children published by the Kim Đồng Publishing House, a leading publisher for young readers, are now available in HCM City bookstores.
Exhibition of children's book illustrations opens in Hanoi
Bilingual book of childhood stories launched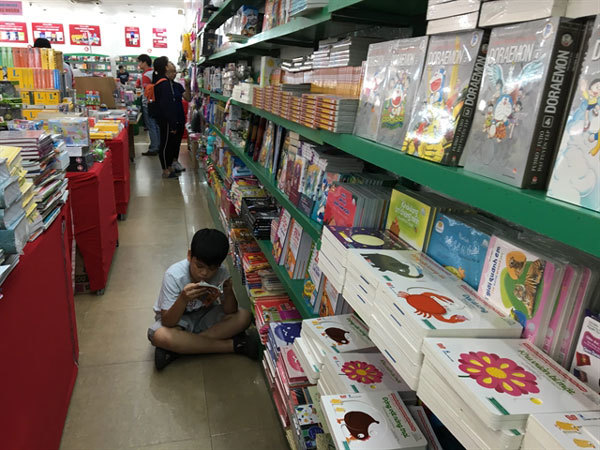 The leading publisher for children's books, Kim Đồng Publishing House, has released new books to meet reading demand this summer. VNS Photo by Phuong Mai
A series of books titled Kỹ Năng Vàng Cho Học Sinh Trung Học (Living Skills for Secondary School Students) by a group of well-known educators and experts in different fields was first published to serve teenagers. These books provide young readers knowledge, experiences and skills in health and physical care, study and vocational training.
Steve Martin's Stem includes eight books featuring English learning through quizzes and puzzles.
Kim Đồng's website, www.nxbkimdong.com.vn, has introduced 12 new Vietnamese children's books in literature, history and the arts.
Featured books include Điện Biên Phủ Của Chúng Em (Our Điện Biên Phủ), Bác Hồ Sống Mãi (President Hồ Lives Forever), Tuổi Dấu Yêu (Teenage) and Chuyện Hay Mẹ Kể Em Nghe (Mom's Best Stories for You) by both veteran and young authors of the Viet Nam Writers' Association.
Susu và Gogo Bước Ra Thế Giới (Susu and Gogo Reach the World), a collection of three books by female writer Duong Thuy, was reprinted to serve children aged six to 13.
The book features two characters, named Susu and Gogo, and their adventures in Paris, Singapore and Tokyo. It includes stories about friendship, love and dreams, written with the authors' typical flair and imagination.
More than 7,000 copies of each book have been printed.
Những Vì Sao Trong Mơ (Stars in Dreams) and Mùa Bay (Flying Season), for children aged 5-10, feature topics about childhood, friendship and dreams. The books are by female authors Nguyen Ngoc Minh Hoa and Nguyen Trang Thu.
Many young readers have written comments about the books on publishers' online forums.
Trẻ (Youth) Publishing House, Alphabook and Phương Nam Books, well-known publishers for children, have also released book collections for children and teenagers by Vietnamese writers.
One of the featured books is Hát Mãi Một Mình (Singing Alone Forever), a work for readers aged 8 to 14, by Do Phan.
"We have released quality Vietnamese and foreign books for children and teenagers this summer. We have also worked with veteran and young writers to encourage them to be involved in writing for children and young readers," said a representative of Kim Đồng publishers.
VNS