Chinese oil rig affects Chinese and Vietnamese business
VietNamNet Bridge –China's deployment of an oil rig and its provocative activities in the East Sea will not do anything good for both Chinese and Vietnamese businessmen.
VietNamNet Bridge –China's deployment of an oil rig and its provocative activities in the East Sea will not do anything good for both Chinese and Vietnamese businessmen.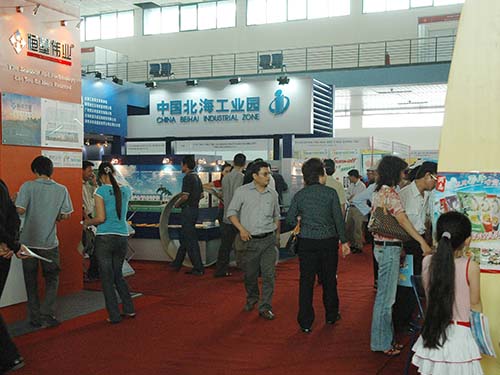 Thoi bao Kinh te Saigon's reporters, who visited an international trade fair in Ho Chi Minh City late last week, met a Chinese businessman who said he was from Guang Dung, at his stall. The businessman complained that very few people were visiting his stall, which was decorated with Chinese letters and in Chinese style. Often he just sat idle.
The businessman had to travel a long distance from Guang Dung to HCM City to attend the trade fair, at which he had hoped he would find business opportunities. However, he was not so fortunate. His made-in-China products could not draw the attention from the trade fair visitors.
The businessman admitted that business opportunities for Chinese have been affected by China's recent activities in the East Sea, and that reports from the international press put China at a disadvantage.
Thoi bao Kinh te Saigon has quoted an analyst as saying that the repercussions from China's hostile activities on the Chinese economy, a large economy, would be very severe.
The activities, of course, will also affect Vietnamese businessmen. Nguyen Canh Nam, General Director of the Lam Hong Trade Company, and Chair of the Ha Tinh Provincial Entrepreneurs' Association, said that investment and import-export activities will be affected.
However, Nam said, Vietnamese businessmen vow they would rather lose the Chinese market than lose an inch of soil of the fatherland.
When asked to comment on China as an import and export market, Nam said that Vietnam's exports to China, mostly across the border gates, cannot bring sustainable profits. Vietnamese businessmen who export farm produce to China have always been at a disadvantage. Furthermore, other export items are mostly raw materials, which do not bring big money.
Regarding imports from China, Nam said most of the imported products are household goods. It would not be a major crisis if Vietnam were to stop importing products from China, because these can be made by Vietnamese enterprises. Chinese machines and equipment, cheap but low-quality, could be replaced with imports from other markets.
While admitting that China is now a big trade partner for Vietnam, Nam said there are many other potential markets. Rice and seafood exporters, for example, enjoy large markets in the US, EU and Japan.
In the latest news, Vietnamese Foreign Affairs' Spokesman Le Hai Binh has affirmed that Vietnam-China trade activities have been continuing normally and maintaining growth.
Deputy Minister of Transport Nguyen Hong Truong on May 15 attended the 8th expanded Tonkin Gulf Economic Cooperation Forum in Guang Zhou, China. The forum discussed solutions to boost investment and trade activities between ASEAN, of which Vietnam is a member, and China.
The leaders of Lang Son Province on May 6 received representatives from a Guang Zhou-based economic group who came to learn about opportunities to invest in the Dong Dang Border Economic Zone.
The Chair of the Binh Thuan provincial Dragon Fruit Association, Bui Dang Hung, has confirmed that farm exports to China have been going as usual and that export prices remain stable.
Compiled by Thanh Mai