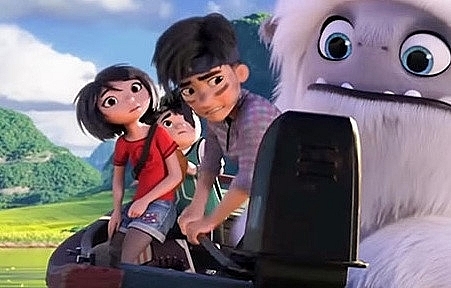 CJ CGV Vietnam has pulled the movie since October 13
According to the Ministry of Culture, Sports, and Tourism (MoCST), in addition to paying the fine, CJ CGV Vietnam also demolished all related exhibits (the imported digital movie file and documents about the movie's advertisements).
The cartoon movie Abominable was produced by US-based Dream Works Animation Studio and China-based Pearl Studio this year. CJ CGV Vietnam submitted the licensing proposal for the movie in early August and premiered on October 4.
A few days after the first screening, Vietnamese viewers discovered the image of the nine-dash line in the movie.
As a result, the MoCST also assigned the Vietnam Cinema Department to inspect and require the movie distributor to withdraw all information of the movie and halt screening it from October 13.
After the case, the ministry also applied disciplinary sanctions against the acting director of the Cinema Department Nguyen Thi Thu Ha and deputy director Ly Phuong Dung.
Accordingly, since October 28, Ha is no longer the acting director of the department.
The ministry will also collaborate with its Legal Department to research and propose amendments to the Film Law and issue guideline decrees towards movie assessment and licenses to be in line with the country's current situation.
Besides, the ministry are researching ways to sanction the producers, importers, and distributors of the violating movie. VIR
Van Anh

The Vietnamese Ministry of Culture, Sports and Tourism has dismissed the head of the Cinema Department, Nguyen Thi Thu Ha, following the approval of Abominable at local cinemas.

The Cinema Department will check the censoring process of film Abominable which was pulled from Vietnamese cinemas for including a scene featuring a map showing China's "nine-dash line" in the East Sea.