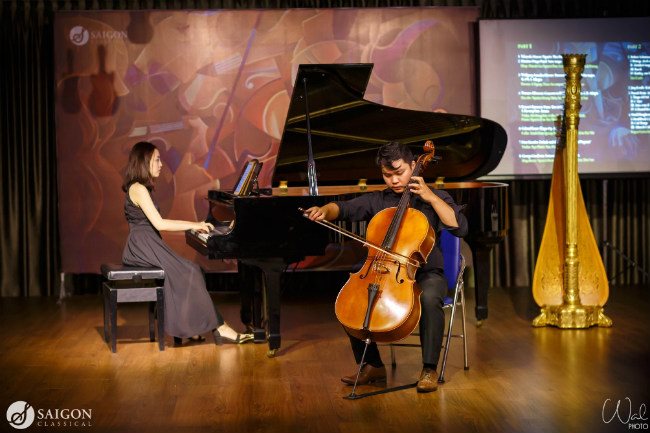 Two artists perform at a concert organized by the Saigon Classical Music group in July. The group will hold the Holy Night concert at Salon Saigon on December 21 - PHOTO: COURTESY OF ORGANIZER
The Holy Night concert will feature excerpts from Tchaikovsky's ballet "The Nutcracker" and Mozart's comic opera "Le Nozze di Figaro" (The Marriage of Figaro).
The audience will also enjoy "Ave Maria" by Schubert, "Reve d'Amour" by Faure, "Clair de Lune" by Claude Debussy, "Every valley shall be exalted" by George Frideric Handel, and some other famous pieces.
The line-up comprises pianists Tran Thuy San and Dang Tri Dung, soprano Huynh Ha Thu Thao, tenor Bui Thai Hoa, and trumpeter Nguyen Hoang Thien An.
The Saigon Classical Music group is an organization that aims to introduce Vietnamese classical performers to the public and create a platform for classical music lovers in the city. SGT