Cocky Buffalo and VTVcab set to deliver knockout year for boxing and MMA fans in Vietnam
2023 is shaping up to be a knockout year for boxing and mixed martial arts (MMA) in Vietnam with a series of high-profile events set to take the sports scene by storm.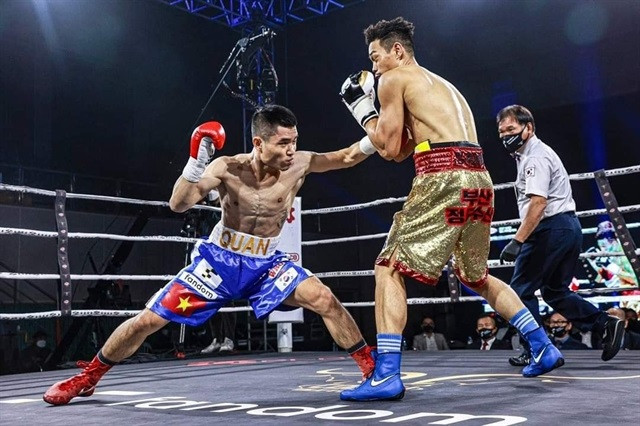 These exciting events are being organised by none other than Cocky Buffalo, a leading gym in Việt Nam that has made a name for itself in managing and training successful fighters and organising combat sports events.
In an agreement recently signed in HCM City, Cocky Buffalo has partnered with the Việt Nam Television Cable Corporation (VTVcab) to push the development of sports in Việt Nam and provide local athletes with a platform to sharpen and showcase their skills.
Cocky Buffalo has a proven track record of producing world-class martial artists who have excelled on the international stage.
Among them are Nguyễn Thị Thu Nhi, the first Vietnamese boxer to win the WBO mini-flyweight title, and Đinh Hồng Quân, who recently secured the IBF Asia lightweight belt.
VTVcab has partnered with many local and international sports organisations and federations recently, broadcasting combat sports events across the country.
Included in the deal are Angel's Fighting Championship (AFC) events, an MMA promotion from South Korea.
Kim Sang Bum, the owner of Cocky Buffalo, is the AFC's appointed representative in Việt Nam.
The contract will be effective for five years, starting from 2023, with eight boxing and MMA events scheduled.
The first event under the agreement was the Angel's Fighting Championship (AFC) 23 on March 10 in Bà Rịa Vũng Tàu Province.
Seven more events to follow - four boxing and three MMA.
The boxing events are: the WBO Oriental Youth title fight on April 21, the WBO Oriental Super Lightweight title fight on April 29, an IBF Minimumweight Asia bout on July 14, and an IBF WBO fight on November 10.
The MMA events are AFC 26 Việt Nam on June 9, AFC 28 Việt Nam on September 15, and AFC 30 Việt Nam on December 15.
VTVcab is the only broadcaster that has the right to produce, record and broadcast live Cocky Buffalo events until 2027.
"With our strength in content production and distribution on multi-platforms, especially in sports, VTVcab has co-hosted, co-organised and broadcast a range of large-scale martial art events throughout the country," said Bùi Huy Năm, general director of VTVcab.
"Our mission is to serve the audience's need to fully enjoy martial arts events.
"VTVcab and Cocky Buffalo have officially cooperated in organising, producing and distributing boxing and MMA events that will see the participation of top boxers and martial artists in the country, region and continent. Vietnamese competitors will be given a chance to take part in high-class events on home ground."
Năm added: "The competitive fights will play a role in lifting the level of Vietnamese fighters. They will be held and broadcast live to Vietnamese and worldwide fans by VTVcab.
"This is also an opportunity for Cooky Buffalo to bring boxing, MMA and Vietnamese martial arts in general to new heights." VNS