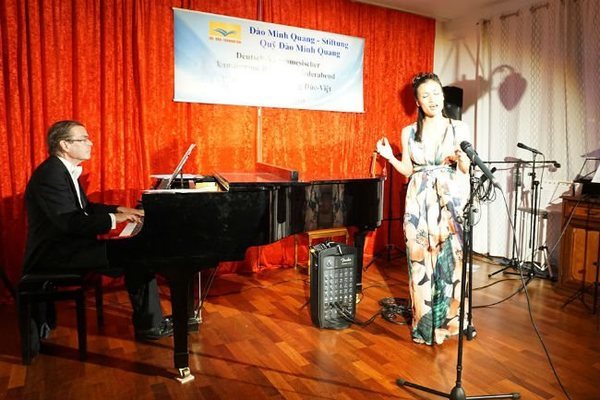 A singer performs at a concert held by the Dao Minh Quang foundation on July 27. The foundation will hold a concert of German and Vietnamese music at the Goethe-Institute in Hanoi on October 2
The "German-Vietnamese Melodies" concert consists of three parts: Vietnamese works, chants of Dao Minh Quang, and German works. The event will be opened with "Tro ve dat me" (Return to motherland), a composition by Nguyen Van Thuong, performed by Thang Long Band and musicians Huyen Trung and Minh Hieu.
The concert will also feature Ngau Nhien Band, singer Bich Ngoc and MC Hong Nhung.
With the idea of using Vietnamese traditional and Western instruments for the concert, Dr. Dao Minh Quang, founder of the Dao Minh Quang foundation, wants to show his love of and gratitude towards his friends and teachers as well as both Vietnam and Germany.
The foundation was established in Berlin in 2016 to foster cooperation between Germany and Vietnam in education, vocational training, entrepreneurship, music, and culture.
The foundation has funded numerous projects in Germany and Vietnam, including scholarships for students at five universities in Hanoi and two schools in Phu Tho Province, the hometown of Dr. Dao Minh Quang.