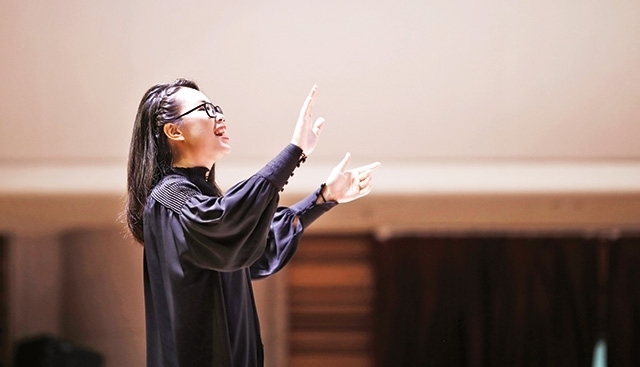 Conductor Nguyen Thi Hai Yen
The international chorus programme, entitled 'The colours of love', has taken place with endless applause and lots of emotional tears. The audiences were surprised at their creativity in the last performance, entitled 'Circle of life', which featured the sound of rain and wind as well as the stamping noises of deers, elephants and horses. After the show, conductor Yen shared that she was very happy as working with special partners
She talks with Nhan Dan (People) Newspaper about her community music projects.
In the last two years, many music projects which you participated in, such as the performance of Matilda and 'Khong gia dinh' (Without Familiy) and the charity concert 'Giac mo cho em' (Dream for you), received enthusiastic response from audiences with tickets having sold out. What do you remember most about these projects?
I remember the teaching of new songs to the main characters most as I participated in arranging the orchestras. It was not difficult to help them learn by heart the lyrics although they had to sing in English. The most difficult thing is to teach children how to express the characters' personalities properly. Being assigned to play Jerome's adoptive father, a villain in the orchestra 'Without Family', Huu Bao, who has a beautiful voice with a way of singing like an angle, said: "I cannot sing as if I am shouting. I have never sung like that. I am not that person". He could not change his way of singing for many training sessions.
Such cases are not uncommon. I had to spend a lot of time talking and hearing his shares, and then analysing the character and helping him realise his responsibility for the work that he received. Thanks to great efforts from him and myself, audiences had a chance to enjoy the dramatic singing of Jerome.
I was very happy and felt my work was extremely meaningful as I witnessed the ability of my students to controlling themselves and express the characters' personalities and sing with great passion and high sense of responsibilities.
You have successfully organised the charity concert 'Dream for you'. What were the special features of participants in the project?
The concert 'Dream for you' featured the participation of special actors and actresses. Most of them performed on a big stage for the first time. They had to learn new songs and dances, along with meeting new teachers and friends. Several students came to Hanoi from distant provinces to practice. However, when they stood on stage, they smiled happily. They realised the significance of what they do for the community and society. The donors for the project were also very special. Most of them refused the announcement of their names or thanks.
Despite being busy with their works, teachers participated in the setting the stage and performances enthusiastically.
I remember you said that you did not have very strict requirements for members for your music projects. Could you talk more about this?
They are community projects for amateur artists, so we could not make high requests at first. The important purpose of these projects is bringing new types of music and arts closer to the public. They also create opportunities for more people to approach, enjoy and experience things that were supposed to be for professional artists. After each project, participants found themselves more confident and mature as well as having more love for music.
In the first year, it was very difficult to find people who loved music and were willing to join projects. However, there were over 600 applications for this year's events. The increase of participants showed the spread of inspiration in community-based music projects to all people. However, I think the greatest value that the projects brought about is that through the practice together, the members have learned discipline, the skills of teamwork, the love and respect for the things around them as well as realise their music dreams.
Are you increasingly determined to pursue the path of developing community-based arts, particularly music?
Yes, that is the career that I chose to pursue. For me, the music or arts exist and are meaningful if they can serve the community and bring about good values. Children will learn more living skills through the artistic experience.
I want to use music and the knowledges that I have collected to convey the love, optimism and confidence to all people as well as help them find the innocence, clarity and peace in their soul. 
Nguyen Thi Hai Yen graduated in Orchestra Conducting major from the Vietnam National Academy of Music in 2010 and completed her master's degree programme in 2012.
She arranged performances at the Asia – Pacific Arts Festivals in Malaysia, Singapore and Hongkong (China) from 2014 to 2016. From 2017 to now, Yen is one of founders and conductor of the first elderly choir in Vietnam, named 'Golden Age'.
Since 2019, she has become the conductor of the Da Dang (Diversity) Choir with members in different communities, including teenagers, people with disabilities, children, elderlies, ethnic minority people, LGBT (lesbian, gay, bisexual, transgender) people, and domestic violence victims.
Nhan Dan