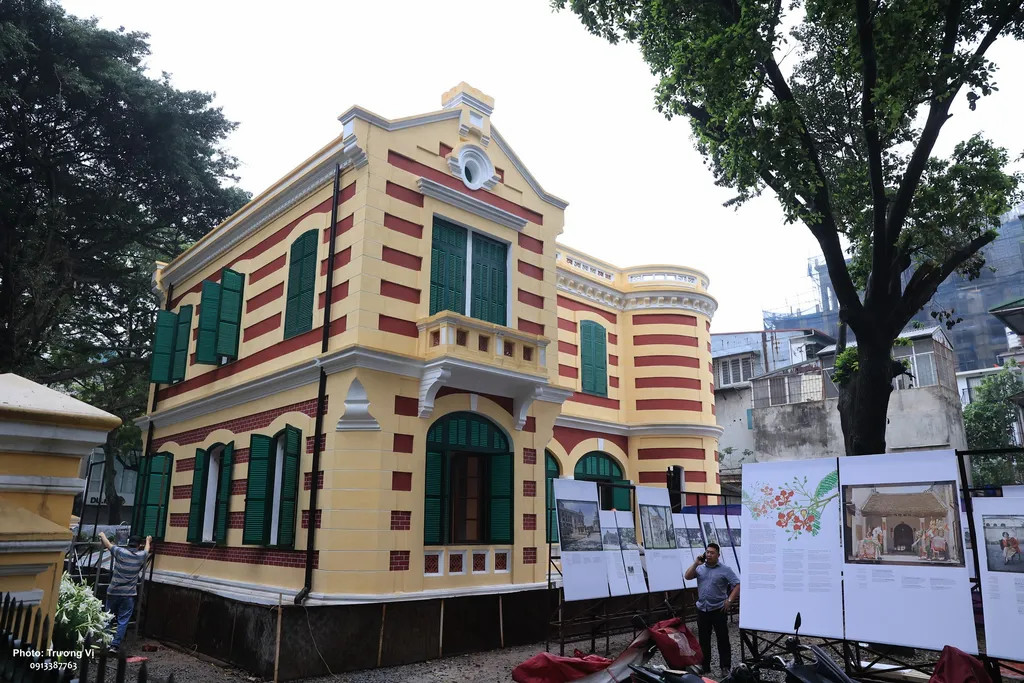 The new bright red, yellow, and green colours used in the renovation of the old French villa on Trần Hưng Đạo Street, Hà Nội, are being mocked online for being too flashy for a heritage building. — VNS Photo Trương Văn Vị
The current colour scheme of the old French villa in the historic downtown area of Hà Nội, which is proving to be controversial in online public discourses, is being tested and is not yet official, Hoàn Kiếm District's authorities have said.
The villa, situated at 49 Trần Hưng Đạo–46 Hàng Bài, which used to lay in a state of abandonment for years, is part of a project to preserve villas to promote the values of the cultural, historical, and architectural heritage of Hà Nội's historical area.
The cost of the restoration effort for this villa has been given as VNĐ14 billion (US$597,142).
The project will introduce basic techniques in preserving and restoring several French architectural works, raising public awareness about heritage conservation.
The project began in 2016, within the framework of cooperation between Hà Nội City and the Ile-de-France region, Hoàn Kiếm District and Paris Région Expertise (PRX).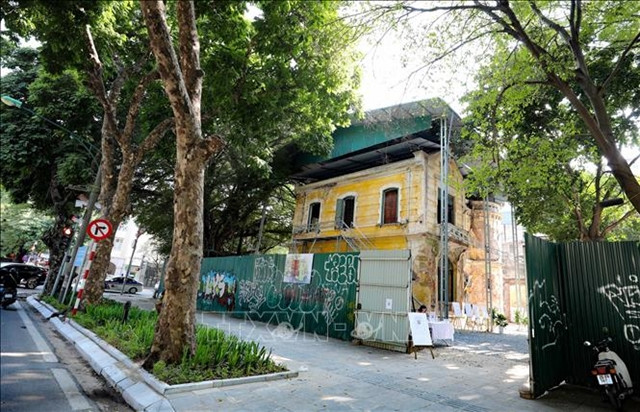 The outer walls of the villa before renovation. VNA/VNS Photo
Commencing in April 2022, after a year of restoration, the project has entered the finishing stage. During the construction and renovation of the villa, French and Vietnamese experts carried out "construction archaeology" to find the original colours, materials, and details.
Experts are testing some colours to choose the right one to ensure maximum accuracy for the project, according to Hoàn Kiếm authorities.
The current colour is not official.
The new colour of the old villa has been criticised by even the architect providing consultation services for this project.
Doãn Minh Khôi, director of the urban and architectural institute, which is the design consultancy unit for the project, told Tuổi trẻ online newspaper that even though the original colour is being applied, it still needs some time for the villa to gain the same colour as the original one.
Khôi also expressed his personal dislike toward the current colour. But, as an expert, he understands that the current colour doesn't look right, but if the colour is changed, it would not be true to the original version.
Following public criticism, especially given its price tag, experts working on this project have so far not had further discussions to make a new decision, according to Khôi. — VNS