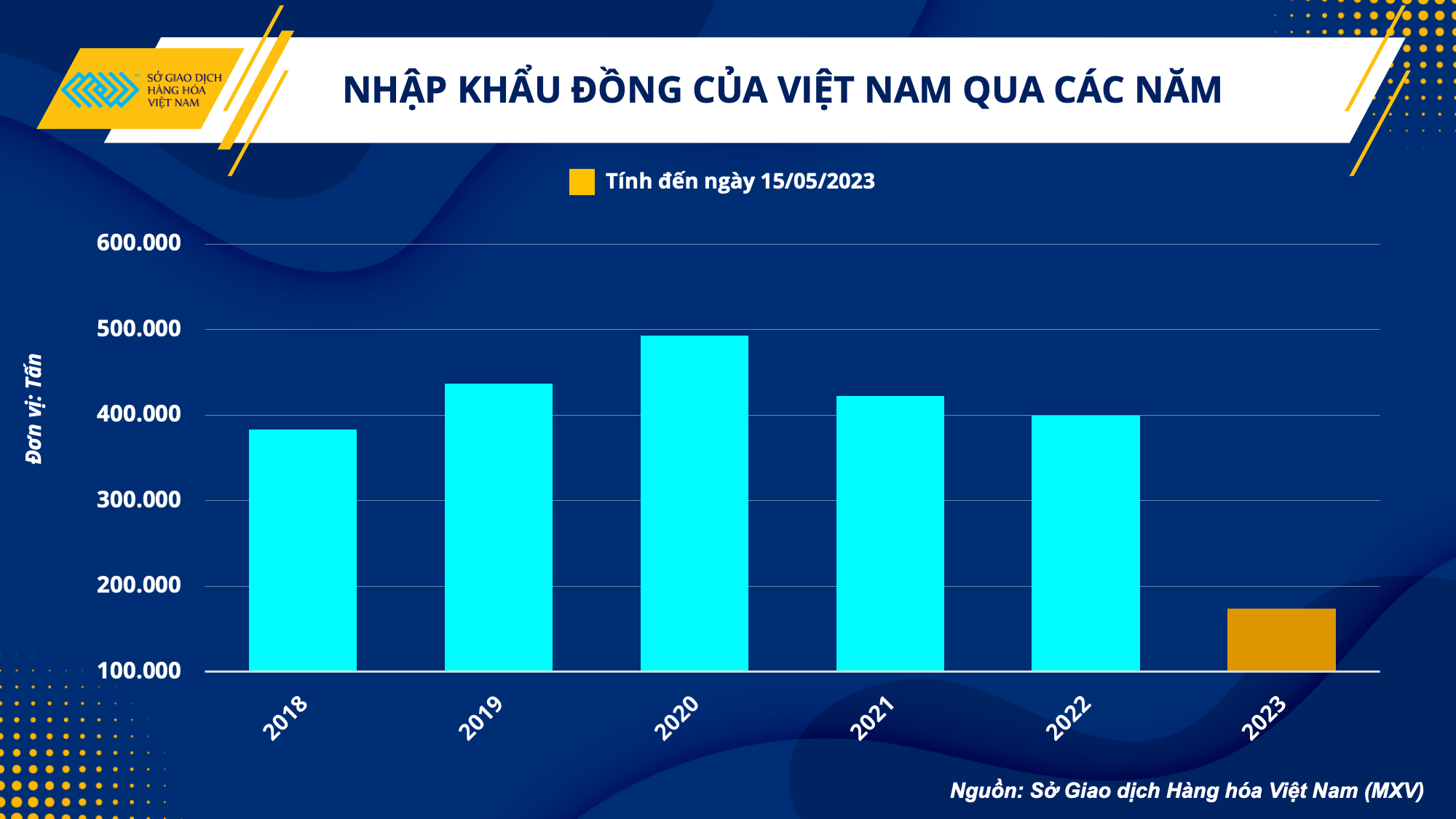 Going green is one of the driving forces for sustainable growth for Vietnam's economy. More and more investment funds and production companies have shown their interest in the price of metals necessary for the process, especially copper.
According to the Mercantile Exchange of Vietnam (MXV), the closing copper price at COMEX decreased by 0.83 percent to $8,056.78 per ton, the lowest level since November 2022.
Copper is one of the metals most consumed in the world, about 24-25 million tons a year. S&P Global said the copper consumption intensity increases year by year, and in order to be sure that commitments on adapting to climate change are met, the copper consumption level will double to 50 million tons per annum from 2030.
Currently, nearly 80 percent of copper demand every year comes from the conductive property of this metal, so increased electricity demand amid economic recovery and development will accelerate copper consumption growth.
Wood MacKenzie noted that electric vehicles will be the driving force behind copper demand in the field of green energy in the next two decades, accounting for 55 percent. Every electric car will need a volume of copper 2.5 times higher than vehicles using a traditional internal combustion engine.
While demand is believed to be high, supply is under pressure, which may lead to a deficit of 1.5-9.9 million tons of copper by 2035 worldwide, depending on the capacity of the industries that have apps related to green energy.
In Vietnam, green energy is expected to promote the important role of copper. The government recently launched the eighth national power development plan with emphasis on developing renewables.
It is expected that by 2030, wind power will account for 18.5 percent of total capacity of power plants, and solar power 8.5 percent. The figures will be 59.5-63.8 percent by 2050.
The national power structure transformation to greener usage will accelerate import demand for basic metals, especially copper.
MXV estimates that one offshore wind power farm needs 5 tons of copper per MW, five times higher than a normal power plant, while solar power facilities need 2.3 tons of copper per MW, two times higher.
The General Department of Customs reported that Vietnam imported 399,048 tons of copper in 2022, and it had imported 173,693 tons by May 15, 2023, up 22 percent over the same period last year.
Hanh Nguyen