Covid-19 forces travel firms to undergo restructuring
For travel firms to survive the pandemic, they have had to undergo restructuring.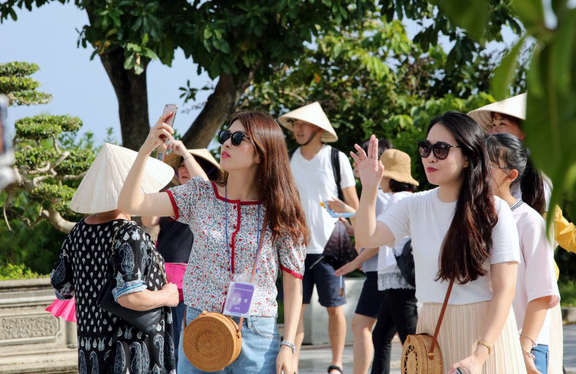 According to Vietnam National Administration of Tourism (VNAT), there were 3,339 travel firms as of the end of 2019, including 2,519 international and 820 domestic travel firms.
Because of Covid-19, 90-95 percent of travel firms have suspended operation and 338 firms no longer have licenses. International travel firms have shifted to provide domestic travel services.
More than 400 leading Vietnamese travel firms attended a forum on January 12 in Hai Phong to discuss solutions in the context of Covid-19.
Lai Minh Duy, CEO of STS Tourist, commented that Covid-19 is considered a test, or an exam, for travel firms. Some travel firms can pass the exam, while others cannot and have had to leave the market.
Travel firms are aware of the big player in the industry, specializing in outbound tourism, that once had nearly 1,000 workers in its golden days. But its Hanoi office has laid off all workers, except three key managers.
Meanwhile, other travel firms can maintain their workforce because they have made decisions to shift to domestic travel.
TST Tourist, for example, has decided that domestic travel and domestic travellers are the key target for firm, so it has designed original products to approach domestic travellers.
Previously, the travel firm had three fields of operation, but now has only one focus – domestic travel. It has been undergoing restructuring. Workers are being retrained to take new duties.
TST Tourist has created specific tourism products of HCM City, including city tours, boat rides on Sai Gon River and Cu Chi tunnel visits, which are attractive to people from the northern and central regions.
"Thanks to these, we can maintain the company and the workforce, organize retraining, and restructure the staff. Domestic travel will still be our focus in 2021," Duy said, revealing that his firm has received the first contracts for 2021.
Meanwhile, Phung Quang Thang, director of Hanoitourist, noted that travel demand is low, and tour fees are going down, while people are taking self-guided tours rather than using travel firms' services. Travel firms will only succeed if they can build differentiated products.
According to Nguyen Cong Hoan from Flamingo Redtours, tourism demand stimulation now no longer means slashing prices, but encouraging people to travel more. Travel firms need to offer tours with attractive preferences.
Restructure and digitize

Because of Covid-19, 90-95 percent of travel firms have suspended operation and 338 firms no longer have licenses. International travel firms have shifted to provide domestic travel services.
Deputy Minister of Culture, Sports and Tourism Nguyen Van Hung said the tourism industry witnessed thousands of businesses dissolve and stop operation last year. VNAT approved 15 applications for operation suspension.
Because of Covid-19, Vietnam has no foreign travellers, and if international travel firms cannot restructure, they will not survive.
Hung said travel firms should not be either pessimistic or optimistic, but should reconsider their strategies and learn how to accept new circumstances.
He advised travel firms not to 'forget' the domestic market as it is still unclear when international air routes will reopen to foreign travellers.
However, this doesn't mean that all travel firms will succeed if returning to the domestic market. In order to succeed, they need to have differentiated products and target specific segments.
Regarding the design of tourism products, Hung mentioned cooperation to create original products. It would be better to design products suited to tourists' incomes and not try to get as many clients as possible, but instead pay high attention to quality.
He went on to say that travel firms must not be reluctant to digitize. Digital transformation will help them streamline their workforce, better approach groups of clients, and save operation costs.
Vu The Binh, deputy chair of the Vietnam Tourism Association, agreed that being an industry sensitive to social changes, it needs to deploy digital transformation quickly and apply modern technologies. However, he said it is necessary to discuss how to apply these in tourism activities.
Binh said the forum was an opportunity for travel firms to discuss solutions on recovering as quickly as they can in current conditions, but stressed that ensuring safety for travellers must be the top priority.
The General Statistics Office (GSO) reported that there were 16,300 foreign visitors to Vietnam in December 2020, down 8.1 percent month-on-month and 99 percent inter-annually.
Vietnam received an estimated 3.8 million international arrivals in 2020, most of them were diplomats, business executives and high-skilled laborers. 
Ngoc Ha

Vietnam will continue to use flexible measures to stimulate the domestic tourism market as international borders remain shut due to the global COVID-19 pandemic, a top tourism official has said.

The forecast said that there are changes in consumer behavior trends in selecting the holiday destination and choosing forms of tourism in this year.