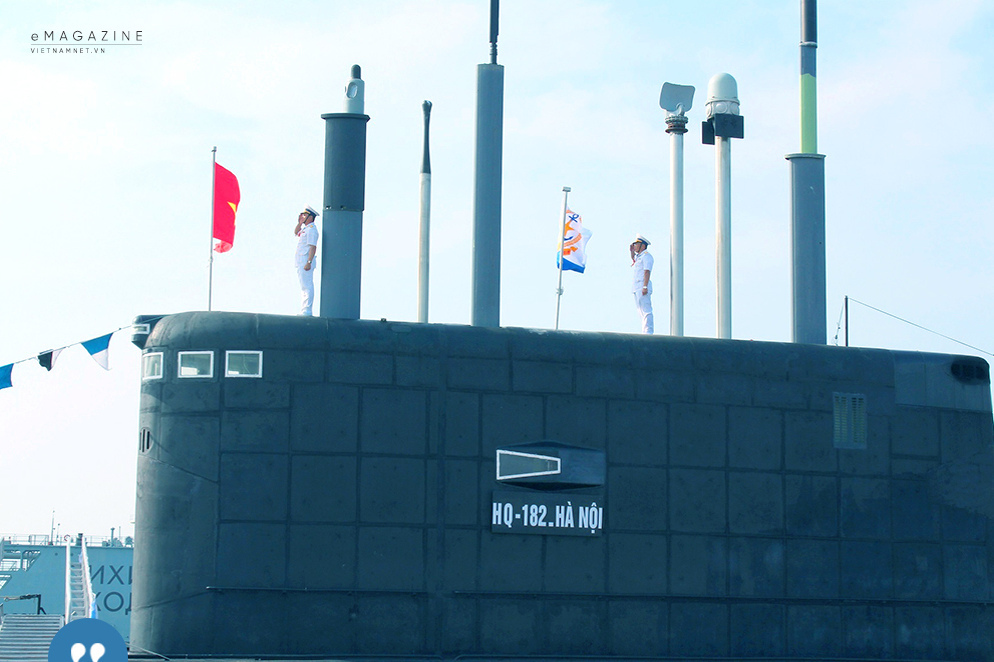 To bring submarines to Vietnam only one at a time, Vietnamese soldiers had to cross three oceans for 45 days
From late 2013 to early 2017, Vietnam safely brought six submarines from Russia to Vietnam, a voyage which lasted 270 days and 100,000 nautical miles.
On April 3, 2014, at Cam Ranh Military Port, the Navy held a national flag raising ceremony for the first two submarines, 182 - Hanoi and 183 – Ho Chi Minh City.
Senior Lieutenant Colonel Nguyen Van Quan, Political Commissar of Brigade 189, said in December 2013, No1 and 2 teams completed the training course two years before the deadline and left for Vietnam to prepare for the reception of two submarines 182 and 183, and for technology transfer training.
The submarines were carried by Rolldock Sea vessel, accompanied by five sailors with excellent learning achievements.
Trans-ocean shipments
Departing from Kaliningrad, the province in the westernmost part of Russia, Rolldock Sea carried first shipment, Submarine 182 - Hanoi, took a voyage on the Baltic Sea, crossing through the strait between England and Germany in the Atlantic Ocean. After that, it docked at the Island of Canaria in Spain for three days.
The next journey was crossing the Atlantic Ocean to the Indian Ocean, passing through the Strait of Malacca and then anchoring at the port of Changi in Singapore.
After refueling and getting food, Rolldock Sea left Changi Port to enter the East Sea to reach Vietnam. The total voyage was about 16,000 nautical miles.
Despite unfavorable weather conditions and frozen water surface, five submarines named HCM City, Hai Phong, Khanh Hoa, Da Nang and Ba Ria - VungTau, one after another, docked at Cam Ranh Port safely.
During the submarine transportation, the Captain of the Rolldock Sea held an ocean crossing ceremony and issued badges to those who crossed the ocean for the first time. This is an unforgettable memory for us," Quan said.
According to Colonel Vu Quang Viet, Deputy Commander of the brigade, while the Vietnamese crew were trained in Russia, the building of barracks and shore facilities to prepare to receive submarines were carried out in Vietnam at the same time.
In just over a year, the system of barracks, wharfs, power assurance stations, general repair stations, training centers and warehouses was built. The trainees, after finishing the training course and returning to Vietnam, set to translate documents, build documents and plans, and get ready to put the submarines into operation.
Putting submarines into combat formation
According to the Minister of Defense's decision dated June 20, 2011, the brigade is fully staffed with functional rooms, submarine crews and shore facilities to ensure weapons, technical equipment and logistics conditions for operations.
Recalling the day of receiving the first ship, Major Nguyen Trong Khoi, Captain of Submarine 182 - Hanoi, said there was much work that needed to be done then, from preservation, maintenance, arrangement of technical equipment in the ship to shore wiring and mooring lines, and of course, training.
Sailors then learned how to use equipment by their specialization. Each of them brought documents with them about submarines, block diagrams and schematic diagrams when working. They collated each pipe and each valve to learn carefully about the equipment.
"We regularly organized seminars and studies in groups by majors in submarine. The commander assigned tasks to every combat position. In the evening, heads of majors (there are five majors in the submarine) convened meetings to exchange experience and suggest more effective learning methods," Khoi recalled.
The cadres and sailors of the Brigade 189 excellently fulfilled the task of receiving, technology transfer training and mastering submarine six months before schedule. And they put the submarine into the combat formation of the Navy.
Vietnamese teams of sailors were recognized by Russian specialists as meeting requirements to use weapon and technical equipment in the submarine. The technology transfer training finished.
Following the Ministry of National Defence's decision, four months after the first submarine arrived in Vietnam, in May 2013, at Cam Ranh Military Base, the Navy organized a ceremony to announce the establishment of the Submarine Brigade 189. Nearly 200 cadres and solders were present at the event that marks a milestone of Vietnam mastering the 'ocean black holes' Kilo 636. These are the soldiers who laid down the foundation of the brigade.
In May 2016, when visiting the brigade, Party Committee Secretary General Nguyen Phu Trong, Secretary of the Central Military Commission, said: "Cadres and sailors must always improve their political stuff, master submarines and master modern weapons; make every effort to study, train and build clean and strong units; master combat plans; ready to fight and defeat all enemies, contributing to firmly defending the country's sovereignty over sea and islands." 
Minh Thuy - Quang Thang

Vietnamese submarine sailors are especially admired by specialists and lecturers at the Russian Naval Academy for fulfilling their training course two years ahead of schedule.

Many military officers with good health indicators have been rejected because of dental caries or an inability to walk on a straight line after vestibule exercises, among other reasons.