Cultural festival to connect people on Vietnam-Laos border

An upcoming festival is aiming to bring together people living along the border of Laos and Vietnam.
Hue festival revives traditional craft
Festival to honour Vietnamese ethnic groups' culture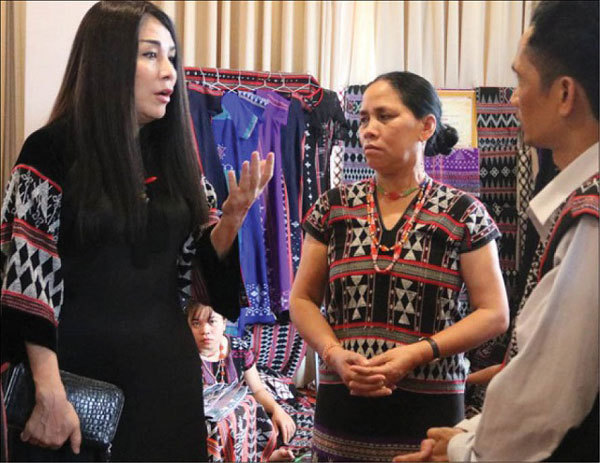 Designer Minh Hanh (left) talks with two artisans from Ta Oi ethnic minority group about their zèng embroidery cloth. Photo khamphahue.com.vn
The Culture, Sports and Tourism Festival will be held from May 17-19 in A Luoi District, the central province of Thua Thien – Hue.
It's estimated that the festival will draw the participation of 1,000 artisans and artists from the five provinces of Kon Tum, Quang Nam, Quang Ngai, Quang Tri and Thua Thien – Hue, in addition to four Lao art troupes from Attapeu, Sekong, Savannakhet and Salavan provinces.
The event is organised by the Ministry of Culture, Sports and Tourism and the People's Committee of Thua Thien – Hue Province.
The festival is hoped to enhance the mutual understanding between the border provinces of the two countries.
It's a chance to introduce the potential of culture, sports and tourism of the localities, helping promote the cultural identity of the various ethnic groups involved.
A wide range of activities will be organised during the festival including art performances, national costume fashion shows, exhibitions showing potential of culture and tourism, socio-economic achievements and local products, brocade weaving performances, and sports competitions, such as tug of war, volleyball, and crossbow shooting.
In addition, the festival will feature the handicrafts of local people through presentations and weaving competitions.
Zèng (a kind of brocade) weaving of the Tà Ôi is one of the highlights. Zèng cloths are integral offerings and costumes at festivals, rituals and daily life of people in A Lưới District.
It's made from fabric, threads and beads. The main colours are black, red and white. Each zèng cloth marks the skillful talent of artisans.
On the occasion, designers like Viet Bao, Tran Thien Khanh, Diego Cortizas of Chula brand and Minh Hanh will introduce collections inspired by zèng material.
"The trade of weaving zèng has developed together with the growth of tourism, it's also recognised as the national intangible heritage," said Hanh.
"The fact is that only Ta Oi people in the central region still preserve the trade. I expect that Vietnamese designers will join hands to promote the material to the world."
Hạnh added that zèng meets the standard of a high-ranking material because it's unique, natural and totally made by hand.
"Using natural and handmade materials is very trendy across the world," said Hanh.
When Hanh has a chance to introduce Vietnamese fashion abroad or attend international fashion events, she always brings zèng artisan Ho Thi Hop to promote zèng.
VNS