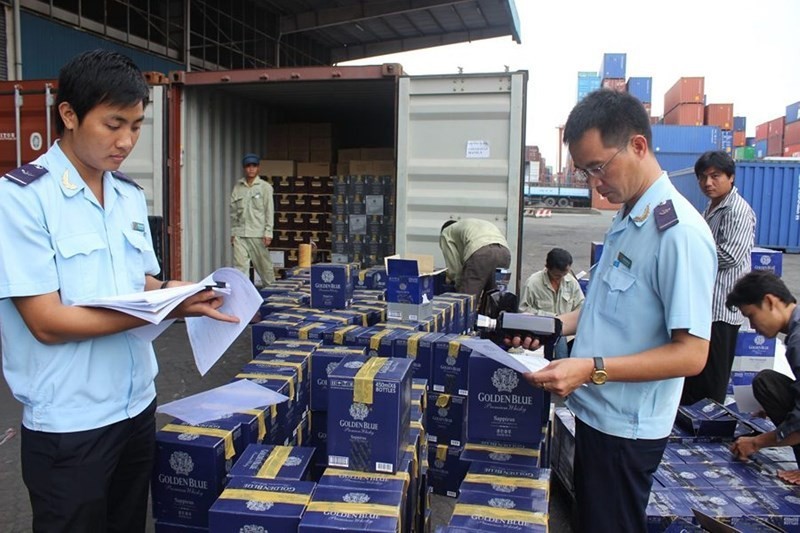 The Vietnam Chamber of Commerce and Industry (VCCI) has released a report on enterprises' satisfaction in following import/export procedures. The report was based on the results of a survey conducted in 2020 which received responses from 3,657 businesses in the fields of import/export, production-export, processing, export processing, logistics services and customs agents.
VCCI's Head of Legal Department Dau Anh Tuan said the survey found positive assessments about efforts by customs agencies and relevant ministries and branches to reform import/export procedures amid the Covid-19 outbreak and global trade disruption.
These include positive changes in import/export administrative procedures and service quality of customs officers and specialized inspection agencies. Extra expenses for import/export procedures have also decreased.
Complaints
Despite the improvements, the report pointed out that there are still many things customs agencies and ministries and branches need to do to facilitate import/export activities.
Thirty eight enterprises said they still have difficulties learning about import/export procedures. Foreign invested enterprises (FIEs) and large enterprises have more difficulties than others. The procedures of checking documents, tax refunds and non-collection of tax, and physical inspection of goods have been simplified, but are still placing difficulties on enterprises.
Enterprises say the regulations related to document checking and goods examination, and tax refunds and payments are changing all the time.
They complain about the inadequate coordination between customs authorities and other agencies, and the requirement to provide documents not stipulated in regulations.
Meanwhile, customs officers do not provide adequate guidance and do not publicize necessary information.
They complained the most about the assigning of the HS Code (harmonized commodity description and coding system) and defining of customs value.
In 2018, 66.3 percent of enterprises had problems in HS Code assignment, while the figure rose to 76 percent in 2020.
Enterprises complained about the inconsistency in the application of HS codes between customs and enterprises, and the difficulties in prior consultation on HS codes with customs authorities. It also takes a lot of time to wait for HS code inspection results from customs agencies.
More than 33 percent of enterprises said the defining of customs value is unconvincing.
Post-customs clearance inspection procedures still take a lot of time and are overlapping, while enterprises are required to provide documents which are not stipulated in regulations.
Post-customs clearance inspection agencies even inspect consignments that had already been examined before by border gate customs agencies. Enterprises do not receive explanations about unclear issues before agencies make final decisions.
Enterprises are still being burdened with regulations on specialized inspection. There are too many product items subject to specialized inspection. Only 50 percent of enterprises said the inspection procedures were easy. The Ministry of Health (MOH) and Ministry of Transport (MOT) complained the most about specialized inspection.

Post-customs clearance inspection agencies even inspect consignments that had already been examined before by border gate customs agencies. Enterprises do not receive explanations about unclear issues before agencies make final decisions.
More than 55 percent of enterprises noted that specialized inspection procedures are complicated; 54.6 percent have to go forth and back to fulfill procedures; 49.2 percent complained it takes more time than regulated to handle dossiers and applications; 46.2 percent said it is difficult to access information about guidance on procedures; 37.5 percent said the coordination between state management agencies and specialized inspection agencies is unharmonious; 34.7 percent need documents which they can hardly satisfy; 31.9 percent have to pay extra fees to accelerate the procedures; 30.6 percent said customs officers don't give clear enough guidance; 25 percent complained about the attitude of customs officers when working with enterprises; and 22 percent said they were required to have documents that are not stipulated in regulations.
Online and paper procedures required
Tran Duc Nghia from Delta Company confirmed that the inconsistency in HS Code assigning is common. Customs agencies assign different HS Codes for the same product items. It is not easy to make prior consultation with customs agencies because of inactive cooperation, and inspections take too much time.
Regarding customs value defining, enterprises said customs officers search for information about product value on e-commerce sites and apply prices for imports. But the real prices are different from the quoted prices. As a result, the taxable prices are much higher than real prices. Some businesses even said they want to sue customs agencies for unreasonable defining of customs value.
"Specialized inspection procedures take millions of working hours every year just to discover dozens of violations each year, which is really a big waste of resources of the society. It really needs reconsideration," Nghia said.
Tran Quang Trung from the Vietnam Dairy Association confirmed that the same products are assigned different HS Codes, which is a big problem. The increasingly high proportion of enterprises complaining about HS Code assign is "abnormal", and therefore, needs reform.
Online procedures have been applied, but papers are still required. A lot of enterprises fail to apply for online licensing. Customs agencies tell them to submit documents via posts, refusing direct meetings for fear of Covid-19. Meanwhile, post offices are overloaded and enterprises need licenses urgently to export products on schedule.
"It's necessary to accelerate the application of online procedures to reduce time, expenses and inconvenience," Trung said. 
Tran Thuy

The Association of Southeast Asia Nations (ASEAN) Committee in coordination with the Customs Administration of the Czech Republic has held a webinar to introduce the electronic customs of the European country.

If public agencies consider the work of people and businesses as their own, the number of complaints about administrative procedures will decrease.