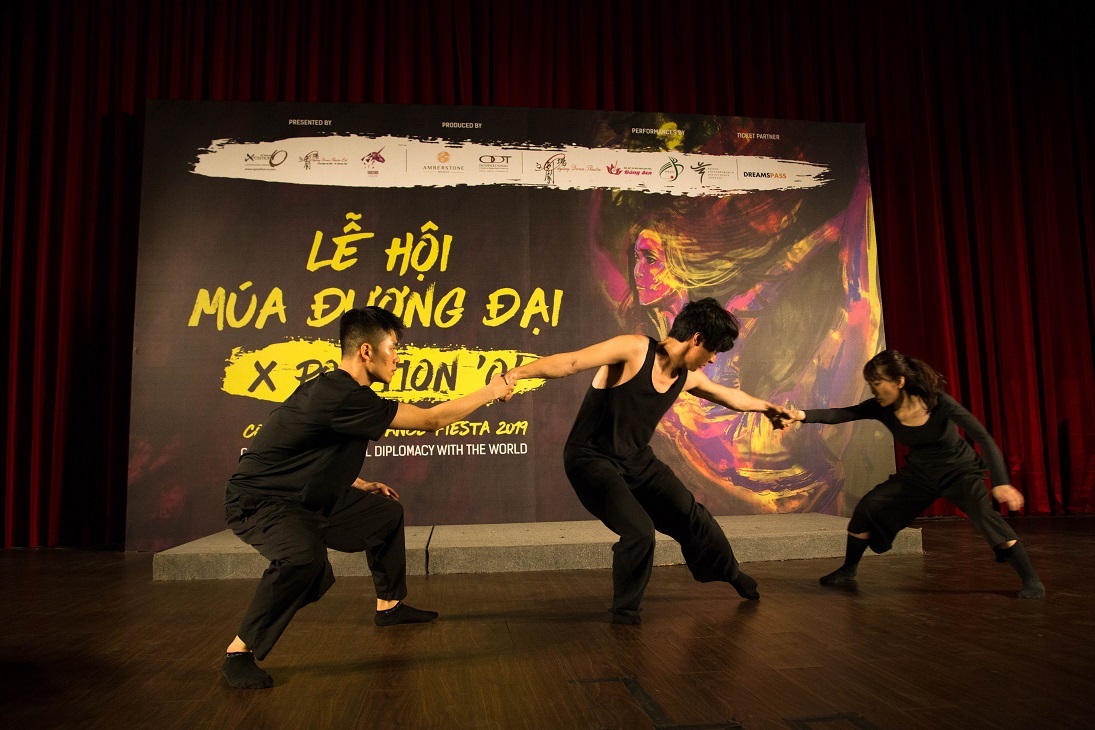 Live perfomance of artist Ha Loc, Nhu Y and artists from ODT Singapore
This is the first time Odyssey Dance Theater (ODT), Singapore, in cooperation with Saigon Contemporary & Ballet Dance Company (SCBC), Vietnam, to bring XPOSITION 'O' to Vietnam. 
Adding the inspiration of daily life into each move of contemporary dance performances, since 2001, the Xposition 'O' Contemporary Dance Fiesta (XPO) has become one of the largest dance festivals in Asia.
Based in the prestigious Odyssey Theater, Singapore - (under Odyssey Dance Theater Ltd - ODT), over 18 years, Xposition 'O' Contemporary Dance Fiesta has received major global support and special compliments from embassies, audiences and from artists worldwide, through tours and cultural exchange events in many countries around the world such as Germany, Italy, Korea, Taiwan, Laos, Thailand, Singapore...
The last 9th Xposition 'O' Contemporary Dance Fiesta in Singapore (2017) attracted 48 global artists and 8 companies from 20 countries. 
The first XPO Festival in Vietnam this year will showcase world-class performances and international cultural exchanges with the participation of famous dancers: Dr. Danny Tan - Art Director of Odyssey Dance Theater (Singapore), ODT international art troupe, South Korean choreographers Sun See & Pyoung Su.
Various experienced Vietnamese contemporary dance companies are also offering high-level performances through their famous artists such as choreographer Do Hai Anh – Champion of So You Think You Can Dance Vietnam – Art Director of SCBC Vietnam dance company; choreographer Ha Loc - So You Think You Can Dance Vietnam Runner up - Champion of the Contemporary Tremplin organized by the French Institute; choreographer Nguyen Phuc Hung - Choreographer of Ho Chi Minh City Opera and Ballet; H'mong artist Sung A Lung - Gold Award at National Youth Choreography Competition; dancer Mai Trung Hieu, and many other artists .
GENERAL SCHEDULES OF THE XPOSITION 'O' INTERNATIONAL DANCE FESTIVAL
@NOVERMBER 1st, 2019 – INTERNATIONAL CONTEMPORARY DANCE NIGHT
(Ticket prices: Student: 150,000 VND - Standard: 400,000 VND - VIP: 700,000 VND)
The contemporary dance "Start or Stop?", choreographed by Dr. Danny Tan, inspired by the hidden passion that has turned into 'power' to motivate human development.
@NOVEMBER 2nd, 2019 - VIETNAMESE CONTEMPORARY DANCE NIGHT
(Student ticket price: 150,000 VND - Standard 400,000 VND - VIP 700,000 VND)
A series of unique plays from famous Vietnamese dance teams with themes of art and humanity, revolving around daily life: "The Aspiration for Birth" by Bong Sen Theater of Traditional Music and Dance, "Café Saigon" by Ho Chi Minh City Symphony Orchestra and Theater (HBSO), "Balancé" by Saigon Contemporary Dance Company & Ballet Dance Company (SCBC Vietnam).
INTERNATIONAL ARTISTS PARTICIPATING IN THE 10TH XPOSITION 'O' CONTEMPORARY DANCE FIESTA IN VIETNAM
@Dr. Danny Tan – CEO of The 10th Xposition 'O' Contemporary Dance Fiesta (XPO) in Vietnam
A renowned and prolific Singaporean dance ambassador, Danny has forged strong alliances with many international organisations and artistes for 2 decades, positioning unique Singaporean identity on the world dance map. Championing for a uniquely Singaporean voice, Danny is a well-known arts practitioner and producer with remarkable milestones in artistic direction & consultancy and dance making & production. Danny is highly commended by local and international press and media, government officials and dignitaries for his penchant of Asian Contemporary Dance works. Danny's commissioned works by embassies, corporates, ministries and institutions have graced theatres and festivals across Asia, Australia, Europe & Americas.
As the Founder and Artistic Director of Odyssey Dance Theatre Ltd (ODT Ltd) since 1999, Danny has directed and produced more than 100 mainhouse seasons. His signature works includes 19 full-length works and more than 100 repertoire that are performed to global audiences of more than 30 cities in 20 countries.
@South Korean dancer Lee Sun Sea
As an award-winning artist at various competitions, Sun Sea received 1st Prize at Korean Dance Competition (2012), Hellas International Dance Competition (2014), and the Hanyang University President Achievement award (2013). Majoring in Contemporary dance (2013), he is currently pursuing his Masters in Fine Arts at the Korea National University of the Arts. He performed in Xposition 'O' 2015. "I Am Sorry!" is Sun Sea's second feature with ODT.
@South Korean dancer Kim Pyoung Su
As an international dancer of ODT International, Kim Pyoung-su graduated from Busan National University of Education and performed with Lee Tae Sang dance project, Hayarobi Dance Company and Korean Culture & Arts Foundation. He has choreographed many works in Korea & the United States. In 2016, Kim Pyoung Su performed in the work of Dr. Danny Tan "Wow, Merlion!" At the Busan International Contemporary Dance Festival and the dance "I'm sorry!" at the end of the 7th DanzInc Choreographer and Choreography Festival Kim recently performed "Three" in June 2017 and "Are We?" together with ODT
@Choreographer Joost Vrouenraets - Netherlands
Joost Vrouenraets studied at the Amsterdam School of Arts, then the Rudra Béjart School Lausanne, before joining Maurice Béjart's Compagnie M, and later the Béjart Ballet Lausanne in 2004.
Fascinated by all sorts of arts and cultures, Joost Vrouenraets incorporated such elements in his works where the aim is to create a performance that stimulates all senses in response to the speed and diversity of today's society. His main original works are The Alchemist (2006), I have a Dream… (2007), Turo (2008) and 5md (2009). He collaborated with Paul & Menno de Nooijer, Marijn Simons, le Matangi Quartet and the architects Mathieu Bruls.
In 2008, he received the Most promising choreographer Prize, on the occasion of the prestigious Nederlandse Dansdagen in Maastricht, Netherland.
Thanh Van