Dangerous weedkiller still used despite ban

Despite its negative effects on human health and the environment and a Government ban from February, Paraquat is still being traded in Vietnam, the Vietnam News Agency has reported.
3 weed killer's toxic active ingredients to be banned
Paraquat poisoning kills 1,000 people in Vietnam every year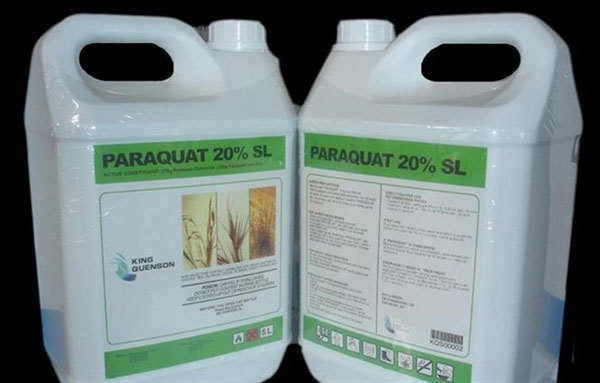 Two bottles of Paraquat-containing herbicide. — VNA/VNS Photo
Paraquat, a chemical weedkiller, and 2,4-D, an organic compound, have been used to control weeds in Vietnam since the 1990s.
2,4-D paraquat can be found in many commercial lawn herbicide mixtures. More than 1,500 herbicide products contain 2,4-D as an active ingredient.
Breathing in Paraquat can cause lung damage and long-term exposure to Paraquat may cause pulmonary fibrosis.
In February 2017, Ministry of Agriculture and Rural Development issued a decree prohibiting the use of plant protection products containing paraquat and 2,4-Dichlorophenoxyacetic acid (2,4-D) in Vietnam yet still allowed the trade and use of the products for two years starting from when the ban became effective, meaning this February.
The department head Hoang Trung said they were working on a draft circular promulgating the list of plant protection drugs permitted for use, restricted for use or banned from use in Vietnam.
Until then, Paraquat will be officially banned.
However, earlier this year, Viet Nam Pesticide Association acknowledged that the ministry and its Plant Protection Department had allowed the An Nông Company in the Mekong Delta province of Long An to export and continue using 208 tonnes of packed herbicide products containing Paraquat in Vietnam.
"We do not favour any company. The amount of packed Paraquat-containing products is small and held by distributors, making it impossible for them to export or withdraw," Trung said.
"Destroying these products is costly and harmful to the environment if companies and people do not properly follow protocol. Therefore, the department decided to let them trade these products until September 30," he added.
According to Trung, the department has also asked the ministry to ban 14 substances and 1,706 herbicide products including Paraquat, following scientists' warnings about its dangers.
VNS