Demand for organic food soars in HCM City

Many shops specialising in organic pork, fresh fruits and vegetables have opened in central HCM City and neighboring areas as demand for organic products has increased in recent years.
Organic food becomes scarce amid huge demand
Great hope for organic food in Vietnam
Organic farming has great potential in VN: experts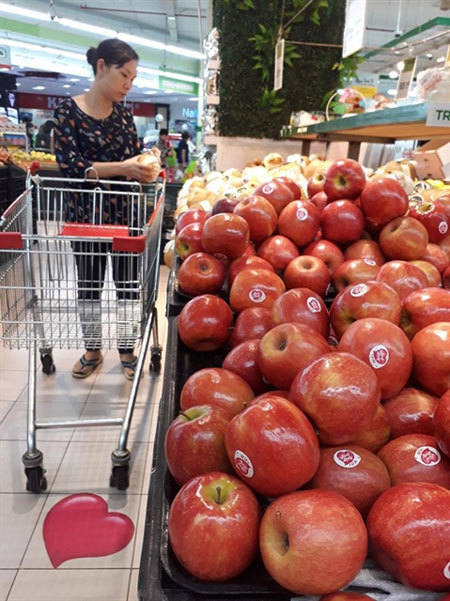 Customers in HCM city are buying more organic food products. — Photo sggp.org.vn
Nguyen Thi Thanh Lan, a resident on Ba Hat Street in District 10, told Sài Gòn Giải Phóng (Liberated Sài Gòn) that she paid more than VND1 million (US$44) for half a kilo of taro, 300gr of amaranth, two kilos of white rice, and one kilo of herb pork.
"Since I have a young kid, I decided to purchase farm and organic produce to ensure a nutritious diet, but it's so expensive!" she said.
"It costs my family of three VND7 million every month for fresh meat, vegetables and fruit, not to mention my baby's fresh and organic milk. Our monthly bill can reach VND10 million," Lan said, adding that if she were to purchase similar yet mass produce, she would save VND5 to 6 million per month.
Lan's concern is similar to many other parents who want to buy clean produce for their family.
Despite the higher prices, some organic food firms said the number of buyers was still increasing.
Le Thi Diem, an employee at an organic food store in Tan Binh District, said that imported products such as honey, turmeric powder, avocado oil and apples were popular, especially among pregnant women and parents with small children.
"Our list of frequent customers for many years revolves around families with young kids and the elderly," she said. "While our suppliers are world-famous brands, we do have some local farms that pursue organic food."
In addition to fruits such as cherries (VND600,000 – 800,000/ kilo) and avocado oil (VND588,000 for 473ml), many families order foreign-made detergent and fabric softener with organic sources, she said.
Phony labels
Phan Van Thanh, owner of a business specialising in importing and distributing organic fruit in District 3, said that foreign suppliers have high standards and strict management for domestic distributors.
Because of that, the number of organic products officially imported is not that significant, he said, adding that many small shops buy products themselves and ship them to Vietnam.
Local manufacturing enterprises that want to claim organic certification with European or Japanese standards must comply with a very strict assessment process.
However, some enterprises without certification claim that their goods are organic.
Phi Thanh Thuy, a resident in Go Vap District, said that she bought US cherries, Japanese apples and Australian grapes worth VND2 million for her grandchildren's four-year-old birthday celebration.
"The store had been introduced to me by a friend of mine. It has both an online and physical store," Thuy said. "I carefully checked and saw that under the basket's wrapping was a Chinese-language sticker covered by a label with English description."
"I called the store and was told by the staff that there had been a mistake and he promised to change it for another basket," she added.
"After this incident, I began to worry about online organic products because they don't always provide detailed information about product origin and labels," Thuy said.
With the increased demand and limited source of local organic products, imported organic products often sell at high prices.
Unhealthy competition and false labels on organic products are inevitable, so it is important for customers to carefully check their goods to ensure they are buying authentic quality products.
VNS