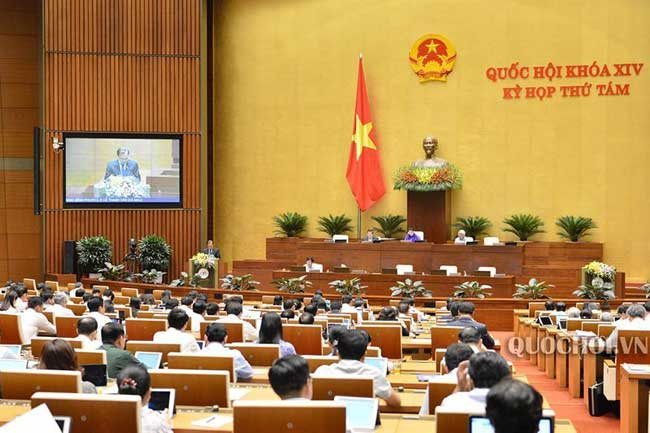 A view of the NA's eighth sitting – PHOTO: QUOCHOI.VN

The delivery of the report on the country's diplomatic efforts is new to the sitting, stated NA General Secretary Nguyen Hanh Phuc.
In addition, the NA will discuss the execution of the country's socioeconomic development plan and the State budget collection and expenditures this year, as well as the socioeconomic development plan and the State budget estimates for next year, on October 30 and 31.
On November 1, a plan on socioeconomic development in ethnic minority and mountainous areas, a draft resolution on the erasure of tax arrears and fines on late tax payments for taxpayers who cannot afford their tax payments, the extension of the deadline for the payment of mineral and water resource exploitation fees and the use of 20% of the balance of the health insurance fund for 2015 will be tabled for discussion.
The NA will also discuss four draft revised laws, including those on the immigration of Vietnamese citizens; the management and use of weapons, explosive materials and supporting tools; the organization of the National Assembly; and a draft resolution on the pilot program to dissolve people's councils at wards in Hanoi's districts. SGT

Some Chinese coastguard vessels deployed in the East Sea have deliberately made themselves visible to rival claimants of the contested waters by turning on tracking signals – a move analysts described as an attempt to assert sovereignty.  

Vietnam owns convincing evidence of its sovereignty in the East Sea, Russian expert Grigory Trofimchuk, Chairman of the Expert Council of the Eurasian Foundation for Support of Scientific Research has said.