Pop and soul sensation My Tam was announced as the winner in two significant categories at the Cong Hien (Devotion) Music Awards – Singer of the Year and Album of the Year – during a gala night held in Hanoi Opera House on March 22.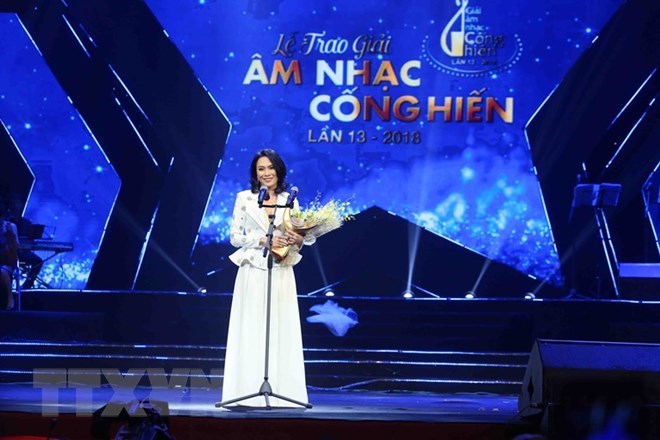 My Tam wins Singer of the Year and Album of the Year titles
The singer's win follows the huge success of her recently-released album, Tam 9, which sold over 12,000 copies. The album was ranked 10th on Billboard's World Albums chart in the third week of January based on sales data compiled by Nielsen Music, according to Billboard.com.
"Tam 9 was a special thing for me, and these awards have been a supplement to it," said the 37-year-old singer, expressing her sincere thanks to the support of her audience "who have held special affection for me."
The prestigious Devotion Music Awards ceremony is held annually by Vietnam News Agency's The Thao Van Hoa (Sport & Culture) daily.
The four-member indie pop band Ngot (Sweet) band also won two awards, New Artist of the Year and Song of the Year with their tune Em Dao Nay (You Recently).
"This would have seemed unbelievable to our band just several months ago," said the representative of the Hanoi-based band. "Our awards today will serve as motivation for not only Ngot but also other independent bands."
Established in 2013, the group has won the hearts of young audiences with songs of simple daily topics like love, family and friends. The group, all in their 20s, has performed at bars, cafes and events in Hanoi and HCM City.
Another nominee who took home two awards on March 22's night was musician Duong Cam, with two titles as Producer of the Year and Musician of the Year.
"It has been 13 years since I stood at a prestigious music awards ceremony. As a producer who silently backs the success of other artists, I feel blessed to receive such awards," the musician said.
The Liveshow of the Year award was presented to Mat Troi Cua Toi (My Sun) by Dang Duong. The singer is known for his performances of revolutionary songs which praise patriotism and the beauty of the country and people.
Meanwhile, Music Video of the Year went to Em Gai Mua (The Rain Sister) by singer Huong Tram and the Music Series of the Year award was granted to gameshow Sao Dai Chien (Celebrity Battle), a joint product by Vietnam Television and ADT Communication Limited Company.
The gala dazzled fans with performances by artists including singers Thanh Lam, Dang Duong, My Tam and Duong Hoang Yen. A musical troupe led by emerging director Nguyen Phi Phi Anh performed Star of Happiness, which included songs about love, life and music nominated for awards this year.
The annual Devotion Music Awards began in 2004 to promote Vietnamese music and honour artists who have made significant contributions to the industry. A ballot was held last week in Hanoi and HCM City by about 100 reporters to choose the winners in nine categories, including Producer of the Year, Song of the Year, Music Video of the Year, New Artist of the Year, Album of the Year, Live Show of the Year, Music Series of the Year, Musician of the Year and Singer of the Year.-VNA