Dien Bien: two drug trafficking cases detected

The police and border guard forces in the northwestern province of Dien Bien on September 1 arrested three men for trafficking 50 kg of methamphetamine.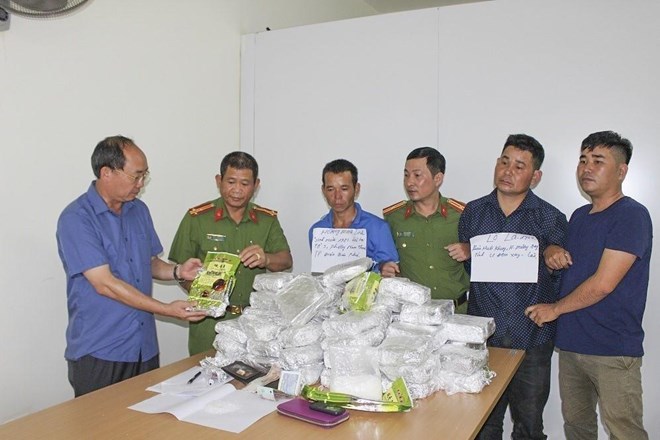 Two of the three suspects, Hoang Manh Linh and Lo La, and the 50kg of meth
The suspects are Hoang Manh Linh, 36, residing in Dien Bien's Dien Bien Phu City; Lai The Mau, 35, residing in the central province of Thanh Hoa's Ha Trung district; and Lo La, 50, residing in Laos' Oudomxay province.
The police seized the drug wrapped in 50 yellow bags inside two large sacks, two motorcycles, and two mobile phones.
The case is under further investigation.
Dien Bien, sharing the border with Laos and China, is hotbed of drug trafficking.-
Two men caught carrying 20,000 meth pills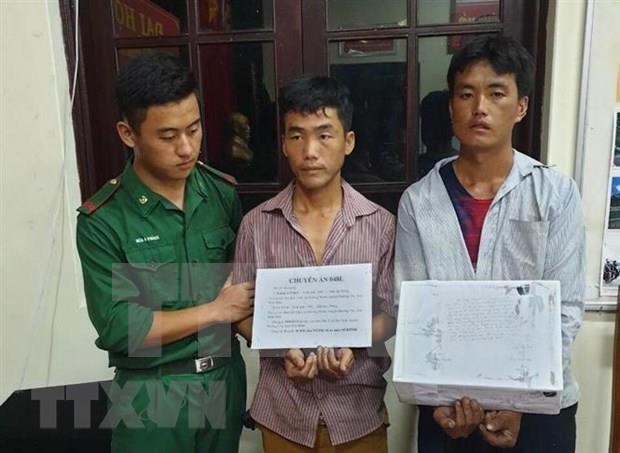 Giang A Chinh and Ly A Lu are arrested for carrying 20,000 meth pills in Dien Bien.
Two traffickers were arrested for carrying 20,000 meth pills by border guard and anti-drug police forces in the northern border province of Dien Bien on August 30.
While patroling in Hin 2 village, Na Sang communue, Muong Cha district around 8:20 pm, the inter-sectoral task force spotted two suspects driving two motorbikes on National Highway No. 12 towards Muong Lay township.
The task force requested them to stop for checking but they sped up in an attempt to escape. The two men were ultimately put under control and found to carry 20,000 meth tablets wrapped in three separate packages with yellow tapes.
They are Giang A Chinh and Ly A Lu, both 30, residing in Ket Tinh village, Muong Muon commune, Muong Cha district.
They confessed to have bought the drugs from a Lao national across the border and be on the way to Lai Chau to distribute the drugs. VNA