Difficulties remain in ensuring food safety in Hanoi

Efforts to improve food service quality have spurred positive changes in the capital city of Hanoi, however, challenges remain in food safety control work, experts said.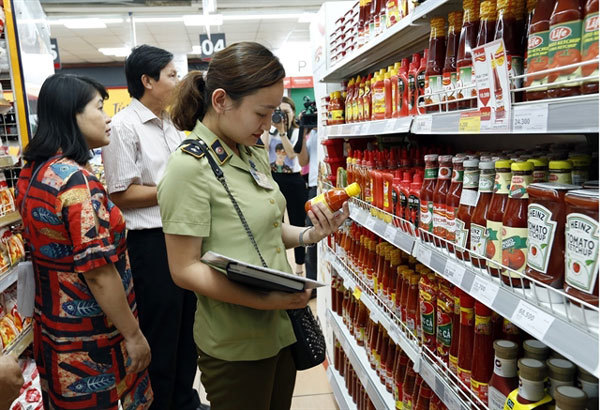 Inspectors check the origin of goods at a supermarket in Hanoi. — VNA/VNS Photo Duong Ngoc
According to a report from the municipal People's Committee, inspections of 18,989 businesses in the first seven months of this year found over 15,500, or 81.6 per cent, met food safety standards.
As many as 1,009 out of 1,049 food samples or 96.2 per cent taken for testing met the standard.
Tran Van Chung, deputy director of Hanoi's Health Department, attributed the positive results to the close coordination between agencies in communication campaigns to raise awareness about food safety for managers as well as staff at food facilities.
No food poisoning cases were reported during the action month on food safety and hygiene, he said.
While progress has been made in ensuring food safety, experts said, more still needs to be done.
The awareness of managers of food processing facilities and street food stalls is still poor.
Most violations at communal level will only receive a warning instead of being punished in accordance with the law.
The majority of slaughter houses are in residential areas and do not meet food safety and hygiene standards as requested by municipal authorities.
The transportation of food without clear origin from other provinces into the city still persists.
A large number of consumers are hesitant in reporting the name of facilities that sell unsafe food to an authorised agency.
"Ensuring food safety must be done regularly and continuously," said Nguyen Van Suu, vice chairman of the municipal People's Committee.
He suggested agencies should take drastic solutions and hand out strict punishments to counterfeit and substandard goods.
Dissemination campaigns and information should be strengthened to raise awareness among vendors, consumers and food management officers on food safety and hygiene.
Suu also called for close coordination between local authorities and relevant agencies in inspection and dealing with food safety violations.
VNS