To promote trade and investment ties, ASEAN member states will continue strengthening the bloc's efforts to go digital on the back of its great potential, with Vietnam boosting the application of digital technologies and administrative reforms to facilitate businesses and investors.
It is expected to be a critical 12 months for Vietnam when it comes to attracting more retailers from abroad. Nguyen Ngoc Van, representative in Ho Chi Minh City for a major Chinese retailer, said the Fortune 500 company may invest in Vietnam with major projects worth up to hundreds of US dollars this year. The company also works in logistics services.
"It is expected that when the group enters Vietnam, the country's online retail and logistics landscapes will see big changes and bigger competition," Van said.
The group wishes to venture into the Vietnamese e-commerce market to take advantage of the huge population and rising middle class. Vietnam's average per capita income stood at $3,700 last year and is expected to rise to $3,900 by 2025.
However, also according to Van, Vietnam and other ASEAN nations have also been cementing their digital cooperation, paving the way for businesses with digital solutions to operate better in the region. "This will enable our company to deepen its cooperation with partners not only in Vietnam, but also in other regional markets," Van said.
According to the General Statistics Office, 60 per cent of the 98.6 million population in Vietnam are under 35 years of age. They have quick access to new technology, and about 55 per cent of the population use the internet.
Van explained that during preparations to penetrate the Vietnamese market, his company has referred to the country being highly valued by the international community in terms of potential and efforts to provide a more favourable business and climate change for businesses.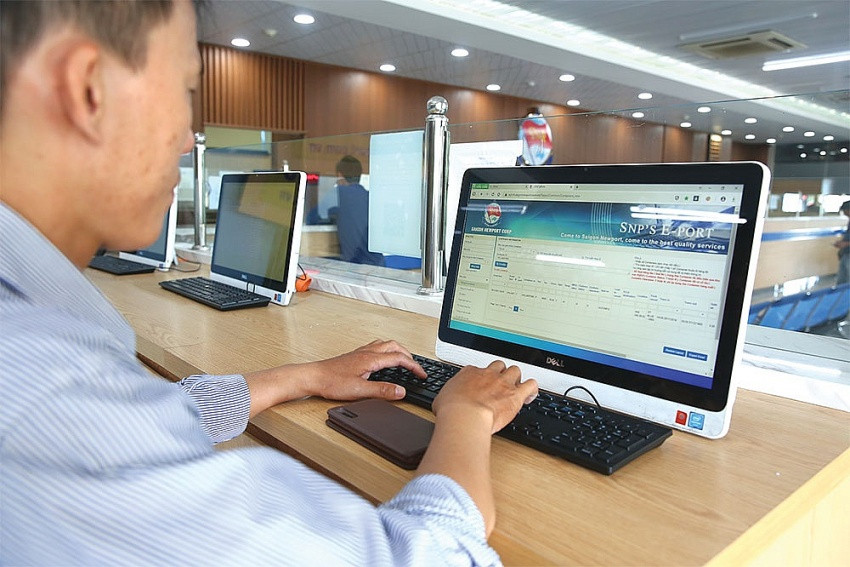 Inter-regional e-portals for customs, trade, and more are becoming ever more popular across ASEAN, Photo: Le Toan
"Vietnam is strong in internet development, which many tech-savvy people, and this offers great opportunities for groups like ours," he said. "After obtaining an investment certificate in Vietnam, the group will work with local partners in Hanoi and Ho Chi Minh City first. In its development plan, after successfully setting up its presence in these two cities, the group will consider the same initiatives in other localities."
At present, Vietnam is home to many big foreign and local platforms like Sendo, Tiki, Lazada, Thegioididong, Shopee, Dienmayxanh, and FPTshop.
Great potential
This year, ASEAN has committed to go digital in service of its intra-facilitation of trade and investment.
"In a worldwide race towards digital economy transition, ASEAN is set to pull ahead of the throng. The conditions are ripe for digital transformation to happen," said Satvinder Singh, deputy secretary-general of ASEAN for the ASEAN Economic Community (AEC).
As of late 2022, ASEAN boasted 460 million internet users, 100 million of whom joined in the last three years alone, based on a 2022 study led by Google, Temasek, and Bain & Company.
By the end of 2022, 370 million of these internet users will become digital consumers, meaning those who buy products and services through digital channels. About 90 per cent of the merchants in the Google-commissioned Dynata SEA-6 Digital Merchant Survey 2021 said they are now accepting digital payments. About 35 per cent of them attribute their businesses' survival to digital transactions, and 82 per cent of them expect more than half of their earnings to come from digital sales in the next five years.
In total, merchandise sold via digital channels – also referred to as gross merchandise value (GMV) – is estimated to reach $194 billion by the end of 2022. The region's GMV is expected to soar to $363 billion dollars by 2025.
Ted Osius, president and CEO of the US-ASEAN Business Council, noted that the bloc boasts great potential for boosting digitalisation.
"The AEC constitutes the world's fifth-largest economy, with an average GDP growth rate predicted to top 5 per cent each year well into the next decade. Vietnam is expected to lead this charge with more than 7 per cent growth," Osius said. "Looking specifically at ASEAN's digital economy, the pace of growth is among the fastest in the world, expected to exceed $300 billion by 2025."
Ed Vaizey, chairman of the UK-ASEAN Business Council, added, "ASEAN's digital economy is expected to be worth $1 trillion by 2030 as more and more people in Southeast Asia shop and trade online, accelerated by the pandemic."
The chairman's statement of the 40th and 41st ASEAN Summits released in mid-November 2022 in Cambodia also stressed the need for digitalisation in the bloc.
"We underscored the increasingly pivotal role of digital technology in achieving an innovative, inclusive, resilient, and sustainable economic growth in the region. We also noted the acceleration of the study for the ASEAN Digital Economy Framework Agreement in 2023 with a view to commencing the negotiations as soon as possible," the statement read. "The agreement is a crucial step for ASEAN to become the leading digital community and economic bloc, powered by secure and transformative digital services, technologies, and ecosystem, as identified in the ASEAN Digital Master Plan 2025."
One set of priority measures in the roadmap pertains to the electronic facilitation of intra-ASEAN trade and harmonisation of digital trade standards.
For example, the bloc is working towards a faster and more efficient border clearance of goods, including agricultural products, through member states' use of digital rather than paper documents, such as the ASEAN customs declaration document, e-phytosanitary certificate, and e-animal health certificate, under the ASEAN Single Window (ASW) system.
Vietnamese efforts
The government is ordering the improvement of the operation of the Vietnam National Single Window, which facilitate enterprises to conduct all procedures online, and which is connected with the ASW.
The ASW is an environment that provides a secure IT architecture and legal framework that will allow trade, transport, and commercial data to be exchanged electronically among government agencies and private sectors. It aims to expedite the cargo clearance process, reduce cost and time of doing business, and enhance trade efficiency and competitiveness.
According to the Ministry of Public Security, currently 99 per cent of enterprises in Vietnam are now paying e-taxes, and the ratio of e-commerce in the country's total retail revenues in 2022 hit 7.5 per cent.
Vietnam's Ministry of Industry and Trade reported that Southeast Asia is now Vietnam's fourth-largest export market. Vietnam's export turnover to the region surged from under $1 billion in 1995 to $18.23 billion in 2015. The figure ascended to $29 billion in 2021 and is estimated to be $33.6 billion in the whole 2022.
Meanwhile, Southeast Asia is also Vietnam's third-largest import market. The country's import turnover from other member states totalled $28 billion in 2017 and rose to $32.1 billion in 2020. The figure touched $41.1 billion in 2021 and is estimated to be $47.3 billion in the entire 2022.
As of December 20, 2022, Vietnam attracted over $98 billion in registered investment capital from ASEAN member states, including Singapore ($70.85 billion), Thailand ($13 billion), Malaysia ($13 billion), Indonesia ($638.9 million), and the Philippines ($606 million).
The 13th National Party Congress has identified national digital transformation as of paramount importance, with digital government, digital economy and digital society being three main pillars. The country's efforts to develop a pro-business e-government and a digital economy with growing e-commerce have received applause from the international community.
Under the UN's Department of Economic and Social Affairs' recent e-government survey, Vietnam has increased two places to rank 86th out of 193 countries. With this ranking, the country has maintained its record of consecutive increases since 2014, climbing from 99 in the process.
"The tax authority in Vietnam has implemented e-filing, e-payment and e-customs initiatives that have helped to improve tax collection and management and have lowered taxpayers' compliance costs," the survey report cited.
Source: VIR