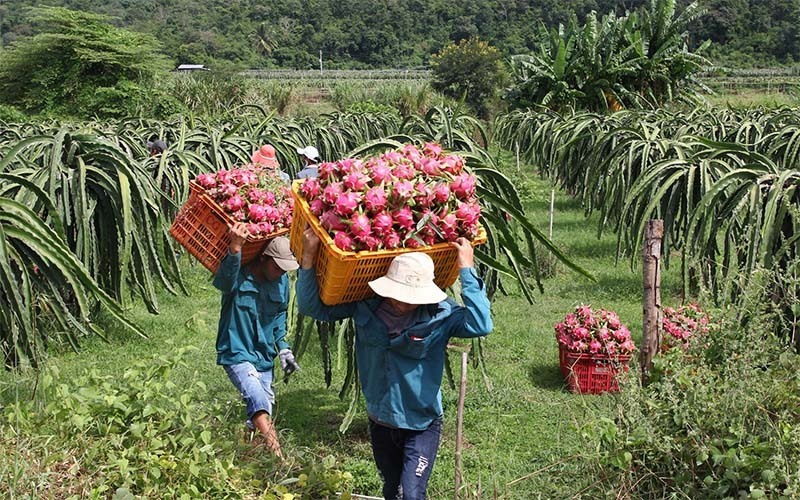 Minister of Agriculture and Rural Development Le Minh Hoan affirmed that there's still space for agriculture to develop, but it needs to overcome fragmentation, small scale and unplanned development. Cooperatives could be the model to help fix the defects.
Cooperatives will have enough capability to be on a par with businesses to discuss and negotiate. The problem is that many farmers want to remain private.
The Minister emphasized the 'cooperation, connection, market' principle, which means farmers should change their thinking from working alone to cooperating with others to create a community with a common voice; and cooperate to join production and supply chains for sustainable development.
VIAC (Vietnam International Arbitration Center) Chair Vu Tien Loc also thinks that it's necessary to change the farmers' mindset. Once agriculture is not defined as agricultural production but as an agriculture economy and agribusiness, it must have the spirit of entrepreneurs.
Farmers need to think about where to invest, what to produce and where to sell. This is an entrepreneurial spirit.
"I heard recently that some university graduates refuse to work for businesses in cities, but they left for their hometowns to set up small farms. That, in my opinion, is the most important sign in our society today. Go to rural areas and do farming, but with the spirit of entrepreneurs and do business with scientific knowledge and digital transformation," Loc said.
Hoan hopes that Vietnamese farmers will start businesses in the new rural area program.
"In other countries, farmers talk like scientists. There's no other choice than going professional," he said.
Targeting high-end markets
According to Loc, consumption tendencies are changing. Urbanites now in groups buy a garden of litchis or oranges. They can watch the entire cultivation process through electronic devices.
Such a high-end market will appear in the future. Middle and higher income earners will be there as consumers in the market.
He believes this is an opportunity for the household economy, for small-scale production facilities in agriculture to connect with domestic and world markets through digital platforms.
It is feasible to develop small production facilities with high added value and high output. However, it's necessary to join forces to connect with the markets, suppliers and consumers.
In the past, because of small production scale, farming households had to sell farm produce to intermediaries, or merchants, who pocket big profits in the supply chain.
Now, with digital platforms, producers can connect with final buyers and not through intermediaries. This will be the modern agriculture economy model for the future, according to Loc.
Hoan said that as e-commerce is developing rapidly, the Ministries of Agriculture and Rural Development (MARD) and Information and Communications (MIC) are designing a digital transformation program for agriculture, which includes production, distribution and trading. When digitized, total demand will increase.
In the past, people sometimes hesitated to buy litchis because the production areas were far from their homes. But now, they no longer hesitate because they can do this online. When the total demand increases, the value of farm produce will rise as well.
Training involves cultivation techniques but also the use of smart devices. Digitizing in agriculture can begin with these simple issues. After that, farmers will strive for modern technologies such as Big Data, IoT (Internet of Things) and AI (artificial intelligence).
Under the national digital transformation program, Vietnam will develop hi-technology agriculture with a focus on smart and precise agriculture, and increase the proportion of digital agriculture in the economy. 
Tam An

"We have to figure out a new 'farm produce path' that allows us to connect fields and markets," said Minister of Agriculture and Rural Development Le Minh Hoan.  

Vietnam's farm exports continue growing, serving as the pillar of the economy. Exporters are sprinting to export more produce for the year-end sale season.