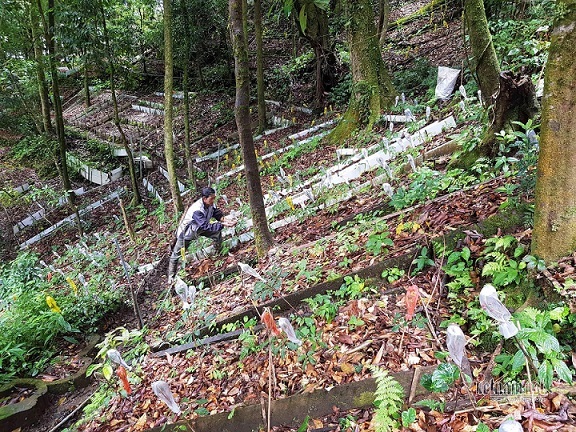 A Ngoc Linh ginseng garden in Nam Tra My District of Quang Nam Province.

The price of Vietnamese ginseng has reached 10,000 USD/kg. The central province of Quang Nam is taking advantage of opportunities from digital transformation to bring the precious commodity to the world market.
The People's Committee of Quang Nam province has submitted to the Government the "National program to develop Ngoc Linh ginseng until 2045" project with the goal of developing a ginseng production industry and turning it into a national product brand.
The program will be implemented in two phases:
- Phase 1 (2016-2030): preserving and developing Ngoc Linh ginseng (Vietnamese ginseng). Zoning to promote regeneration with additional planting. Building infrastructure in ginseng growing areas. Producing all kinds of ginseng products and developing ginseng-related tourism...
Investment cost in this period is VND 9,467 billion, including VND 1,569 billion from the State budget and VND 7,898 billion from businesses.
- Phase 2 (from 2030 onwards): Continuing to develop and expand the scale of Ngoc Linh ginseng. This stage is mainly invested in by businesses, so depending on the content and scale of investment of enterprises, the funding needs will be different.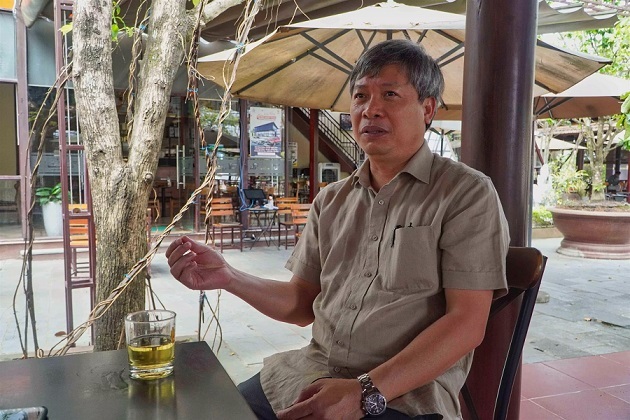 Quang Nam's Vice Chairman Ho Quang Buu.
Quang Nam's Vice Chairman Ho Quang Buu spoke with VietNamNet about the roadmap to find a worthy "place" for Vietnamese ginseng and the use of digital technology in the "ginseng industry" in Quang Nam.
According to Buu, since 2017 Ngoc Linh ginseng has been sold online. So far, up to 70% of transactions have been made on the Internet.
"We are and will be applying digital transformation in ginseng production and trading. Firstly, ginseng protection, with the use of CCTVs to protect ginseng, and the use of the internet of things to ginseng cultivation. If a customer wants to buy a ginseng plant, the garden owner can contact the customer online, and let the customer to watch it directly via the internet without having to go to the garden," Buu said.
"We will gradually apply the planting area code and convert the ginseng area on the management system. And it is also important to apply digital technology in advertising ginseng on the internet, and ginseng tourism," he added.
Buu said Vietnam has to learn from other countries, particularly South Korea, to develop its ginseng industry. He hopes that the national ginseng program will change the future of Ngoc Linh ginseng as well as Vietnam's economy. "We have only developed ginseng for individuals, not for society. There must be a large national program on developing ginseng, not simply developing local or provincial ginseng, and all central and local agencies governments must be involved," he said.
"According to statistics, for every 1,000 Vietnamese traveling to Korea, up to 700 people purchase Korean ginseng. That is the question we should ask ourselves: Why does Vietnam have potential but cannot develop its ginseng like Korea? It took Korea 100 years to have ginseng technology, so we have to shorten this period. The whole society should join hands to develop the ginseng industry. Once the national ginseng program is approved, many corporations will invest in the ginseng industry and we can develop our ginseng brand," he said.
The program aims to turn Vietnam into a ginseng-producing country that can compete on an equal footing with the Korean ginseng industry by 2045, with annual production of 500 - 1,000 tons.
The Ngoc Linh ginseng (Panax vietnamensis, or Vietnamese ginseng), a rare medical root containing 52 saponin compounds helpful to health, was found on Ngoc Linh Mountain on the boundary between Kon Tum and Quang Nam in the late 1960s.
Besides saponin, Ngoc Linh ginseng contains 17 amino acids, 20 trace minerals and 0.1 percent of attar. The ginseng has effective in anti-stress and anti-aging conditions. It improves immunity, enhances liver function, and lowers cholesterol. Besides, it also works well with antibiotics and diabetes medications.
Ngoc Linh ginseng is one of the world's most precious ginseng plants. It was approved as a national treasure under the Prime Minister's Decision 787/QD-TTg.
Kieu Oanh - Cong Sang

Ngoc Linh ginseng lives under the canopy of old forests, with a forest coverage level of 70-80 percent and temperature of below 25oC. Businesses are now joining forces with locals to grow Ngoc Linh ginseng there.

Two new investors – Nutifood and Thien Nhan hospital – have put their footprint in the development and production of thousands of hectares of Ngoc Linh ginseng farms in the central province, promising a worldwide brand for the national product.