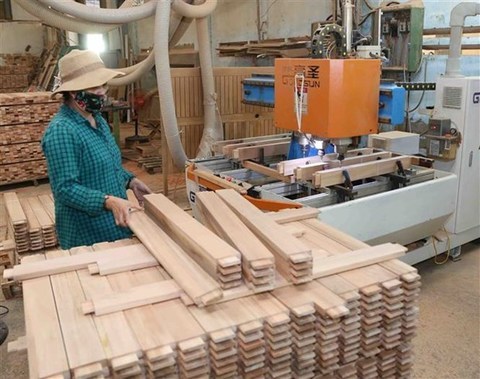 A worker checks furniture products at Tai Phuoc Co., Ltd. in Phu Tai Industrial Park in the central coastal province of Binh Dinh.
The US, Japan, China, the Republic of Korea and the EU continued to be the five most important markets of Viet Nam, with total export turnover reaching over $9.3 billion, accounting for 90 per cent of the total export value of the whole industry. Of which, the US had become a huge market for the Vietnamese wood industry.
Insiders said that forestry products were one of the few products seeing export growth in both volume and value as COVID-19 threatens economic development in countries around the world. However, in the long term, the impact of the epidemic would be unavoidable, so the timber industry would have to find a new direction.
Digital transformation
According to the Handicraft and Wood Industry Association of HCM City (Hawa) it is often a milestone of change as a crisis occurs, in which adaptable businesses will make good use of market development opportunities.
The rapid spread of COVID-19 has changed consumer behaviour, creating pressure and challenges forcing businesses to innovate and improve at all stages, from design and production to trade, in which digital transformation is the key.
The traditional business model of a chain of stores is currently facing difficulties because of its large operating cost and lack of dynamism, therefore, it can be said that COVID-19 is the driving force for faster digital space transformation.
Tran Hien, co-founder of Ecomstone Company, an Amazon partner in Viet Nam, said that the epidemic had hampered operations, but opened an opportunity to switch to online business.
He cited a Thai company determined to build an online store on Amazon. After more than one year, the growth is over 30 per cent.
"Hawa can together with Ecomstone analyse potentials, identify competitors as well as customers to assess the market and gradually build a general store on Amazon, thereby building a separate brand for Viet Nam's wooden furniture instead of processing which gives low value while customers do not know the producers," Hien said.
Tran Viet Tien, a member of Hawa Steering Committee, said that Hawa had been working for a long time with FPT Company and related organisations such as OnBrand, Ecomstone or the Vietnam Community of Information Technology Directors to help the furniture industry transform digitally and improve its competitiveness.
"But it can be said that the outbreak of COVID-19 is an appropriate time for the business community to pay more attention, more concentration and do it faster. We determine e-commerce is a short-term solution, and digital transformation is the long term," Tien said.
The furniture industry has four values including production, designing, trading and branding, which have transaction volume estimated at $450 billion per year. However, over the past 20 years, the Vietnamese furniture business community has just focused on the value of production, which has annual transactions of about $140 billion with low profit, according to Tien.
"Meanwhile, three remaining values including designing, trading and branding will create new high added value for the product, with transactions of $310 billion per year," he added.
Hawa has recently introduced O2O, an online sales model in combination with traditional sales (offline), as a part of the comprehensive digital transformation strategy for the wood industry to increase customer accessibility, expand markets and optimise sales opportunities.
Tien said large organisations such as FPT, Silversea Media Group (Singapore), Vietnam E-Commerce Association (VECOM) support businesses to find starting points on the digital transformation journey, as well as updating development trends of e-commerce, conducting model of combining "online" trading platforms with existing "offline" systems, and creating a new development motivation for enterprises.
"When e-commerce is effectively exploited, it will help exploit the commercial value as well as the design and brand values. This way, we can enhance the value of wood products made by Vietnamese enterprises," Tien said.
The current starting point of digital technology between Vietnamese wood processing enterprises and developed countries is not that different, but if enterprises are still slow in this period, they will lag behind their competitors. In order to achieve export sales of $20 billion in 2025, it is necessary to approach new directions, multi-channel sales, and increase the value of products. — VNS

Enterprises have begun changing their production. Three or four enterprises which specialize in exporting woodchips have bought equipment to make MDF
The forestry sector expects to earn an estimated 11.3 billion USD from exports this year, a year-on-year rise of 20 percent, according to Deputy Minister of Agriculture and Rural Development Ha Cong Tuan.