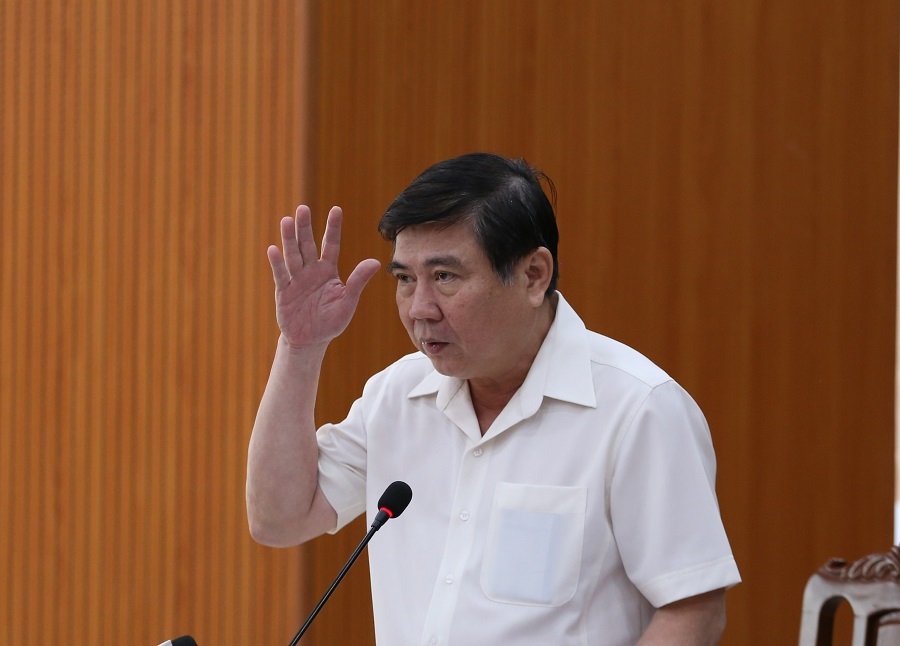 Chairman of HCM City People's Committee Nguyen Thanh Phong
Per capita GRDP to reach US$37,000 by 2045
During a recent discussion about development goals included in a draft document of the 13th National Party Congress, HCM City Chairman Nguyen Thanh Phong said the city has identified three specific targets:
By 2025: HCM City will become a smart city with modern industrial and service development; will be the motivation of the Southern key economic region and the whole country; will be at the forefront of innovation, with good quality of life.
By 2030: HCM City will be the center of economics, finance, trade, science - technology and culture of Southeast Asia, with GRDP per capita of about $13,000.
By 2045: The city will become the economic and financial center of Asia, with sustainable development, high quality of life, GRDP per capita of about $37,000, attracting tourists from around the world.
According to Mr. Phong, in the 2020 - 2025 term, the city has set out 26 development targets in five areas, including: The average GRDP growth rate is about 8%; the digital economy contributes about 25% of the city's GRDP by 2025, 40% by 2030; the average labor productivity growth rate reaches 7% annually.
To achieve those goals, Mr. Phong said that it is necessary to strongly apply science - technology and innovation to quickly develop key economic sectors.
In particular, the foremost importance is to implement the project to develop Ho Chi Minh City into a regional and international financial hub.
Other measures include taking advantage of the opportunities of the fourth industrial revolution, drastically developing the digital economy, the sharing economy, and the circular economy; encouraging the production and export of high-tech products, software and digital products;
Turning the new city of Thu Duc into a new growth pole for the city and the whole region on the basis of developing a highly interactive, creative urban area in the East of the city; focusing on agricultural development towards a modern and sustainable urban agriculture in association with agricultural restructuring and building a new countryside.
Maximizing the advantages of marine economy and coastal area. This is a new economic development direction associated with environmental protection of the city.
Socio-cultural development is synchronized with economic development, serving as a foundation for the city to develop sustainably.
In particular, focus on training high-quality human resources with international qualifications in eight priority areas (IT - communications, mechanics - automation, artificial intelligence, corporate governance, finance - banking, health, tourism and urban management); continue to promote the city's role as an education and training center of the country.
Development of science - technology and innovation is the main driving force for socio-economic development; priority is given to the application of artificial intelligence (AI), 5G technology and post-5G.
"In particular, building the city into a Ho Chi Minh cultural space, where the thought, morality, style and career of President Ho Chi Minh always exist, becoming a spiritual asset, typical cultural values of the people, officials and party members of the city that is named after President Ho Chi Minh," Mr. Phong said.
Planning must be considered as an important tool to manage and administer socio-economic development, he said.
In addition to developing social housing projects, the city will focus on attracting investment in the construction of new urban areas, such as: the creative high-interaction urban area in the East, Thu Thiem new urban area, Southern urban area, Northwest urban area, Binh Quoi - Thanh Da Urban Area, and Can Gio sea reclamation urban area.
Focus on building a clean and green city, friendly to the environment; focus on developing traffic, reducing flooding, reducing traffic congestion and accidents...
The three breakthroughs
According to Chairman Nguyen Thanh Phong, on the basis of three strategic breakthroughs according to the draft documents of the 13th Party Congress, the city has applied creatively to build three breakthrough programs; and one key program with 51 projects, creating a solid premise for its development, including:
Breakthrough program on management innovation: Implementing management mechanisms and policies suitable to HCM's position as a special city, which leads the country in many aspects; building an urban government; forming and developing a creative urban area in the East associated with the establishment of Thu Duc City; quickly performing digital transformation, perfecting digital government...
Breakthrough program on infrastructure development: Synchronous development and modernization of the infrastructure system, especially services, telecommunications, digital, industrial, and transportation infrastructure...
Breakthrough program on human resources and infrastructure development: Developing high-quality human resources, reaching international standards in eight fields; development and application of artificial intelligence, and transforming the intellectual potential of human resources into scientific and technological application and creation achievements, effectively serving the socio-economic development tasks.
Key programs for business development, start-ups and key product development: Supporting startups, improving efficiency of cooperation among banks, financial institutions and the local government to finance startups and business development; focusing on development of products and product brands, and increasing the rate of supply of the city's specific products in the global supply chain.
Ho Van – Bao Anh

The People's Committee of HCM City has approved an infrastructure development project for the 2021-30.

The HCM City Power Corporation is set to place 500km of medium-voltage cables and 800km of low-voltage cables underground in the next five years.