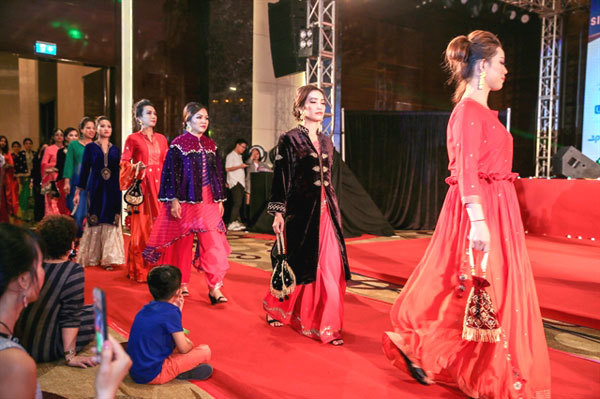 A fashion show of Indian designers at Diwali Night 2018. — Photo courtesy of InCham
Hosted by the Indian Business Chamber (InCham) in Hanoi, Diwali Night is dedicated to the Indian community and international visitors.
With theme "Bring the true Indian Cultural Spirit to Hanoi", the event will be highlighted by the colours and values of time-honoured Indian culture, namely, Indian and international cuisine, musical performances, Bollywood and hip-hop dance performances and yoga.
Diwali or Deepavali (Festival of Lights) is one of the biggest festivals of India. It celebrates the victory of good over evil, light over darkness, followed by an epic Ramayana which narrates the struggle of the divine prince Rama to rescue his wife Sita from the demon king Ravana.
Diwali has a major religious significance for all religions including Hindus, Sikhs and Jains alike - not only in India, but also for Indians living abroad.
Diwali night also marks the beginning of the Hindu New Year and many businesses in India starting a new accounting year on the Diwali holiday.
"The event has been held annually in Hanoi and become a permanent fixture in the capital's cultural calendar, strengthening every year," said Dinh Phuong Thuy from InCham.
"This year, joining us are distinguished guests from all walks of life including diplomats, authorities, businessmen, cultural communities, and especially the vibrant expat community."
This year, the event will feature exciting plays that help people understand more about Diwali Festival's origin, a special performance by Aneesh Vidyashankar, most melodious infusion violinist in India, DJ Shakey with lively music style, and singer Duong Hoang Yen – top three at The Voice Vietnam singing contest in 2013.
Other activities include a lucky draw with various prizes, henna painting and face painting. Collections of Indian designs will be introduced through a fashion show performed by Indian and Vietnamese models.
"InCham Hanoi is a not-for-profit organisation, founded in 1999 and has been playing an important role in promotion of the bilateral trade between the two countries," said Thuy.
"We expect that the event will actively contribute in engagement of the Indian community in Vietnam and facilitating cultural exchanges."
Last year, Diwali Night provided an energetic and lively entertainment over four hours, attracting more than 800 guests. VNS