VietNamNet Bridge - After an accident, Ms. Nguyen Thi D suffered from an odd disease – her set of teeth stuck together and she could not open the mouth. For nearly 30 years, she could not eat like normal people. She could drink only milk or soup.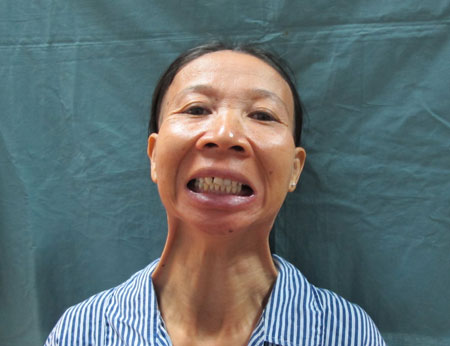 Last week the Plastic Surgery Ward of the Hanoi-based Vietnam-Cuba Hospital performed a surgery for the woman, who could not open her mouth for 30 years. The 46-year-old patient, Nguyen Thi D, came from Me Linh district, Hanoi.
Before the operation, D had spent terrible days since she could not eat like a normal person. Not a grain of rice, not a piece of meat because her set of teeth were stuck together and she could not open her mouth. Her food was porridge and milk.
"It was also not easy to eat porridge and milk. I had to use a spoon to pour a little porridge and milk outside the stuck teeth, waiting it to pass through the teeth to enter the throat," Mrs. Nguyen Thi Van said about the suffering that his younger sister endured for nearly 30 years.
At 16, D climbed a tree and fell into a well. The strong collision broke her jaw. However, D did not feel painful much so she did not see a doctor. However, it was very difficult for her to open the mouth and gradually the set of teeth stuck together.
Dr. Nguyen Thanh Thai of the Vietnam-Cuba Hospital said the patient was taken to the hospital after casually reading the information about her disease on a newspaper. Through examination, doctors identified the patient suffered from lockjaw after injury. They decided to perform a surgery to open the jaw for the patient. To do so, the doctors replaced the jaw bone with biological brace.
To perform the surgery, the surgical team had to go through many difficulties, especially in anesthesia. Doctors underwent 8 hours of surgery to separate the jaw that was stuck for 30 years.
Doctor Thai said after the surgery, the patient can open her mouth a few centimeters, but she also needs to practice with the mouth movements.
Mai Lan