Domestic tourism hits five-year high
Domestic tourism numbers hit 13 million in January, the highest in the last five years, according to the Vietnam National Administration of Tourism.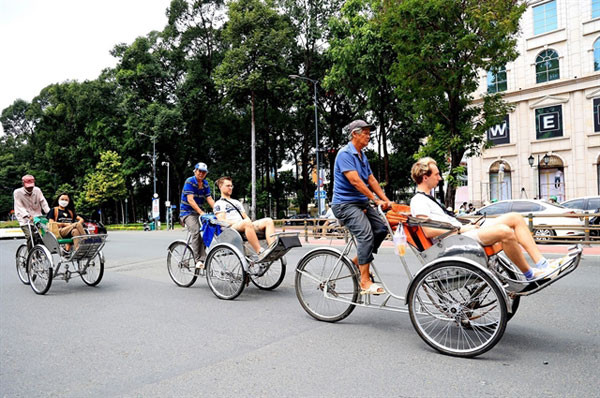 During the seven-day Tet (Lunar New Year) holiday, which lasted from January 20-26, the country was estimated to serve nine million domestic visitors, an increase of about 47.5 per cent compared to the 2022 Tet, with an estimated revenue of VND17.5 trillion (US$760.8 million).
With stronger tourism growth forecast for this year, the domestic market is expected to give the strongest boost to the recovery of this sector.
Nguyen Huu Y Yen, general director of the Saigontourist Travel Service Co. Ltd, said: "It is not Chinese travellers or any other sources of international tourists, but the domestic sector that will remain the 'brightest' factor helping Vietnam's tourism continue recovering strongly in 2023."
The tourism sector targets 110 million tourists this year, including eight million foreign visitors and 102 million domestic holiday-makers; and revenue of VND650 trillion.
In 2022, Vietnam recorded around 101.3 million domestic tourists, exceeding the yearly plan by 68.3 per cent. The tourism sector took around VND495 trillion ($21.1 billion) in revenue, 23 per cent higher than the target, thanks to the large number of domestic tourists.
Local destinations attract tourists
The northern coastal province of Quang Ninh welcomed 1.6 million visitors in January 2023, an increase of 12.3 times compared to the same period last year.
In seven-day Lunar New Year holiday, nearly 700,000 tourists visited the province, double that of the same period last year. Foreign arrivals recovered with more than 17,000 visitors.
The number of visitors to religious sites during the holiday increased by six to eight times compared to normal days.
Yen Tu Historical Relic Site and Ba Vang Pagoda welcomed about 200,000 visitors, while the Cua Ong Temple in Cam Pha City received over 62,000 visitors.
Many other popular sites also welcomed tens of thousands of visitors.
About 150 cultural and sports events were also held in the province during the Lunar New Year occasion.
The northern mountainous province of Lao Cai, where Fansipan Mountain is located, experienced a domestic tourism boom in the first month of 2023.
According to Tran Son Binh, deputy director of the provincial Department of Tourism, nearly 700,000 tourists were reported in January, increasing by 285 per cent compared to the same period last year. The majority of tourists (282,500) visited Sa Pa Town.
Total revenue from tourism reached over VND2.4 trillion.
Binh said January is the time of New Year holidays. With a series of cultural and tourist activities and events being organised, Lao Cai has attracted a large number of tourists and has become one of the key tourist destinations of Vietnam.
The province made careful preparations to welcome tourists in spring and take pandemic preventive measures, with the expectation of creating a good momentum for the goal of 6 million visitors in 2023, he said.
Lao Cai has strengthened the State tourism management by organising regular and irregular inspections on tourism service business providers, he said.
Local authorities also named and shamed organisations and individuals who violate tourism regulations on the tourism portal at laocaitourism.vn.
The provincial Department of Tourism has launched a hotline to receive and handle complaints and recommendations of tourists about problems, he said.
Cat Ba District in the northern port city of Hai Phong welcomed 10,900 tourists during Tet, up 72.9 per cent year-on-year. Meanwhile, Do Son District attracted 320,000 visitors during the holiday.
Hai Phong aims to serve 7.5 million visitors in 2023, including three million to Cat Ba and 2.5 million to Do Son.
Foreign arrivals
Vietnam welcomed 872,000 foreign visitors in January 2023, 42 per cent down from January 2019, though it was the highest month since the pandemic began in 2020.
South Korea was Vietnam's biggest feeder market, with nearly 259,000 of its nationals visiting in January, followed by the US (78,000), Thailand (55,000), Australia (44,000), and Japan (34,000).
The international tourism segment remains challenging since the main markets, China and Russia, have not returned to normal. Vietnam only received 47,000 Chinese and 12,000 Russian tourists as against 660,000 and 36,000 in January 2019.
Nguyen Trung Khanh, general director of the Vietnam National Administration of Tourism, expressed his belief that 2023 will be a strong year for Vietnamese tourism in terms of both domestic and international markets.
He cited some experts as saying that the world will witness vigorous growth in travel demand this year. As a bright spot in the global tourism map, Vietnam will definitely not be out of this trend.
Nguyen Huu Y Yen from Saigontourist was cited by Thanh Niên (Young people) newspaper said that before the COVID-19 pandemic broke out, the three biggest sources of foreign visitors to Vietnam were China, Russia, and the Republic of Korea (RoK).
Charter flights from the RoK only resumed recently, while there haven't been many Chinese tourists, and Russian tourists haven't returned. The European and US markets have begun to bounce back but are unlikely to record a breakthrough in 2023, he pointed out.
Yen expected the number of international tourists in 2023 will return to about 50 per cent of the 2019 level. Meanwhile, in just over six months of 2022, the number of domestic travellers rebounded to over 50 per cent of the pre-pandemic level, and this year's figure will definitely reach 70-75 per cent. Outbound tourism will also share the same trend.
Source: Vietnam News