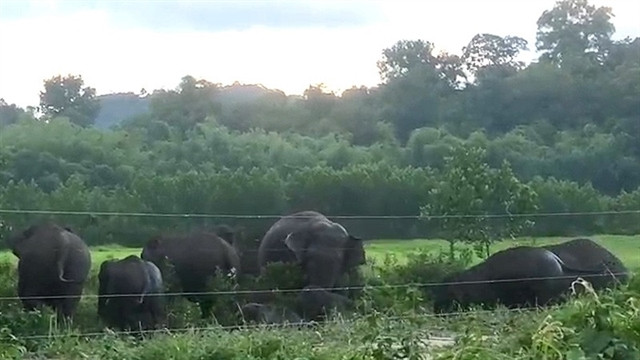 A herd of about 10 wild elephants appear in the field of farmer in Đồng Nai Province's Định Quán District. Photo nhandan.vn
The unique project is a joint effort between the government of Việt Nam and animal protection partner Humane Society International and is part of Viêt Nam's new national elephant conservation action plan to protect the country's remaining wild herds.
By using camera traps to create individual photo IDs and profiles for each animal, while also monitoring human-elephant conflict incidents and conducting elephant distribution surveys, the project aims to better understand elephants, their movements and behaviours to help humanely mitigate human-elephant conflict which threatens this endangered sub-population of Asia's elephants.
Việt Nam's once thriving population of wild forest elephants has declined from around 2,000 individuals four decades ago to now as few as 100-130. Đồng Nai is home to the second largest remaining wild elephant population in the country.
Due to its significance, this region has been prioritised for elephant protection, and over the past two years, HSI researchers have used camera traps to build a unique catalogue of the resident elephants, each with their own Vietnamese name and ID card of distinguishing features, behaviours, demographics, body condition and herd grouping.
Male adult elephants such as Ngà Lệch, Cát Tiên and Đất Đỏ have been tracked and identified throughout Cát Tiên National Park, Đồng Nai Nature Reserve and the La Ngà State-owned Forestry Enterprise.
The level of details obtained from the photographs and videos has never been achieved before for Việt Nam's wild elephants and has enabled researchers to nearly double their estimates for Đồng Nai's sub-population from just 14 to between 25-27 individuals.
HSI hopes this extremely encouraging data for Đồng Nai's sub-population might bring good news for a nationwide increase in population estimates should the project be applied across Việt Nam, especially in Đắk Lắk, Nghệ An, Hà Tĩnh and Quảng Nam, which hold the other largest sub-populations.
Nguyễn Quốc Trị, deputy minister of the Việt Nam Ministry of Agriculture and Rural Development, said: "Unlike other efforts, this special project with HSI provides us with science-based and practical solutions. From the viewpoint of government management, I highly appreciate the diverse stakeholder engagement of the project, including local communities, researchers and animal protection experts, so that both human and wild animal voices are considered carefully as part of each recommendation impacting elephants."
This project not only helps better track and understand this elephant sub-population, it also helps monitor and better manage human-elephant conflict incidents.
These initiatives confirm that confrontational deterrent tactics such as hitting elephants with sticks, banging cooking utensils, deploying firecrackers and homemade explosives, or even setting poison, are not only detrimental to elephant welfare but can also make elephants defensive and more aggressive in the presence of people, which further escalates conflict. With so few elephants left, even one fatality due to conflict is a disaster.
Monitoring human-elephant conflict through this initiative will improve mitigation strategies by basing them on a deeper understanding of the wants, needs, habitats and habits of the elephants.
Võ Văn Phi, deputy chairman of the provincial People's Committee, said: "The province would love to pioneer new initiatives to protect threatened species. Losing the last Javan rhino in Cát Tiên National Park challenges us to save other endangered species to ensure Đồng Nai is one of the highest biodiversity hotspots in Việt Nam."
Thẩm Hồng Phượng, director of HSI in Việt Nam said: "Việt Nam's elephant population is now so small that unless we act fast to protect them, they face the very real possibility of extinction. The government has acknowledged that conservation is a priority with a very welcome national protection program which HSI is helping to craft and this project is a key component."
"With elephants and people competing for limited habitat, conflict situations can arise and even be exacerbated when violent or frightening deterrent tactics are employed. With HSI's new research data, conflict situations can be approached knowing the characteristics, behaviour, range and habits of the specific elephants involved, so that custom-designed solutions can be implemented that have a far better chance of promoting peaceful co-existence between people and elephants." – VNS